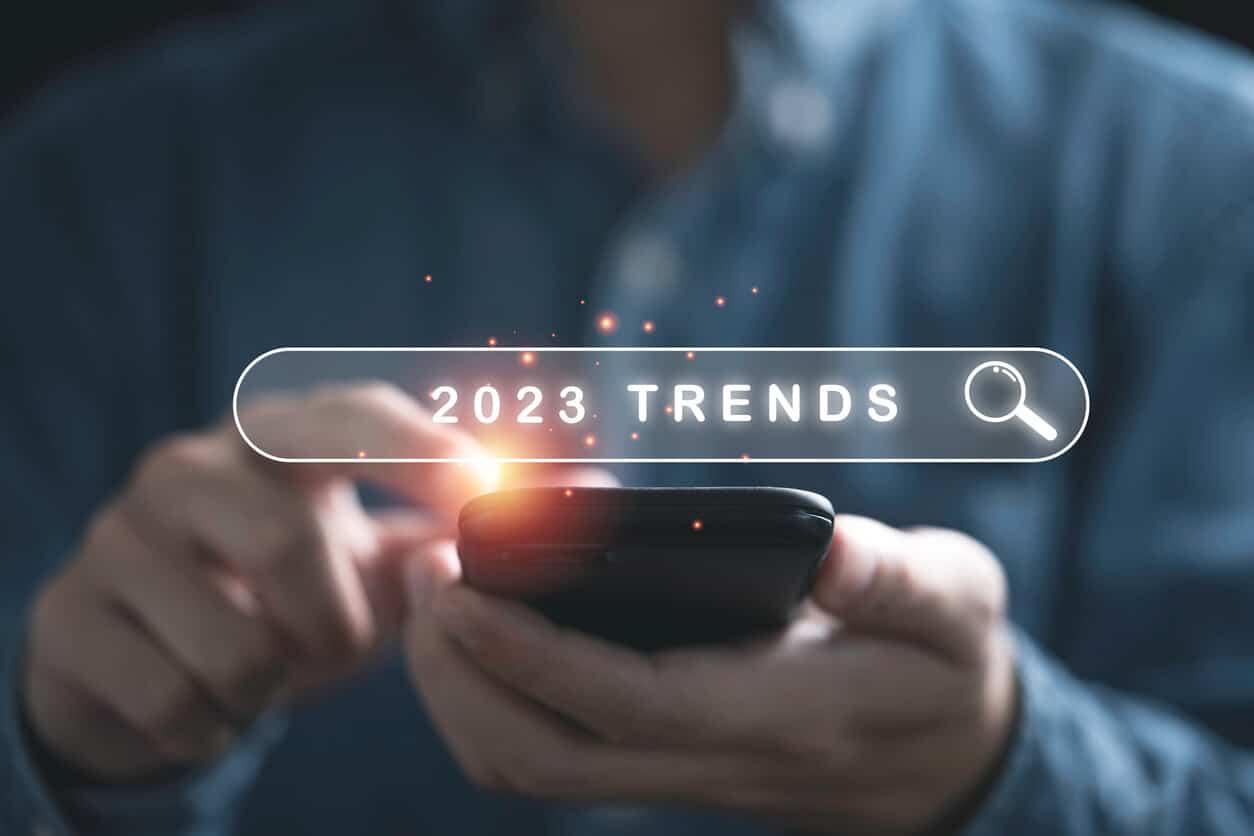 The last few years have been a transformative period for the legal industry as the pandemic created an opportunity to reconsider how we work and question if better solutions exist. The further along we get, the more clarity we have on which concepts have staying power.
In 2023, we expect the following legal tech trends to occupy the minds of general counsels and chief legal officers looking to place their legal departments in strong positions to fulfill the risk management and compliance needs of their companies. 
Key Takeaways:
GCs will value legal tech platforms that allow hybrid and remote teams to collaborate on legal operations.
Automation will enhance the ability of legal teams to process large volumes of documentation in eDiscovery, M&A due diligence, compliance, and other workflows.
GCs will emphasize cybersecurity in 2023 when managing the internal and external elements of their legal department.
1. Use of Technology Platforms that Enable Greater Collaboration for Legal Departments
Today's technology gives legal departments and companies greater flexibility in where and how they work. A survey from Wolters Kluwer Future Ready Lawyer 2022 showed that 69% of corporate lawyers plan to continue hybrid work arrangements. Remote work has quickly become a vital benefit for attracting top legal talent, and technology made this feasible for your legal department. 
Additionally, we are experiencing a shift in the concept of what a legal department is.
The term no longer only refers to the general counsel, junior GCs, paralegals, and assistants. Rather, your legal department likely also includes:
Outside counsel

ALSPs

Legal operation specialists 

Contract managers

Compliance personnel 

Other legal operation vendors

Representatives in other business units 
The resulting decentralization of legal processes for global companies and their legal departments requires technology to support it.
TR State of the Market Report 2022 – Law firm spend on tech goes up by over 7%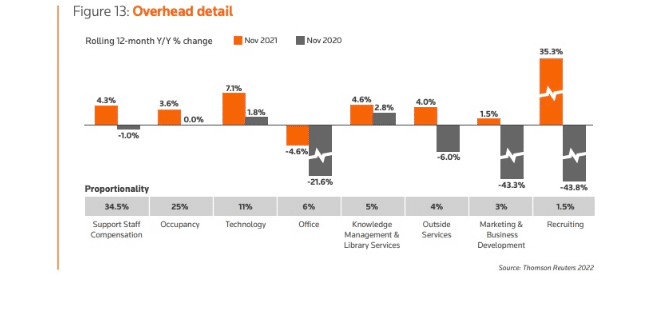 Cloud-based platforms that give users a central location for key information will be essential for collaborating on legal workflows in 2023 and beyond. Within these platforms, the use of visualized dashboards will also be top of mind for legal departments.
Why do GCs need and want the tech?
GCs and stakeholders will want quick access to easier-to-digest actionable data than scanning large volumes of complex legal documents.
Besides bringing together siloed parts of your team, legal departments will rely on centralized platforms to bridge other gaps in their workflows:
The collection of data for improved analytics in predictive modeling and legal spend management.

Enhanced performance of AI and ML tools through access to wider data sets. 

Resiliency from legal talent turnover because information exists in central locations.
2. Automation Will Be the Answer to the Increased Volume of Legal Work
We live in a highly regulated state, which means corporate legal departments are increasingly responsible for compliance measures across a broad range of functions. You may notice an uptick in volume over recent years for document review related to litigation risk management, internal policy control, and M&A activity. While tedious, this process requires just as much attention as the high-level strategy and analysis work of in-house lawyers. 
Automation through AI and machine learning tools (and the ALSPs that run them) will offer a solution for many chief legal officers looking for a middle ground between hiring additional personnel and sending work to expensive outside counsel. Common legal operations where automation could provide efficiency and speed include:
Flagging contracts for non-market or non-standard terms.

Scanning large volumes of eDiscovery to highlight priority areas to review, which allows for faster assessment of risk and progression of a case. 

Obtaining data from business units to prepare audits, business reports, or other information necessary for regulatory compliance or due diligence for M&A.
While novel tools like ChatGPT are far from the sophisticated ability of a corporate lawyer, automation can drastically improve the pace of completing routine legal operations. Furthermore, the automation trends of legal tech won't necessarily require a heavy investment in infrastructure for legal departments. GCs can turn to ALSPs and vendors with legal tech solutions that automate key workflows. This removes the burden of intensive training, confirming compatibility with other systems, and other hurdles of implementing legal tech. 
3. Greater Scrutiny on Cybersecurity and Data Privacy

 
With legal departments shifting to cloud-based systems and automation, another legal tech trend to watch in 2023 will be the importance of cybersecurity and data privacy. The threat of a cyber-attack is a risk that legal departments must navigate given the amount of sensitive information they possess. Reporting from IBM shows the average cost of a data breach is $4.35 million globally, but that number nearly doubles in the U.S.
93% of cyber security leaks can be avoided.
As part of other trends in tech for 2023, some key considerations for legal departments include:
Measures to protect computers, phones, tablets, and other electronic devices (e.g., logging out of systems, changing passwords, secure storage).

Contractual obligations between ALSPs, outside counsel, SaaS vendors, and others who possess legal department data. 

Insurance policies to recoup losses in the event of a data breach.

A hybrid model of cloud and non-cloud systems to store data depending on sensitivity.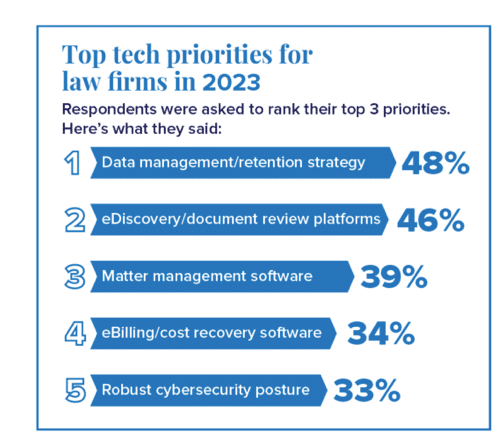 4. Increased Reliance on Data Analytics to Support Legal Spend Choices
The continued narrative of inflation and interest rate hikes means liquidity will be a hot topic for company budgets in 2023. Your c-suite and board may expect greater transparency and insight into how legal spend choices advance company interest. Data analytics will be the primary tool chief legal officers will use to defend past decisions, inform future legal needs, and garner the trust of stakeholders. Learning how to quantify legal workflows and outcomes will help you engage in the cost-benefit analysis of using outside counsel, ALSPs, or relying on internal legal teams.
Here's how Exigent reduced Anglo's costs by more than 50% (not adjusted for inflation).
Exigent is an Alternative Legal Services Provider (ALSP) breaking industry boundaries and raising the bar for data-driven decision-making. With a powerful combination of technology, legal expertise, and business acumen, Exigent creates expert solutions that drive better legal and business outcomes for law firms and corporations.
Exigent delivers scale, expertise, and insights that generate bigger returns for CLM – Contract Lifecycle Management, Legal Spend Management, e-Billing, Due Diligence, Document Review, eDiscovery and Litigation Support, Commercial Services, Regulatory & Compliance, Outsourced Legal Administration, and  Legal Tech Design. 
Follow us on LinkedIn and Twitter to transform the way you do legal.