Today's businesses rely on a vast network of vendors whose services play a critical role in a company achieving its goals. At the heart of these business relationships are contracts stuffed with information, including the rights and obligations of the involved parties. Your vendor relationships exist under a massive umbrella of international, federal, and local regulations beyond what's written in the contract's four corners, adding a layer of complexity. Vendor compliance is the art of managing it all, and it begins with special attention to our five steps of action that you can take today.
Key Takeaways
The value of vendor compliance efforts is avoiding preventable liability and loss while protecting the company's rights secured through contract.
The primary steps in vendor compliance are about identifying compliance items, including key contract information, related action items, and the people responsible for their execution.
Adopting a contract management solution can improve vendor compliance by centralizing contract data and providing equal access to it.
The Value of Vendor Compliance
Your legal department and other team leaders spend considerable effort negotiating and finalizing contracts to allocate risk and secure favorable business terms. But what happens after everyone signs on the dotted line? Ideally, you and your counterparties execute their obligations and rights under the deal.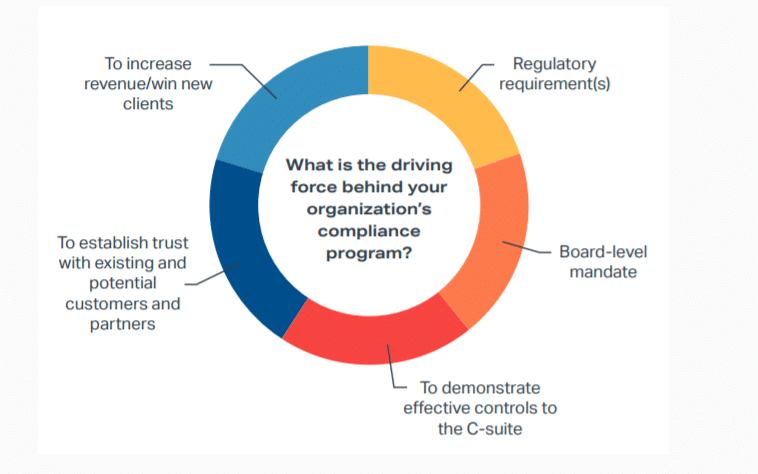 It's a task easier said than done, but this is where vendor compliance receives its flowers as a valuable legal and business operation. General counsels and their legal teams often have the duty of managing vendor compliance, despite heavy reliance on other disciplines within a company (e.g., sales, HR, IT). Having a strategy for vendor compliance becomes essential for your company to realize its many benefits, which can include:
Avoiding financial penalties for breaching contract terms.
Lowering the odds of other liability risks from government agencies or third parties.
Protecting the enforceability of rights under contracts (e.g., unintentional lapse of renewal periods and other options).
Having a method for measuring vendors' overall quality and value and for comparison purposes.
Preserve opportunities for future growth of the company.
5 Steps for Effectively Managing Vendor Compliance
The five steps explained below are each an important part of developing a workable strategy for navigating your vendor compliance requirements as a general counsel or chief legal officer. How you incorporate each of these steps into your contract management systems and other legal operations will depend on the scope and nature of your business. Still, these steps are applicable across companies and legal departments of all sizes.
1. Identify Compliance Elements Within Your Contracts and Business Relationships
The initial step of managing vendor compliance should be distilling the abundance of terms and information within your contracts into easily digestible and actionable items. Some of these items will relate to all your contracts equally, while others may be contract specific. For example, most contracts have expiration dates, but you may have certain environmental regulatory obligations specific to a lease or manufacturing agreement. Some common contract elements necessary for compliance could include:
Key dates (e.g., renewal periods, effective dates, expirations)
Notice requirements
Key terms (e.g., assignability)
Related contracts
2. Establish Preferred Methods for Documenting Vendor Compliance
When compliance under a contract comes into question, having the right documentation and evidence available to support your position is everything. As you create your checklist of compliance elements, think about the best ways to document it. It could be an email that properly invokes notice, a receipt showing payment made on a certain date, photo or video footage, data logs, time stamps, certificates, or any other record form. Sometimes your contracts will explicitly state preferred (and required) methods of documenting compliance. Yet, other times you will have to be creative and logical in installing a system to show compliance.
3. Create Compliance Management Teams Across Your Legal Department and Other Divisions
After completing steps one and two, you likely have a laundry list of compliance items essential to your many contracts. The next step is determining the personnel in the best position to monitor, execute, and report on them. In many cases, one person won't be responsible for ensuring compliance with a particular item. Rather, a collective effort among the legal and corporate departments will be at play. Take the time to write out all the responsible parties, including their specific role in the compliance process.
For example, effectively renewing a SaaS contract would potentially require help from personnel in the information technology department as well as legal. The manager in IT would have the job of confirming the desire to exercise the renewal option, while the attorney might have the task of giving formal notice for exercising that right.
4. Implement a Custom Contract and Record Management Software Solution
Overreliance on outdated methods for vendor compliance, such as bulky spreadsheets, emails, and other communications, poses a significant risk to your business. It is especially true from a knowledge management perspective, where the departure of key personnel can lead to oversights and blind spots in compliance efforts. One way to limit that exposure and unlock other benefits from your vendor contracts is to take advantage of a software solution that serves as a central repository for your agreements and their related compliance items.
Key benefits from employing the right contract management solution often include:
Reduction in redundant, administrative work related to compliance.
Access to key data on your contracts and their compliance may allow for business forecasting and related advantages.
Preservation of corporate knowledge through equal access to information in a central repository (i.e., no contract data siloes).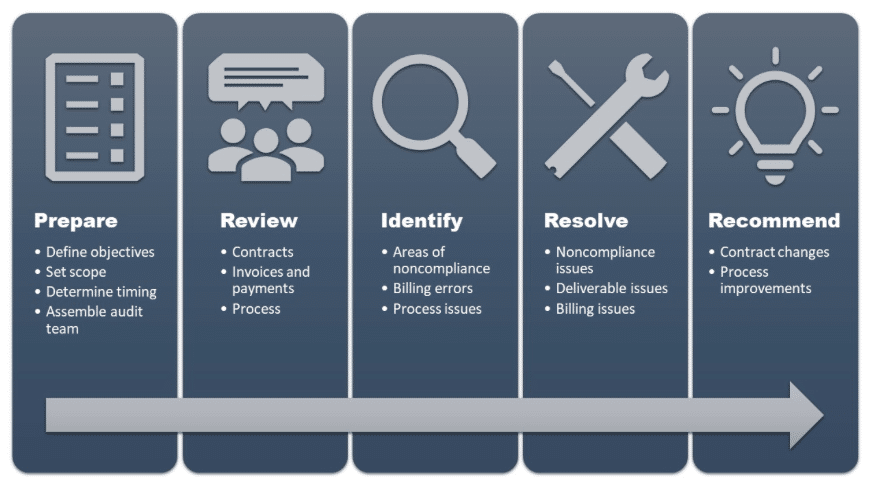 5. Have a Consistent Compliance Audit, Review, and Analysis System in Place
Managing vendor compliance is a never-ending practice in legal operations because new needs and obligations will always arise. To combat this reality, GCs and chief legal officers should have a method for auditing, reviewing, and analyzing compliance-related activity. You will likely want internal and external auditors to manage your legal department's successes and failures in compliance.
The value of such review systems is two-fold. You obtain key metrics to highlight the efficacy of your vendor compliance to your c-suite or board. Alternatively, you can quickly identify weaknesses in compliance and take corrective action that minimizes future losses.
Consider Exigent as Your Experienced Partner in Vendor Compliance
Exigent's legal talent and quality tech solutions, including its contract management systems, make it a reliable partner for corporate legal departments in vendor compliance. As a full-service alternative legal service provider, we appreciate the many business and administrative challenges that are a source of pain for general counsels. Part of our mission is to alleviate some of the business and administrative challenges for legal departments so their general counsels and attorneys can focus on the legal work that is the best and highest use of their time.
Continue the conversation on vendor compliance and download our free whitepaper on contract management.