Corporate legal departments are a major cog in the broader sector of law as key intermediaries between c-suites, private law firms, government agencies, and other legal groups. As a strategic business partner, GCs should consider upcoming litigation trends that will shape how their departments operate in 2023 and beyond.
We explore 5 of the biggest headlines in litigation that will surely affect the needs of in-house attorneys. This article also explained how to prepare for these trends to minimize risk and realize new opportunities for maximizing legal spend.
Key Takeaways
Broad economic trends like inflation and interest rate hikes could reduce corporate resources and shift focus toward exploring litigation options.  
Major areas of litigation in 2023 are likely to include employment and labor disputes, data security claims, and ESG lawsuits.
An expected increase in litigation could mean greater legal spend on in-house litigators and the use of ALSPs to process and settle claims faster.
1. Large-Scale Economic Trends Could Continue to Affect Litigation in 2023
While litigation is about remedying past wrongs and protecting against future transgressions, it's not uncommon to see broader economic stories and events drive the narratives of corporate lawsuits. Connected issues like increased inflation and interest rates, as well as a tighter labor market, mean corporate resources are spread thin. These macroeconomic events could have multiple impacts on litigation in 2023, such as:
Less willingness to restructure or modify contracts when one or both parties face default and breach events.
Greater scrutiny on the fine print of deals as c-suites look to pivot into better opportunities and distance themselves from losing business relationships.
Demand for improved legal spend management as business leaders will want a detailed analysis of litigation costs when evaluating settlement and negotiation options.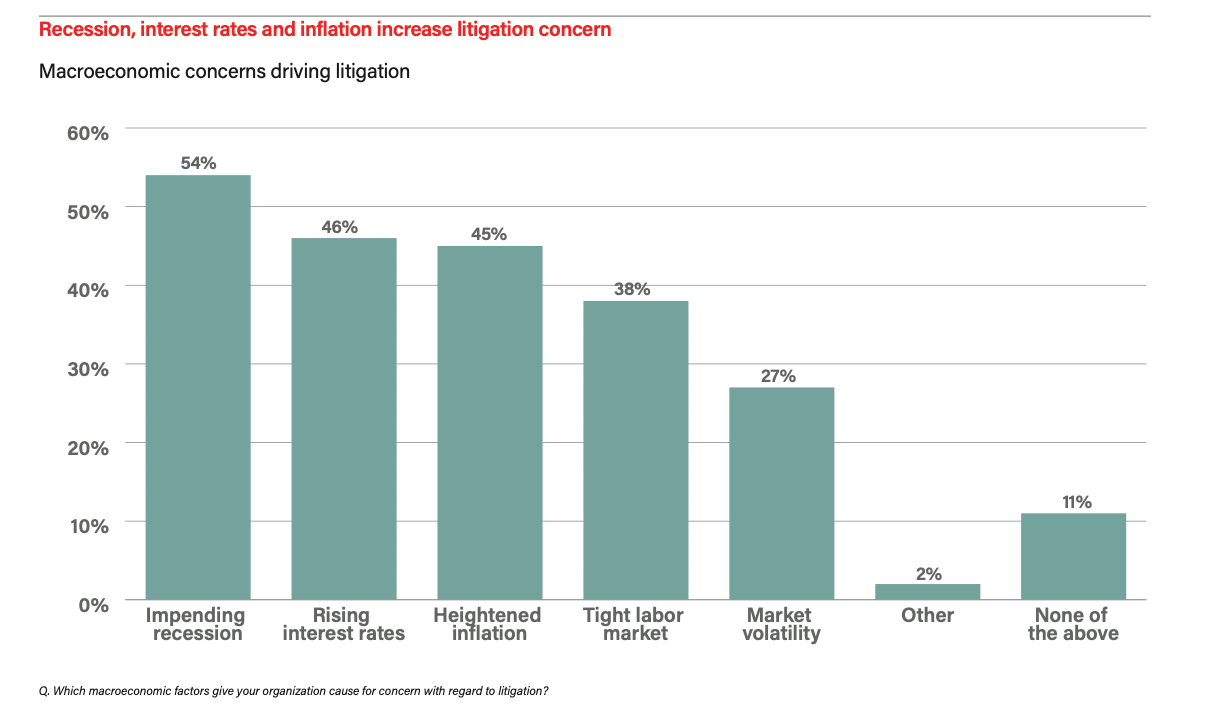 2. Three Major Types of Litigation Poised to Fill the Courts in 2023
Corporate legal departments are often at the mercy of litigation trends from copycat behavior as litigation news inspires the growth of claims in certain niches. Below are three areas of litigation that caught wind last year and should continue to increase in 2023.
Conflicts Arising from Employment and Labor Law Issues
The labor market has not been the same since the COVID-19 pandemic as employees sought better wages, benefitted from remote work opportunities, or left the workforce altogether. The effect of those factors is a tight labor market that has empowered workers.
For example, the approval rating of labor unions in the U.S. hasn't been this strong since 1965 according to Gallup. Testing that power through increased strikes, CBA arbitration, and other employment litigation should not surprise legal departments.
Cyberattacks Will Continue to Trigger Data Protection and Data Privacy Claims
Cloud computing, data collection, and other online activities have become a business necessity over the last decade, especially in recent years, as teams have become more global and decentralized. While these technologies make business better and faster, it comes with a hurdle of cyber-related litigation issues for legal departments:
Recovering losses from cyberattacks (e.g., claims against accountable parties, insurers).
Defending against claims for the alleged mismanagement of customer data.
Compliance with federal, state, and local regulations and administrative proceedings that question the integrity of your company's systems.
ESG and Shareholder Class Actions Could Rise
A final area of litigation that could trend this year is in claims over corporate responsibility over environmental, social, and governance agendas.
Shareholders, interest groups, and others will look to hold corporate leaders accountable for the impact of their business decisions on political issues. Whether in the form of a shareholder derivative lawsuit or administrative action, ESG litigation will have c-suites and boards relying on their GCs for input on public relations, corporate policies, and other ways to limit potential exposure in 2023.
3. Settling Litigation Early Will Be Essential for Minimizing Legal Spend
According to 86% of corporate counsels who responded to the Norton Rose Fulbright 2023 Annual Litigation Trends Survey, legal disputes their companies face this year will likely increase or stay the same. With an uptick in litigation, GCs and legal departments would prefer settling claims early to avoid the costs of prolonged legal claims.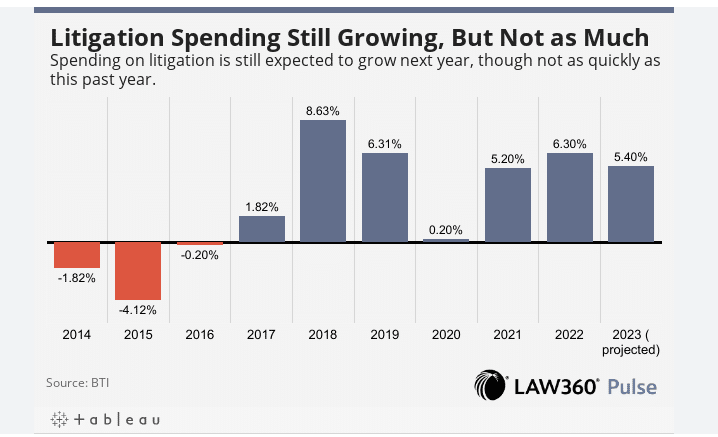 4. 2023 Litigation Trends Are Shaping In-House Legal Departments
The shift in attention to litigation this year (as well as the desire to settle claims) means that legal departments are set to change their structure and priorities. This response will largely include efforts to better avoid risk, forecast legal costs, and limit reliance on expensive outside counsel. For example:
Hiring regulatory specialists to assist with audits and implement policies that improve compliance operations.
Increasing litigation spend for the department, including hiring additional litigators.
Engage ALSPs to process key phases of litigation faster and with greater insight (e.g., investigation, eDiscovery, contract review, settlement analysis, and legal spend review).
5. Potential Cost Savings on Outside Counsel from Remote Litigation
Sometimes, the need for outside counsel will be unavoidable because of limited options for local counsel, specialty practice areas, and other factors. However, GCs may be able to control some of that spend on outside counsel through remote litigation. The pandemic demonstrated that many hearings and court events could be done without commuting to tribunals in distant locations.
The costs of attorney time and travel would usually pass to the corporate client and its legal department. Now, GCs who understand local court rules on virtual appearances and negotiate for such from their outside counsel could save cost.
Prepare Your Legal Department for 2023 Litigation Trends
The litigation trends of 2023 are less likely to come and go within the next year –  they can potentially disrupt legal departments long term. As strategic business partners to company executives, GCs need to consider how these trends will impact their operations and prepare their departments for success. One way to prepare your department is through litigation support from Exigent, an industry-leading ALSP.
Schedule a consultation with an Exigent representative today to get started.