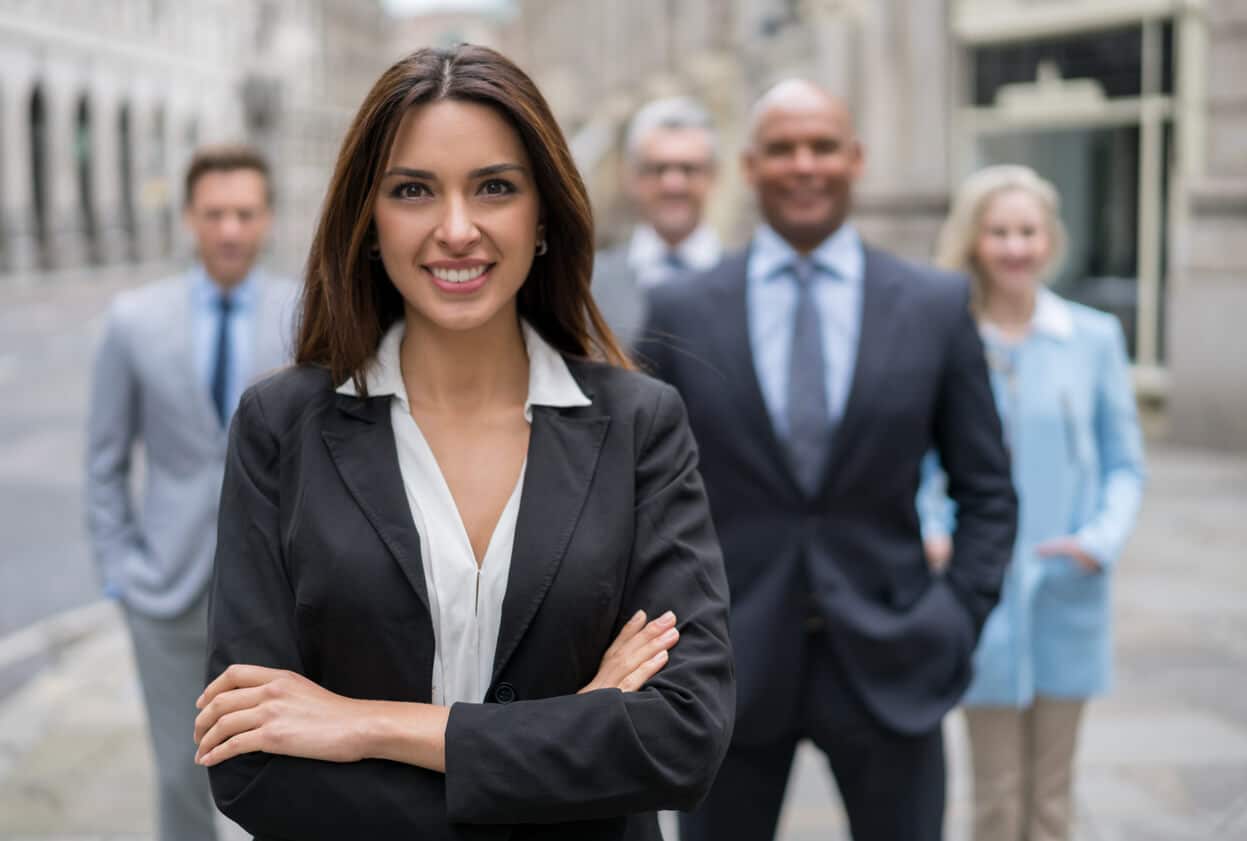 Data from Gartner's 2022 GC Leadership Vision Report estimates a 90% increase in demand for legal services, with 30% of that new demand expected to go unmet because of forecasted growth. Building agile legal teams will be one part of the equation for GCs who want to bridge that gap in demand and supply by making their team as nimble and effective as possible. Developing and refining the agility of your legal team takes commitment. Start by learning our seven secrets for success.
Key Takeaways
Agile legal teams practice centralizing their knowledge through tools like playbooks and document libraries because access to information generates faster results.
Legal data analytics are a cornerstone of agile legal teams because they shed light on areas for your department to improve.
Agile legal teams know how to outsource legal processes and develop a well-rounded department that includes skillsets outside of traditional legal roles.
What Defines Agile Legal Teams?
The qualities of an agile legal team may vary slightly from one legal department to another depending on the values of the GC, business partners, and other stakeholders in the company. However, common themes of agile legal teams usually involve the following traits:
Optimized legal workflows and operations to achieve desired outcomes.

Responsiveness to matter requests and anticipation of the legal challenges faced by the c-suite and other business partners.

Efficient use and management of legal spend.
Tips for Building an Agile Team
Follow the seven secrets below to start building your agile team.
1. Have Process Maps and Playbooks
Process mapping, contract playbooks, and other internal manuals are essential for building an agile legal team because they provide the repeatable steps for completing a specific legal operation. Centralizing your legal department's process knowledge in this fashion provides the following benefits from an agility perspective:
Prevents loss of knowledge when legal team members switch roles, leave the company, or retire.

Fills gaps in training because legal team members have immediate access to information.

Provides direction on a matter's next steps, which reduces unnecessary delays in completing it.

Creates consistency in your legal team's approach to projects, which allows for speed with practice over time.
2. Prioritize Legal Data Analytics
GCs who want to improve the agility of their legal team must be willing to accumulate, understand, and listen to their department's legal data analytics. Legal departments are a treasure trove of valuable information you can use to set benchmarks for your operations and sharpen decision-making, which directly affects the speed and effectiveness of your operations.
For example, you might track the average time it takes your department to respond to requests from business partners in other divisions of the company, like the sales team or R&D. You could even go a step further and track response time based on the communication method (e.g., email, Slack, phone call) to identify which methods have more success. You can use this information to develop strategies for improving this workflow, such as using intake forms with Microsoft 365 or streamlining matter requests to the most responsive communication channel.
3. Centralize Legal Contracts and Documents for Greater Knowledge Management
The success of a legal department relies on access to accurate, up-to-date information. For example, drafting an amendment to a SaaS agreement would require access to a previously executed contract.
GCs with a centrally organized system for maintaining legal documents, contract templates, clause banks, and other related information ensure the members of their legal team have access to the resources they need to operate smoothly.
4. Build a Diverse Legal Team with a Range of Skillsets
In today's fast-paced business environment, legal departments need to be agile and flexible. This requires a new approach to building an in-house team that goes beyond just attorneys, paralegals, and administrative assistants.
Chief legal officers (CLOs) recognize the value of having a team that consists of a broader range of skill sets. We are talking about data analysts, computer scientists, contract specialists, and others who bring a combination of legal and business skills useful to your department's operations and mission.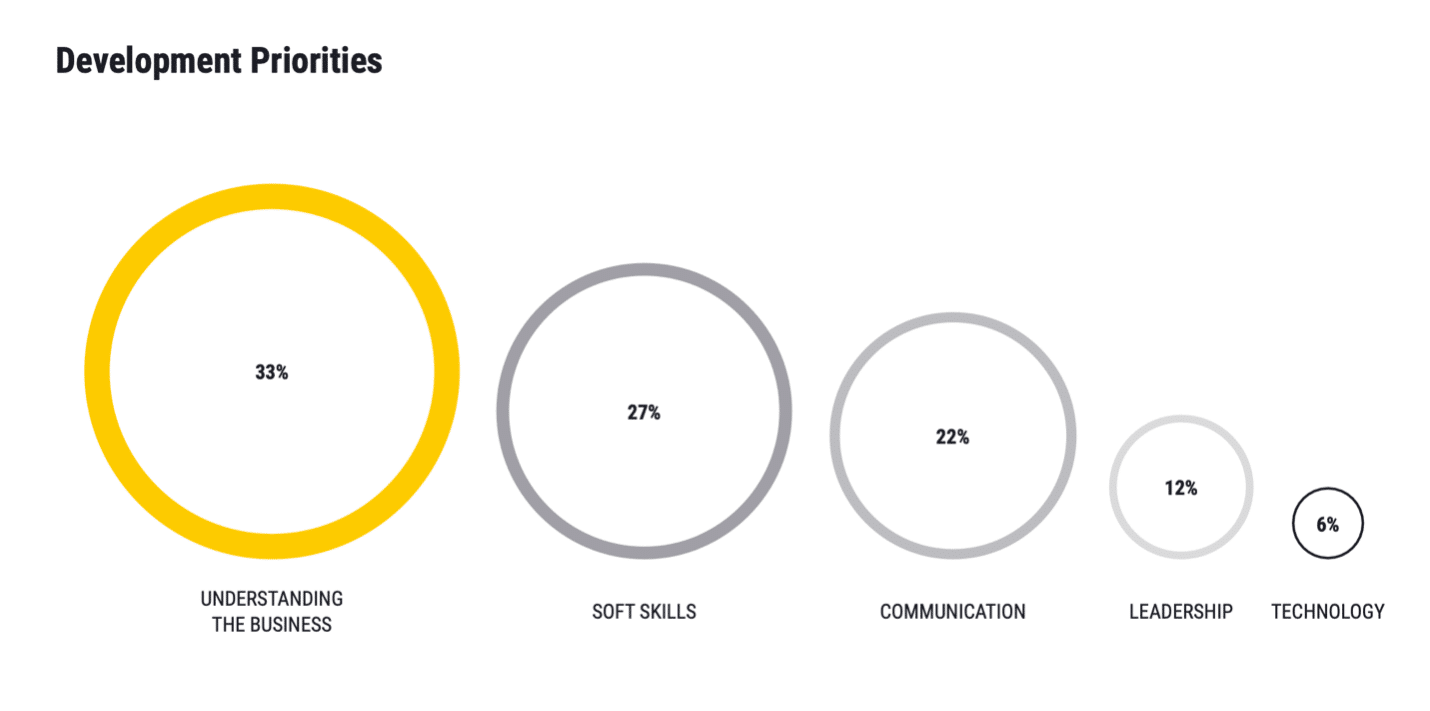 5. Know How Your Company's Business Works
The ultimate measure of an agile legal team's effectiveness is its ability to handle various legal, risk, ESG, public relations, and other business-related issues. This requires the GC and their colleagues to know how the business works and ensure their legal operations align with that knowledge.
Here are some strategies to improve your legal department's familiarity with the company:
Attend non-legal meetings and events to gain insight as an observer.

Schedule one-on-one meetings with department leaders to understand their key challenges and how your legal department can support them.

Attend conferences, trade shows, and other industry events to learn how the broader market works.
6. Utilize Legal Process Outsourcing
A secret strategy for keeping your legal team lean and agile is knowing when to keep a matter in-house with one of your attorneys versus outsourcing to an ALSP or external counsel. Sometimes, the answer lies somewhere in the middle as you outsource subparts of a legal process, such as the initial review of eDiscovery or research on a legal issue outside the scope of your team's expertise. Delegating these types of tasks allows your legal team to focus and prioritize the work that reflects the highest use of their time.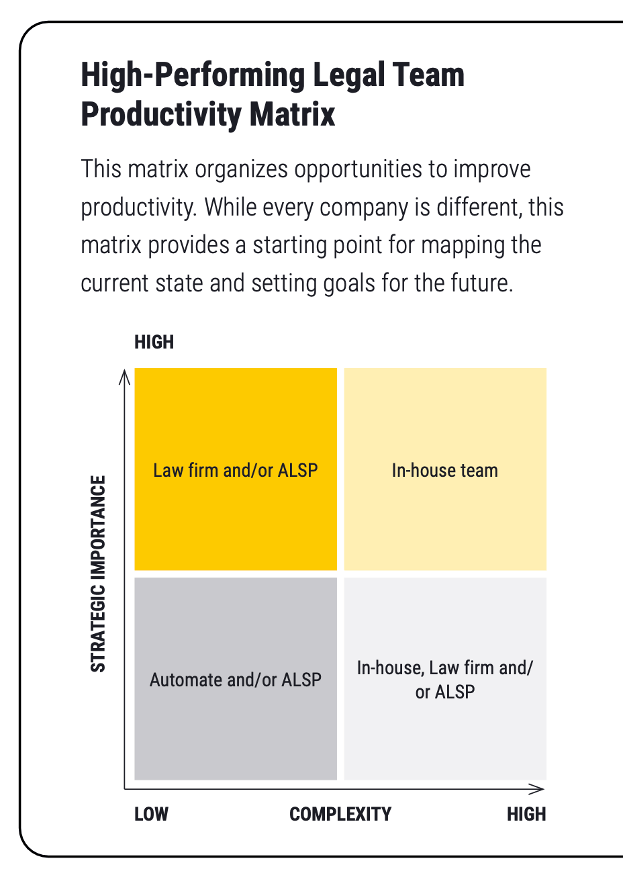 7. Stay Vigilant on Available Legal Technology Updates
The technology available to help legal teams seemingly changes by the minute, and the toughest challenge for GCs is knowing when to adopt them. To succeed in this rapidly changing landscape, you want to remain aware of trends in tech that are shaping how legal work is done and have a true sense of their potential value to your legal department.
Be optimistic about the potential for technology to improve your legal operations while maintaining a healthy dose of realism that considers your budget and alternative solutions. This will allow you to balance the desire for growth with the need to protect legal spend.
Partner with Exigent for Agile Legal Support
Agility is key for today's corporate legal department that must process ever-changing circumstances to meet the needs of business partners and c-suite stakeholders. These stakeholders will appreciate your ability to gracefully navigate the most pressing problems the company faces, establishing you as a strategic partner.
No matter the size, state, or industry of your legal department, Exigent is here to keep you agile. With the ability to mobilize at a moment's notice, our team offers flexible and affordable support in all aspects of today's legal department, including litigation support, workflow automation, contract management, and more.
Contact one of our representatives today for a consultation.
Exigent is an Alternative Legal Services Provider (ALSP) breaking industry boundaries and raising the bar for data-driven decision-making. With a powerful combination of technology, legal expertise, and business acumen, Exigent creates expert solutions that drive better legal and business outcomes for law firms and corporations.
Exigent delivers scale, expertise, and insights that generate bigger returns for CLM – Contract Lifecycle Management, Legal Spend Management, e-Billing, Due Diligence, Document Review, eDiscovery and Litigation Support, Commercial Services, Regulatory & Compliance, Outsourced Legal Administration, and Legal Tech Design.
Follow us on LinkedIn and Twitter to transform the way you do legal.