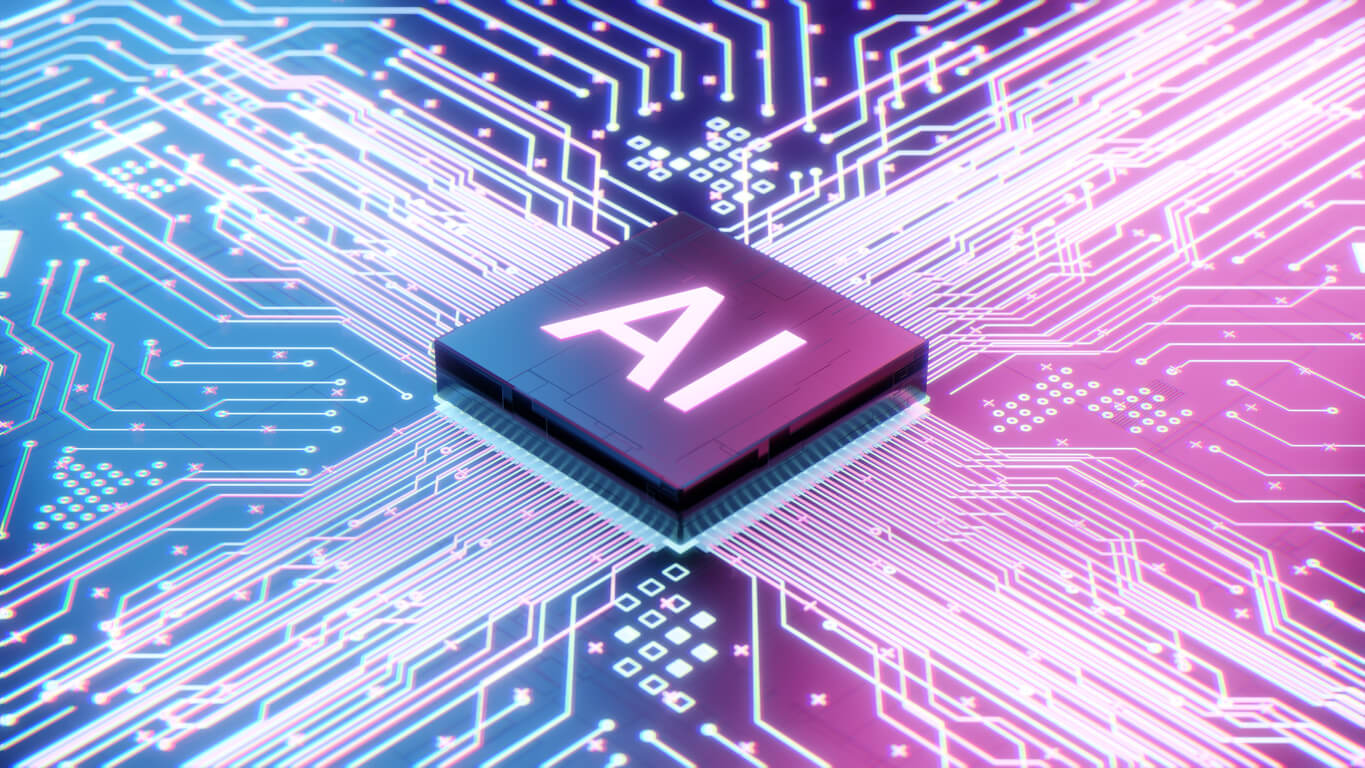 The idea of artificial intelligence (AI) has been around since the 1950s, but mostly in the form of conversations about the distant future of work. All that changed on November 30, 2022, with the public release of ChatGPT, an AI product from OpenAI. In July 2019, Microsoft backed OpenAI with $1B, and the investment made Microsoft the "exclusive" provider of cloud computing services to OpenAI.
In the short few months since its release, stories of its successes and shortcomings have dominated the news, including passing law school exams, though with average scores.
Headlines aside, ChatGPT is a true inflection point for the application of AI in legal that could improve the operations of legal departments today.
In this article, we look at the unique market position of ChatGPT and its partnership with Microsoft. We also provide some ideas for how AI – and automation in general – will pave the way for a smarter, faster, and more efficient legal department.
Key Takeaways
● ChatGPT is introducing businesses and people to the far-reaching possibilities of AI for use in commercial settings.
● A natural dichotomy exists in the role of an in-house attorney that can lead to sacrificing time spent on legal analysis to fulfilling non-legal tasks.
● Will ChatGPT replace lawyers or relieve lawyers?
Recap of ChatGPT's Sudden Rise
OpenAI started in 2015 through the joint venture of notable names like Elon Musk and Sam Altman. Fast forward eight years and the company is center stage in the discussion of AI usage for individuals and businesses in a wide range of everyday applications. As of January 2023, a UBS study estimates that ChatGPT has 100 million monthly active users. The feat makes OpenAI the fastest-growing consumer application ever. For comparison, TikTok needed nine months, and Instagram needed over two years to achieve the same number.
Microsoft's Investment in OpenAI Will Help AI Become Second Nature for Corporate Legal
The simple market positioning of ChatGPT as the AI "that made it to awareness on a global scale" taking up consumers' mind-share at the moment is also going to reverse the seemingly timeless apathy lawyers have for shopping, looking into and exploring the use of AI in their workflows. Since, well, it's soon to be further marketed right under their noses on a daily basis with the tools they are already using and loving: Microsoft365.
If you don't know, Microsoft is the tool of choice for almost any lawyer in a corporate legal department or law firm. Our recent LinkedIn poll also verifies – Microsoft365 and lawyers are a lifetime relationship.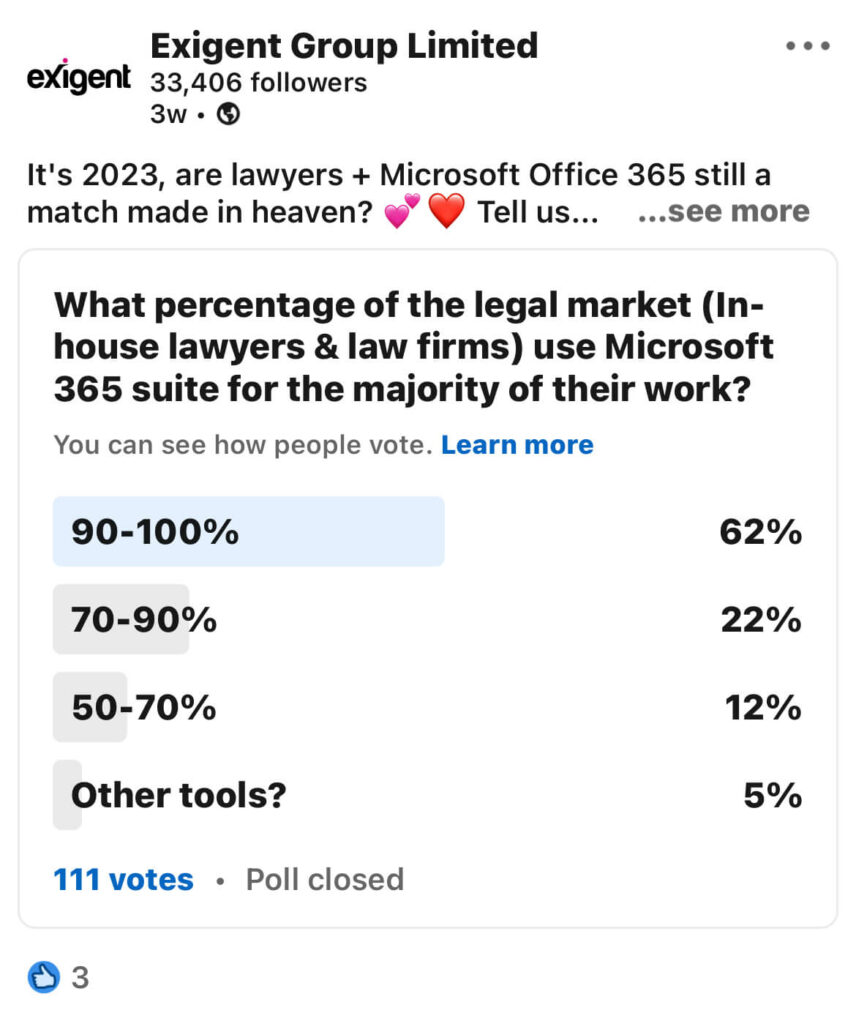 Approximately 83% of enterprises use Microsoft as their productivity suite of choice, and nearly one-third of corporate legal departments use Microsoft 365 as their document management system. 
Despite such wide adoption, a recent survey we ran shows most are not using their MS suite to its max potential as we are experts at calibrating for clients.
Compounding the issue, some GCs are investing in separate tools instead of learning to use and optimize their current productivity suite, creating an unnecessary cost.
But this tech-apprehension is going to change with continued and increasing exposure to AI from every Microsoft direction.
Where will all the AI non-believers be in 2 years time?
They'll be busy using AI in their daily work lives. As we speak, Microsoft is weaving in OpenAI tools to it's product suite:
Recently released via MicrosoftTeams – automatic note taking of meeting (See image on right)

Microsoft's engineers

have been reportedly working

to develop tailored AI tools for writing emails and documents for over a year.

Microsoft has

recently announced a new feature

that leverages the Azure OpenAI Service and GPT to generate e-mail responses to customer questions.

Microsoft PowerPoint is also getting a new feature that will let users generate graphics and graphs in presentations.
Bottom line: Lawyers aren't going anywhere – they like where they are.
Microsoft will likely continue as the platform of choice for most attorney tasks. And its marriage with OpenAI is a win-win for the adoption of legal technology and making corporate legal departments better.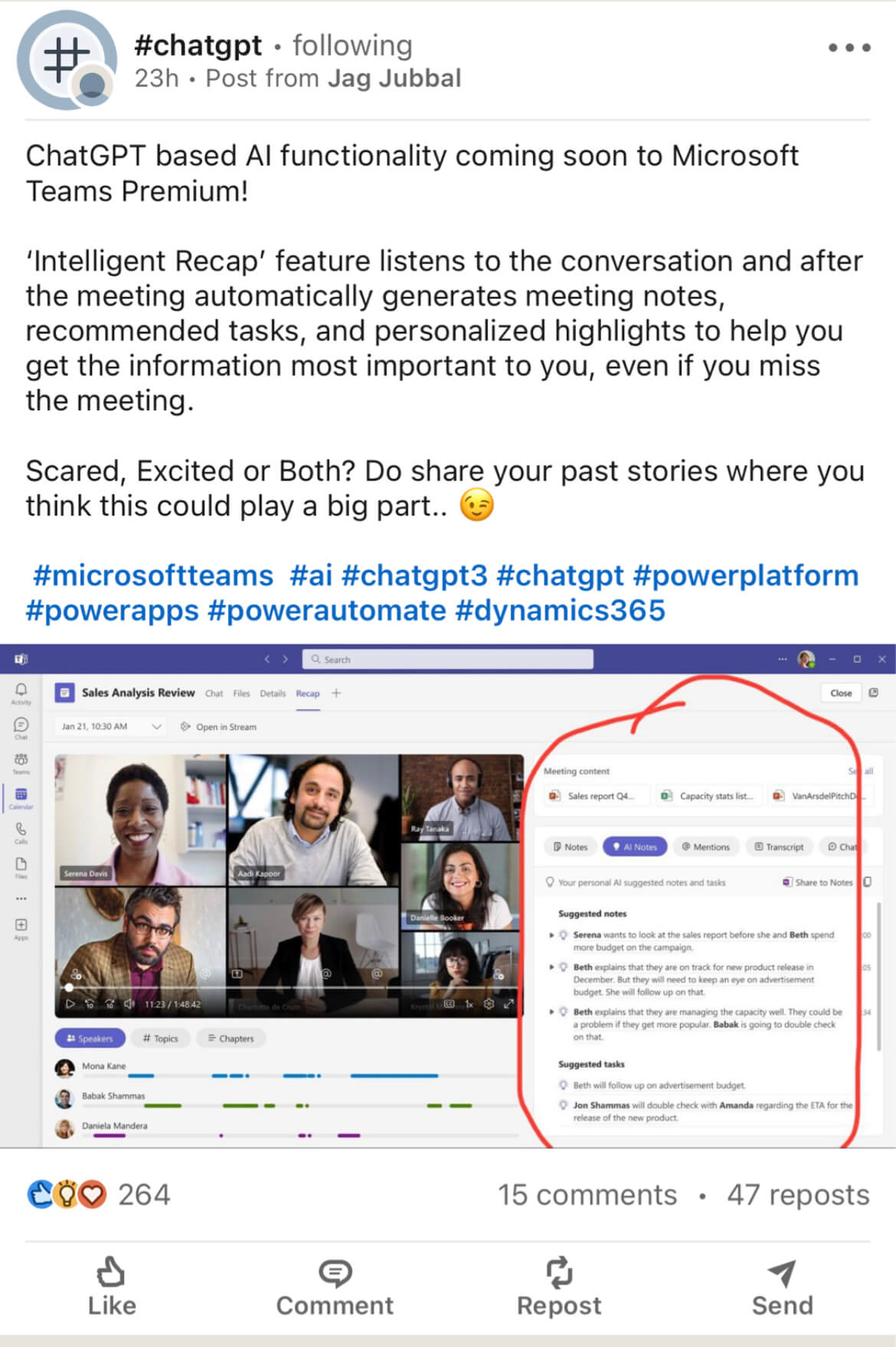 Will ChatGPT replace lawyers or relieve lawyers?
Let's say there is an innate tension existing between AI technology and the legal profession, no thanks to bold headlines and predictions that products like ChatGPT have the potential to replace lawyers.
Comparing the abilities of ChatGPT to the value of an attorney is a non-starter that overlooks the practical advantage of AI in legal settings and grossly misjudges the skills of an attorney.
The potential value of AI in legal is its ability to improve the experience of in-house lawyers who must navigate the natural dichotomy that exists in their job description.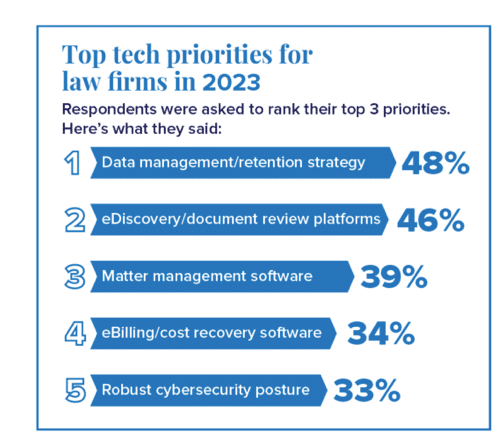 The job of an in-house lawyer involves much more than traditional lawyering – analyzing law and fact. Legal analysis allows you to evaluate risk, develop strategy, negotiate terms, and persuade others.
Here's where AI can relieve lawyers:
GCs and corporate attorneys must also perform other tasks to fulfill their primary duty of giving legal analysis, including:
Creating procedures and structures that achieve both legal and business objectives for a company

Fielding requests and questions from employees, business partners, and other stakeholders

Establishing best practices for the company to maintain compliance with applicable regulations

Training other attorneys, legal department staff, and non-legal colleagues on established compliance practices
These bulleted points have more to do with the non-legal aspects of being an in-house lawyer that are time-consuming, repetitive, and can sometimes distract from the legal analysis work you must do. This is where AI can alleviate some of that burden, saving you time and resources for other efforts.
Improve Your Use of AI in Legal Today with Exigent
AI, like ChatGPT, is an automation tool that will improve the work experiences of in-house lawyers who embrace its ability to optimize workflows.
Exigent is a lover of both AI and Microsoft tools. We provide bespoke support for developing and automating legal workflows, creating legal intake dashboards, triaging and tracking key KPIs to help departments report on metrics all using Microsoft 365 and SharePoint
Exigent is an Alternative Legal Services Provider (ALSP) breaking industry boundaries and raising the bar for data-driven decision-making. With a powerful combination of technology, legal expertise, and business acumen, Exigent creates expert solutions that drive better legal and business outcomes for law firms and corporations.
Exigent delivers scale, expertise, and insights that generate bigger returns for CLM – Contract Lifecycle Management, Legal Spend Management, e-Billing, Due Diligence, Document Review, eDiscovery and Litigation Support, Commercial Services, Regulatory & Compliance, Outsourced Legal Administration, and  Legal Tech Design. 
Follow us on LinkedIn and Twitter to transform the way you do legal.