GCs and chief legal officers have a difficult job managing every corporate legal operation of their organization. The job is made even more challenging by enhanced scrutiny of legal spending by your C-suite, disruptions in the legal talent market, and rapidly evolving technology.
Further your understanding of legal operations with our quick guide and discover potential growth areas in your operations.
Key Takeaways
Corporate legal operations require structure and a willingness to continually develop that structure through documentation. 
Effective delegation to ALSPs, outside counsel, and internal teams is key for making the most of your legal department's operation resources. 
Data analysis and legal spend management of your operations is your way to track success, identify issues, and make positive changes. 
What Drives Corporate Legal Operations?
Corporate legal operations serve a specific purpose: to achieve preferred legal outcomes for your organization's various business units efficiently and accurately. While this sounds easy, it's difficult to execute for a few reasons.
For example, not all legal issues and projects are equal. A variety of factors outside the department's control, such as employee turnover or actions by other business units, can derail thoughtfully crafted processes.
However, knowing how to bring order to that chaos is what makes a GC and their legal department valuable. Those without a clear vision for the operation's end and the intermediate steps are most vulnerable to unnecessary costs and unfavorable outcomes.
5 Key Areas GCs Can Focus on to Improve Legal Operations in 2023
Below are five crucial aspects of corporate legal operations where GCs and operation managers can make a significant impact. See how your legal department fares in these areas and find inspiration for improvements that could yield great returns on your operations in 2023 and beyond.
1. Structure Your Department's Legal Ops and Processes
Your legal department's operations consist of a series of inputs and outputs, from fielding requests from your business unit representatives to resolving legal issues with outside parties. Give each of these inputs, whether a SaaS contract or a worker's compensation claim, a name. This is the first step in structuring your operation. Once you identify and name the legal operation, use the following techniques to establish standards for it:
Playbooks: These are in-depth guides that detail the steps and issues within a corporate legal operation and give added context through resources such as templates and best practices.
Process maps: Visual illustrations of the operation flow that succinctly explains the party responsible for each step and their objectives.
Checklists: A big-picture list of major items within an operation, including the involved legal documents and their signatories.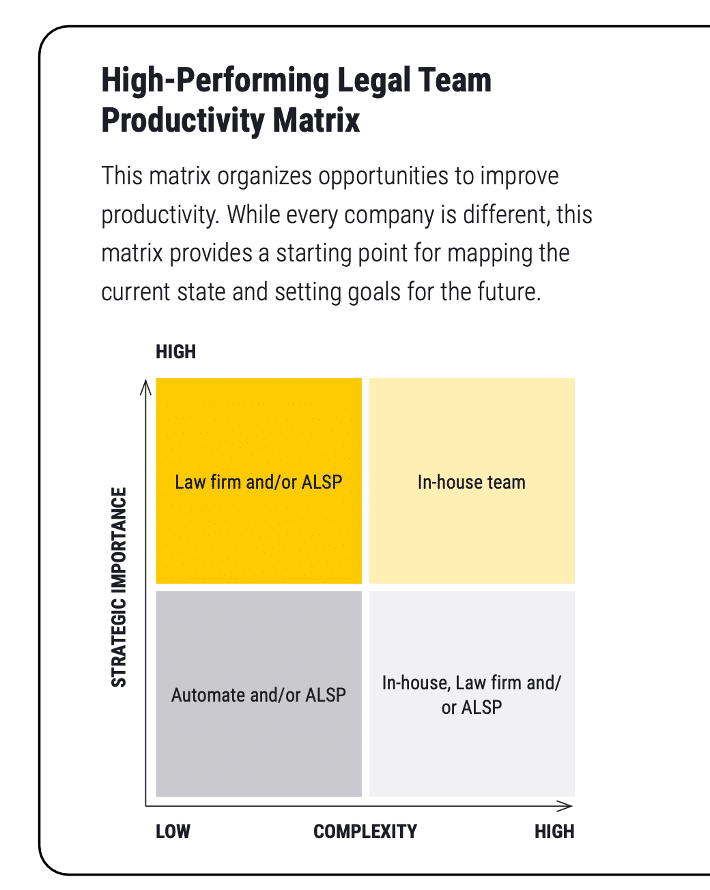 2. Establish a Clear Manager for the Legal Operation
The most efficient legal departments know who is responsible for managing each operation and are great at that delegation. This could be another attorney or unit within your department and or a third party, such as an ALSP or outside counsel.
When determining the manager of a corporate legal operation, consider the expertise and resources of your department. Most legal departments lack the workforce or local experience necessary to handle all the company's legal matters. You will likely need some outside help, on a one-off or reoccurring basis.
Knowing when to outsource a legal process is key for streamlining operations, maximizing efficiency, and keeping your internal legal team happy. You can also reference the productivity matrix for help in delegation choices, which balances the strategic importance of a legal operation with its complexity, to determine the best fit for its management.
3. Gather Data for Improved Insights and Use Them
In today's data-driven business environment, your C-suites and boards rely on data for performance evaluation, forecasting, and decision-making. GCs need to do the same in managing their corporate legal operations. The types of data you gather could vary depending on your company and its legal operations, but relevant data might include:
Outcomes of an operation and potential reasons for unsuccessful ones.
The frequency of your legal operations (e.g., how many times does your department handle a certain type of contract in a given period).
Costs incurred because of delays or errors in legal operations.
Savings from successful operations (e.g., litigation settlements below the average payout for similar cases).
Employee retention rates.
4. Use Spend Monitoring as a Measure of Successful Corporate Legal Operations
Effective legal spend management is an essential component of your legal operations, and it ties back to our earlier discussion on effective project delegation. You need methods and best practices to avoid drastic overpayment when you outsource a legal process to outside counsel or an ALSP.
Maintaining control over your legal spend can be challenging, especially when the process lies outside your area of expertise or geographical location. Consider the following practices for better legal spend management:
Understand who is on the outside legal team and their role.
Keep data on legal spend and the effectiveness of outside counsel for future comparisons and better delegation decisions.
Get estimates for completing an operation and negotiate when the bill drastically exceeds the quote.
Perform analysis to know when to bring an outside corporate legal operation in-house by hiring a full-time employee.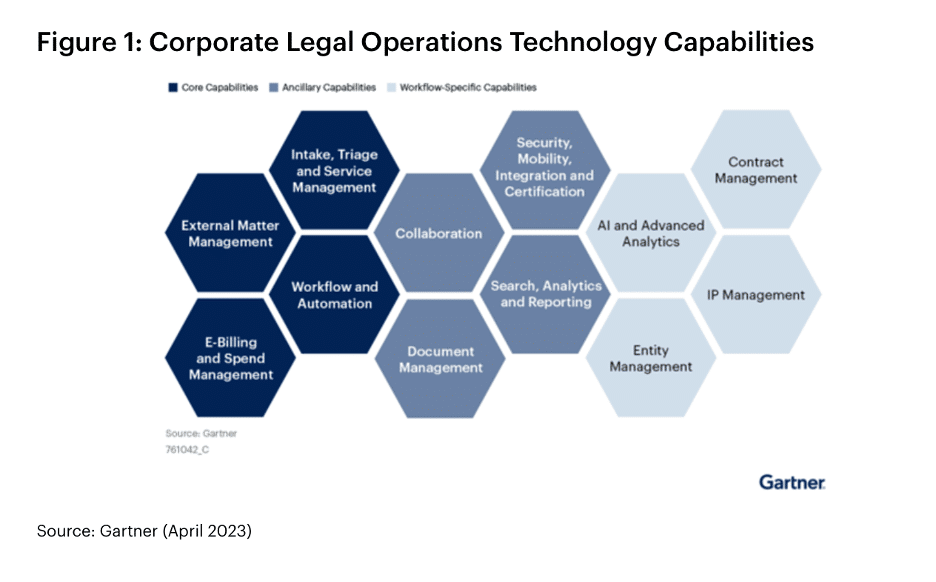 5. Prioritize Automation and Knowledge Management
Chief legal officers can improve their corporate legal operations by effectively using automation tools and knowledge management best practices. Automation, especially for collecting valuable legal operation data, can save time and resources, prevent unnecessary delays, and create more space for strategic work.
However, you must be thoughtful and deliberate when executing system changes for automation and other operation designs. Current reports suggest that by 2025, corporate legal departments will only reap 30% of the potential benefit from their investments in contract lifecycle management tools. This is where a focus on knowledge management (e.g., use of playbooks and process maps) is helpful in understanding the purpose of every operation and how your use of tech will improve it.
Transform Your Legal Department with Exigent's Legal Operation Design
A sustained focus on your corporate legal operations is a must for making the most of your team's resources and meeting the expectations of your organization. As a full-service ALSP, Exigent has the personnel and capability to address your most pressing legal operations challenges. Our design experts can offer guidance on improvements to your processes, such as customizations in your CMS or Microsoft 365. Additionally, our eDiscovery and litigation support units have been known to reduce costs for corporate legal departments by as much as 30-70 percent.
Contact us today for a free consultation on the needs of your legal operations.