In recent years, the Great Resignation has become a key trend in the broader workforce, as employees everywhere reassess their careers and pursue new endeavors. The legal industry, especially corporate legal departments, has felt its effects, with 86% of legal departments experiencing a significant impact from accelerated employee turnover as of late.
Despite the challenges of the Great Resignation, as a GC, you have a wide range of tools and strategies at your disposal to save your department from some of the risks posed by employee turnover.
We explore those strategies below and discuss how the Great Resignation can affect your operations and why you need to prepare today.
Key Takeaways
The impacts of the Great Resignation could hurt the perception of your legal department as a value creator as opposed to a cost center because of high turnover. 
Strategies for saving your legal department from the Great Resignation should include efforts to minimize turnover triggers and limit the fallout from legal talent leaving. 
A key to resiliency in the face of resignations and turnover is your knowledge management. It influences the ability to keep operations ongoing while you find replacements. 
How the Great Resignation Affects Corporate Legal Departments
Your corporate legal department provides a professional service business within a larger company, serving other business units. Employee turnover, whether planned or unexpected, causes frictions in your legal operations. You might experience:
Project delays and lost time because you must put efforts into hiring and training.
Loss of key legal process knowledge when experienced attorneys and staff leave the company.
Lapses in compliance (e.g., contractual or regulatory) that cost the company money and business reputation.
Potential harm to the legal department's culture, which could make the rehiring process more difficult.
The impacts of the Great Resignation could also contribute to the perception of your legal department as a cost center instead of a value creator.
Strategies for Protecting Your Legal Department from Unexpected or High-Volume Turnover
In some cases, an individual's decision to leave often involves factors beyond the control of your legal department (e.g., family, relocation, and other personal reasons). However, a GC can save its legal department from these turnover problems by focusing on two efforts:
Limiting turnover directly related to experiences within the legal department.
Limiting the fallout from inevitable resignations using resilient design of legal operations and other controls.
Consider the following strategies that could be helpful for both initiatives within your legal department.
Understand What Your Legal Talent Values and Reasons for Leaving
Every corporate legal department can provide unique value to the legal industry, which is crucial for recruiting and retaining top talent. As a general counsel, pay attention to the reasons your legal talent chose your department over other options. For example, your legal department might offer benefits such as:
The ability to do legal work in a rare but growing industry or market (e.g., cryptocurrency, renewable energy).
A reasonable work-life balance because of the nature of the company's industry.
Travel opportunities from remote work or company offices located around the country or world.
Develop the identity of your legal department and market that position to legal talent who values your offerings. This could improve retention rates because you reduce the chances of employee disillusionment about the position or department. Conversely, when a team member does resign, note their reasons. It could be limited potential for career growth, lack of investment in technology, or other operational issues that lead to workplace burnout. Use exit interviews to track this data and make improvements when possible.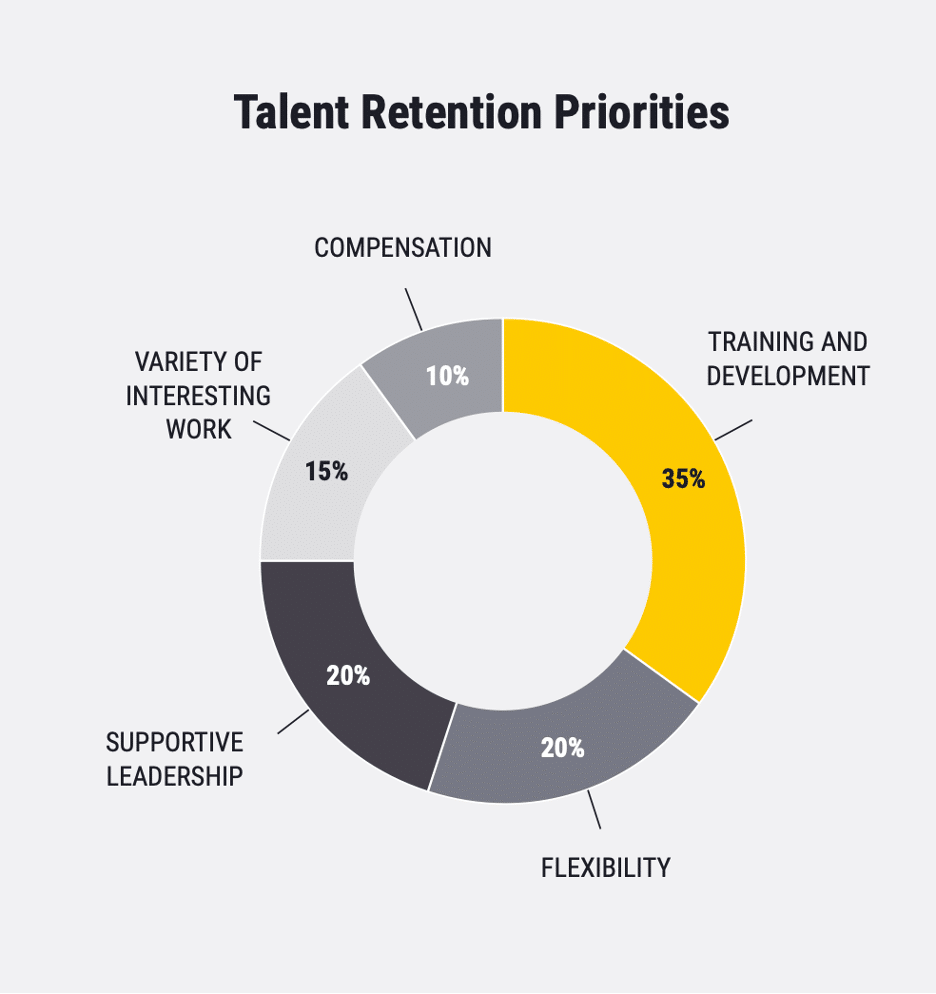 Identify the Vulnerabilities in Your Legal Operations and Workflows
Legal departments oversee a long list of essential operations and workflows, protecting the company (and its business units) from various risks. You rely on your legal talent, including attorneys and support staff, to manage these workflows. When a key member leaves the legal department, the heavy reliance you placed on their oversight becomes apparent. You want to evaluate the sustainability of your legal operations in the event of a sudden resignation by asking yourself the following questions:
What steps would you need to take to complete a project?
Do you know or have access to the information needed to fulfill each step of the legal process? How easy would it be to locate?
Who would assume the responsibilities of the operation until you hire a replacement?
Do you have the proper personnel or materials to train new hires on the nuances of the legal operation?
Your answers to these questions will reveal how prepared your legal department is for resignations and other turnover events. Anything short of a concrete response to each question should signal the need for further development of internal resources and operations, such as playbooks, process maps, and succession plans.
Use a CMS and Other Methods to Avoid Legal Data Silos
Data silos hinder a resilient environment for your legal department in case of resignations. Key information is easily lost in the emails and other personal communication of legal talent that leaves the department. You can mitigate some of this risk by centralizing your legal department's information using contract management systems (CMS), intake forms, customizations in Microsoft 365, and other knowledge management practices.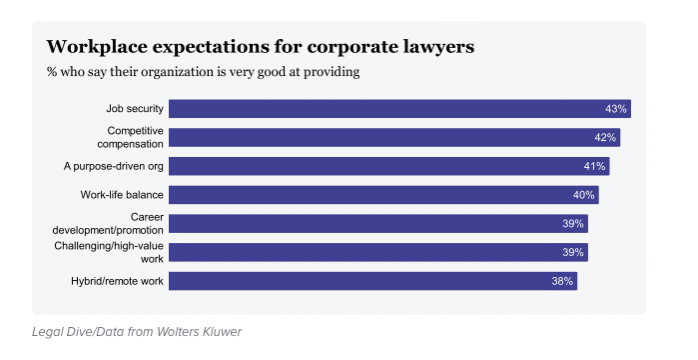 Have ALSPs on Standby for Rush Projects and Flexible Legal Ops Support
Alternative legal service providers (ALSPs) can offer triage or long-term solution for unplanned workplace shortages due to resignations or new projects. Explore the market for ALSPs that fit your legal departments' potential needs and start building those relationships so you can quickly integrate them into your process for urgent legal research, due diligence project, eDiscovery, or litigation support.
Avoid Turning Your Legal Department into a Cost Center Amid the Great Resignation
GCs can proactively mitigate the impacts of the Great Resignation through awareness of their legal talent's needs and attention to best practices for knowledge management. Exigent offers a full suite of services to aid your legal department in combating high turnover. Whether you need instant support or need consultation from our design experts on the resiliency of your legal operations, we are here to help.
Contact us today for a free consultation.