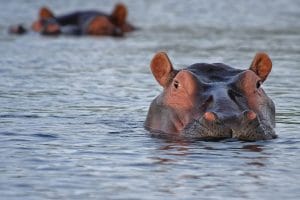 Nicola Stott, our Global Managing Director, offers some food for thought on how to emerge in better shape than you went in.
Restaurants that have never delivered a single meal are cooking for hundreds every week. An animal farm in Silicon Valley with no visitor revenue is inviting you to have a 'Goat to Meeting' – a Llama or goat at your next conference call for $100. And a travel company is offering personal virtual tours of cities where it has guides, to tempt people to book for next year.
These companies would never have suspected this would be their new business model a few months ago. Just as the rest of us would never have imagined we could activate and accommodate our entire businesses working from home with just a few days' notice.  But that's what we have successfully achieved – the unimaginable is now entirely normal.
I definitely missed the chapter in all the leadership books that set out a framework for tackling a global pandemic and I suspect there are lots of us being challenged to find a new and improved 'leader self'.
A raft to the deep end 
As an eternal optimist, I am of the mindset that we can turn this situation into a positive for our organizations by taking time to reimagine what's possible and adapt our businesses to emerge leaner, stronger, and ready to take on the challenges and opportunities in the new world.
Easier said than done, of course! One of the things I've had to make a real effort to address is not becoming overwhelmed and sucked down by 'shallow work.'  Suffocating in reactive tasks, emails, and meetings that make it incredibly difficult to find time to think, to focus on the way forward, and to turn our minds to the strategic challenges and opportunities facing us.
Eliminating emails, as this article suggests, might not be the answer for all of us, but I've found other ideas that have helped me to find the deep thinking time I need right now.  Discovering thought-provoking articles like this can be time-consuming, and that's why I wanted to share this and other business resources I've used that have sparked some ideas and help me crystallize my thinking.
My article is by no means exhaustive, but rather aims to be a raft that accelerates your journey to the deep end, and starts conversations for you, as it did for me, that are influencing the way we think and develop, post-pandemic.
Let go of legacy thinking
Like everyone, we want to be poised and ready to emerge from the pandemic hitting the ground running; and this article from McKinsey inspired me early on to think ahead.
It discusses the idea of creating a Plan Ahead Team and provides a great framework to shape and develop these thoughts. For us, I was worried that we would be limited by old thinking and old paradigms; so instead of forming yet another team of senior leaders to run this, I invited everyone from the entire organisation to participate in reshaping our future. We gave our employees the opportunity to pitch to get a place in one of the four teams that would tackle four specific areas, inviting fresh, new (younger!) thinking.
Despite everything else going on we had amazing engagement; there was a real energy to participate and excitement around the whole organisation. By having a diverse range of people, roles and levels it is forcing us to abandon legacy thinking and really live by the mantra "anything is possible."
Enjoying deeper waters, with structured swim aids
Our four Plan Ahead Teams are tasked with reshaping our future across four key areas – speed to quality and sustainable revenue, client experience: the WOW factor' a new era operating model; and reimagining our support functions.
Our thoughts seemed to be mirrored by this article I enjoyed reading from McKinsey. The research firm also suggests focusing on four keys areas: rapidly recover revenue; rebuilding operations; rethinking the organisation; accelerating digital adoption to enable reimagination.  I can't deny being quietly pleased that we seemed to be on the right track.
I've found McKinsey to be a really useful tool to ignite ideas, especially the deeper content it has produced that suggests the best ways for recovery within other specific areas of business: sales and marketing; customer experience; and operations.
Accelerating digital adoption to enable reimagination
The final point in the McKinsey article I mentioned above brings me to how we want to actively help others in our industry. With so many organizations anxious to know where they stand contractually, contract solutions – including contract discovery – have never been more vital. With our technology and our 17 years of experience and expertise, we know we can help.That's why we want to offer a limited-time free trial to our search tool, Scarlett Search for Contract Discovery. Contact us to learn more.
I've been overwhelmed in recent weeks with how communities have come together to offer each other help – for no cost. I've witnessed sole traders through to mid-sized organizations pitching in to help where they can. One example is Joe Wicks – a UK-based fitness instructor who has become the world's PE teacher doing PE with Joe every day to encourage children into fitness while they are unable to attend school, and donating all his YouTube profits to charity. Other examples that I'm finding useful are chiropractors who are bringing a wealth of knowledge online to help us stay fit and healthy, distilleries making hand sanitizer alongside their usual beverages, and countless others.
McKinsey advocates that now is the time to be bold with your technology choices, and in my experience, the best way to overcome any fear of being bold with technology is to go for the quick wins first. We're giving you this quick win. Right now, risk is a priority around the board table, and having visibility into your contract portfolio will help limit this exposure.
Firmly secure your own oxygen mask
One of the other aspects of the pandemic that I've found heart-warming is the empathy that many organizations have shown their employees. Not just around flexibility for childcare and healthcare, but also a renewed understanding that employee well-being and a work/life balance is vital to emerging stronger and fitter.
And that also goes for us as leaders. It's very easy for us to pour every ounce of our energy into our work, our teams and the health of our organizations, and inadvertently not give ourselves the TLC we need to stay strong and resilient. I make this point as a gentle reminder to practice self-care.
For me, never has there been a time when I've had so many people looking to me for guidance, reassurance and even hope. Every call I make, every meeting I attend, I want to bring the right energy – I'm a big believer that 'my mood is their mood' and maintaining the stamina to do this every time can run down the batteries.
Like making time to focus on 'deep work' and removing ourselves from the stifling air of email overload, I'm a huge advocate of prioritizing time for our well-being – whatever that means for you. Not only do I feel better and am able to show up with my 'best self' when I've had time for a recharge, I think that by setting an example it encourages my colleagues to make time to focus on their own well-being, resulting in a more energized organization overall.
Like you, we're feeling our way through this and working hard to ensure we emerge with a splash. If you'd enjoy some peer-to-peer idea-sharing, experience-swapping or opportunity/challenge processing, I'd be so happy to coordinate a group of us. Perhaps a Virtual Vino to get the juices flowing. Let me know via LinkedIn or email me directly here.