Experienced lawyers and GCs know their work product is only as good as their process. Strong legal workflows and operations are critical for minimizing the risks that come from delays, missed obligations, and not having a firm grasp of your department's data. With our guide, take the next step in your department's legal workflow management by considering the benefits of new tools and creating a framework for achieving the next stage of evolution in your legal operations.
Key Takeaways
Legal workflow management is about improving your processes in two critical metrics – time and cost. 
Embrace the power of technology to automate legal workflows and enhance your abilities as a lawyer by creating time for high-level, strategic work.
Add data analytics to your legal workflow management for greater insight that gives you the power to showcase the department's value while also spotting growth opportunities.
What Is Legal Workflow Management?
Legal workflow management is about how a GC achieves the goals of its legal department as efficiently as possible. The measure of that efficiency often comes down to two metrics – time and cost. The process is a never-ending one and continually forces you to repeatedly ask: Is there a better way to do this? And if so, does it make sense for my legal department?
Identifying Your Department's Legal Workflows: Broad and Granular
For legal departments, workflows exist in broad and granular contexts. A broad example might be the navigation of a contract lifecycle from the moment you sign an LOI to the completion of your post-closing checklist. Within this broad context, you also have smaller legal workflows like completing due diligence or executing on closing day. Your legal workflows often affect each other, which makes perfecting your management process vital to the overall success of the department.
Legal workflow management can help address some of the friction between your legal department and other corporate initiatives by reducing the time to complete tasks
In addition to the varying scopes of legal workflows, you also likely have operations that exist within and outside of the legal department. For example, the services you contract with a law firm or another provider. As a GC, you are responsible for successfully managing all these workflows. Common examples of workflows in your department are likely to include:
Using Technology to Improve Performance of Legal Operations
Perhaps the single greatest change legal departments can make is to adopt available technology tools for automated workflows. Lawyers are understandably resistant to the use of technology in their legal operations for fear of becoming obsolete. However, this viewpoint misunderstands the purpose of legal technology tools. It also grossly underappreciates the value and skill that GCs and legal professionals provide when it comes to the nuanced judgments necessary for managing a legal department.
Rather, legal technology is about enhancing a lawyer's skills so you can do your job better and faster. Let's explore this power in two major legal workflows – contract management and eDiscovery.
Technology Unlocks the Value of Your Legal Department's Contract Management
Managing an organization's contracts is one of the biggest duties of a legal department because they are how we allocate risk among business relationships. Naturally, your legal department needs to be able to access and respond to these legal documents in a fast and effective manner. The problem is that most legal departments have too many contracts to navigate without the support of modern systems.
CMS tools can help. A central contract repository allows your team to quickly find what you need. You can rely on simple queries that far outpace manual scans or ineffective searches in a generic folder on your hard drive.
The use of contract lifecycle management software is essential for perfecting today's legal workflow management.
CMS tools also offer advantages in how you interact with your contracts. For example, Exigent's CMS Solutions allow legal departments to respond better to their contractual obligations through clean dashboards and centralized contract databases, which provide more effective risk management.
Better Manage Your Document Review with Insights from AI Tools
Another easy way to enhance your workflows is to use AI tools in the document review and eDiscovery aspects of your litigation process. Today's litigation involves more documents than ever, thanks to everything we store on computers, including the metadata. Lawyers know that most responsive documents to discovery requests won't necessarily be relevant, but that doesn't remove the obligation to review them.
This assistance is where AI provides the edge through technology-assisted review (TAR). You can provide seed sets with phrases and terms that train the AI to distinguish between what's important in a case and what isn't. The benefit is that your legal team can quickly assess where to focus the bulk of their efforts in the document review process, which affords more time for settlement analysis or trial strategy in the future.
Key trends in contract management for 2022 that may impact your legal workflow management.
Get Smart about Your Legal Workflow Management with Data Analytics
Related to the use of technology is incorporating legal data analytics to further improve your workflow management practices. The power of data analytics is the ability to tell your legal department's story. You can share what's working with your C-suite while also being able to highlight opportunities for growth in your department, which gives confidence to others in your leadership and management skills.
Through KPIs, you can set baselines for your legal department's performance in certain tasks and be able to offer information to others about things like the length of your contract lifecycle, approval delay, and historical trend performance.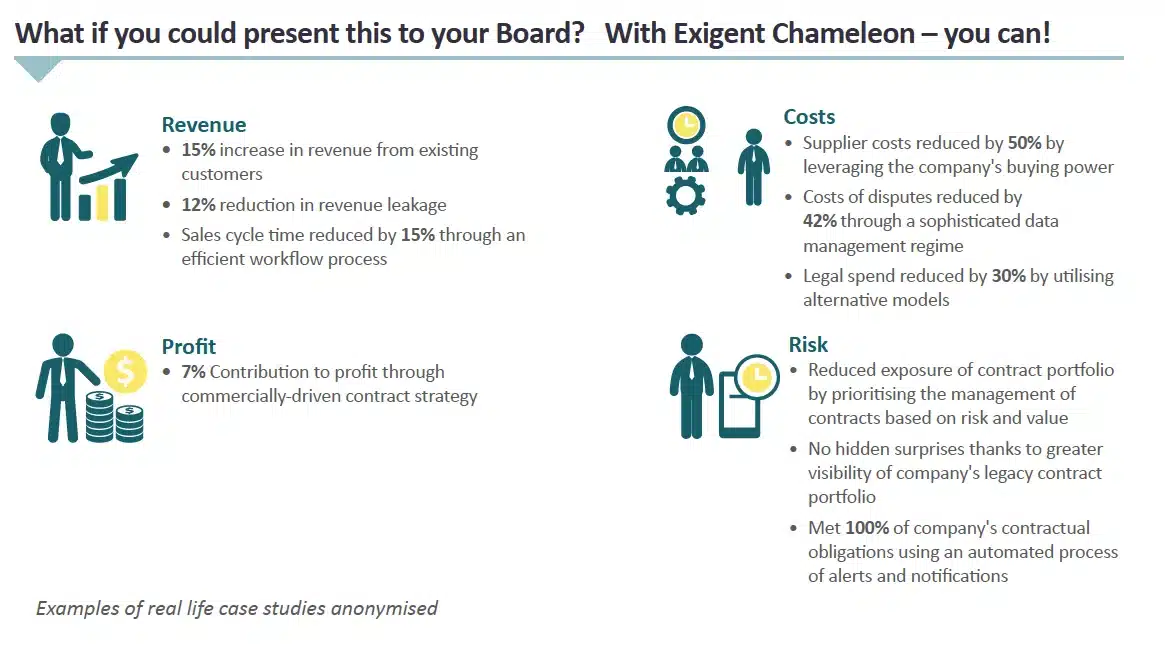 Other Key Issues for Strengthening Legal Department Workflows
Managing a legal department's workflows and processes is an ongoing project that requires a vision, the help of trained experts, and a willingness to take risks by accepting change in your practices. To navigate these challenges, you will want to consider how your department will address some key issues related to workflow management that include:
Training legal talent on using tools to automate or enhance their legal operations.
Preparing for future turnover of your legal talent with unique knowledge of the legal department's workflows.
 Taking a step back to review your current operations and document the success or failure of certain processes.
How Exigent Can Serve Your Legal Workflow Management Goals
Exigent operates as a third-party legal service provider committed to helping corporate legal departments take the next step in their evolution. Our team offers a comprehensive array of legal services essential to your department's management of legal workflows. Using technology, such as AI tools and other automated processes, we provide custom solutions to improve your legal department's most cumbersome processes like contract management. Consider a meeting with our representatives for demonstrations and detailed reviews of potential solutions for your needs.
Download our free whitepaper on taking your contract management to the next level.
Exigent is an Alternative Legal Services Provider (ALSP) breaking industry boundaries and raising the bar for data-driven decision-making. With a powerful combination of technology, legal expertise, and business acumen, Exigent creates expert solutions that drive better legal and business outcomes for law firms and corporations.
Exigent delivers scale, expertise, and insights that generate bigger returns for CLM – Contract Lifecycle Management, Legal Spend Management, e-Billing, Due Diligence, Document Review, eDiscovery and Litigation Support, Commercial Services, Regulatory & Compliance, Outsourced Legal Administration, and  Legal Tech Design. 
Follow us on LinkedIn and Twitter to transform the way you do legal.
Latest Insights
The Exigent 2022 Annual GC Survey: Breaking Free
General Counsels Reveal 'Secret Sauce'
We interviewed 50 GCs around the world to explore how they are breaking free of the barriers to delivering more value.
Download to learn:
Several common challenges GCs faced in their transformation process and what they did about them
Which priorities successful GCs handled first to achieve desired outcomes
5 Best-Practice Tip Sheets for how to "Break Free" of barriers to transformation for each strategic priority
The 6 Key Traits of High-Performing GCs