Legal teams can easily drown in the sheer volume of digital files, records, and metadata. However, e-discovery doesn't have to be a daunting task. With the proper legal e-discovery practices in place and transparency during meet-and-confer sessions, legal teams can streamline e-discovery. This cuts out unnecessary data review while exchanging information more efficiently.
Learn six steps to improve your legal e-discovery process.
Key Takeaways:
E-discovery involves several moving parts and can quickly become overwhelming without a clear strategy.
Effective communication is crucial to ensure both parties focus on relevant ESIs to avoid wasted time and expenses.
Automation and outsourcing streamline e-discovery, allowing lawyers to spend less time on document review and more on closing cases.

Why Is E-Discovery Crucial for Legal Teams in 2023?
E-discovery plays a crucial role in legal operations and data collection. Through e-Discovery, legal teams can:
Collect: Find, gather, and organize essential case and client information.
Preserve: Maintain the accuracy and originality of information and evidence.
Discover: Organize information so all parties can search and find the information they need.
Review: Examine information from other parties connected to your case.
Exchange: Seamlessly share relevant data with all involved parties.
Information legal teams collect and manage in the e-discovery process is called electronically stored information (ESI). This encompasses any digital data – such as contact information, communication records, and company files – that lawyers can use in a case.
What sets e-discovery apart from other online search forms is its inclusion of code and metadata. This shows document ownership and access history, which can make or break a case and help lawyers identify proof of tampering.
With the digital migration of vast amounts of information – allowing legal teams to access them electronically – e-discovery has become the norm in any legal proceeding. In 2022, the e-discovery market size was valued at $11.2 billion and is predicted to reach $17.1 billion by 2027. In some cases, e-discovery is not only a suggestion but legally required.
Therefore, businesses must be more conscientious about storing electronic information that may come to light during e-discovery, and lawyers must know how to leverage e-discovery for in-depth information search, discovery, and exchange.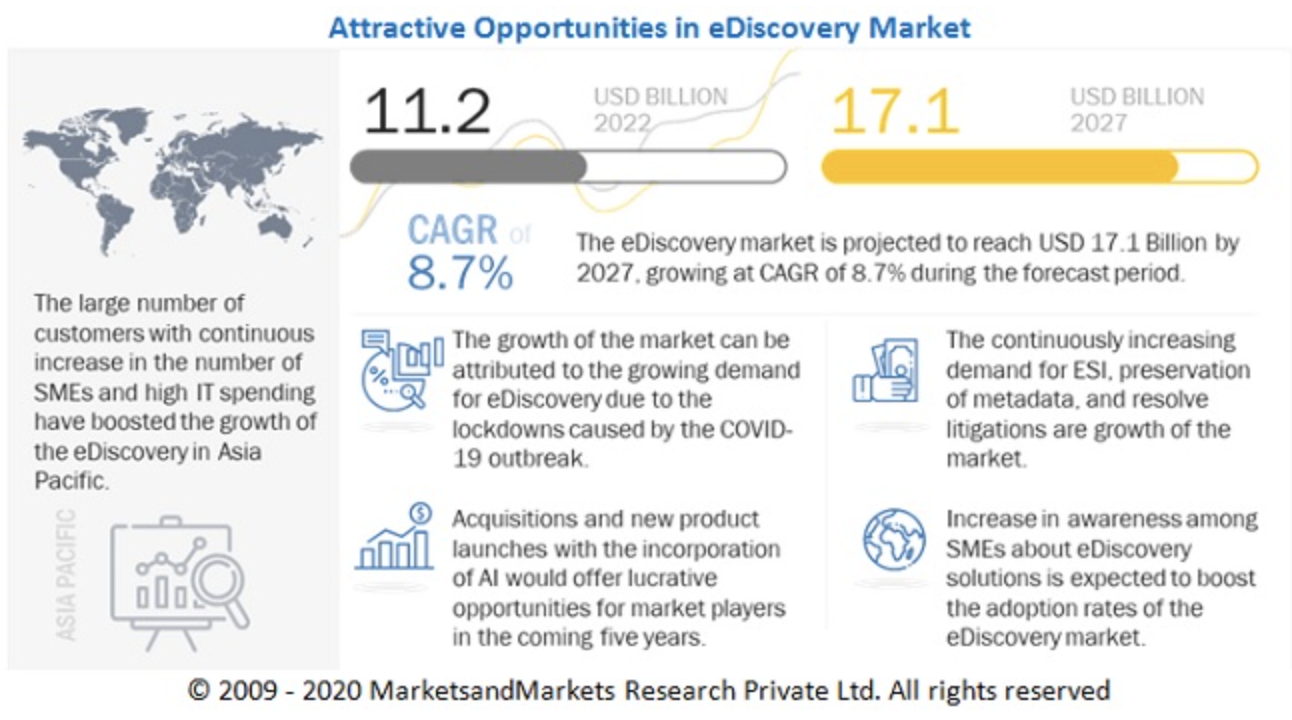 6 Steps to Maximize Your Efficiency with Legal E-Discovery
E-discovery is a multi-step process that changes depending on the information you are collecting and the legal hurdles your legal team must work through to collect or share the ESI.
Here are six steps to streamline your e-discovery process and avoid costly mistakes and unnecessary paperwork.
Step 1: Build a Legal Framework
Set up information governance policies for properly gathering and storing all ESI. These guidelines provide a framework everyone on the team follows to ensure everyone takes the proper steps to avoid legal trouble and safe data gathering and exchange.
Think of information governance as a legal roadmap for securing and requesting ESI. As a case approaches, begin collecting and storing relevant ESI following this roadmap and initiate requests for ESI from the other team.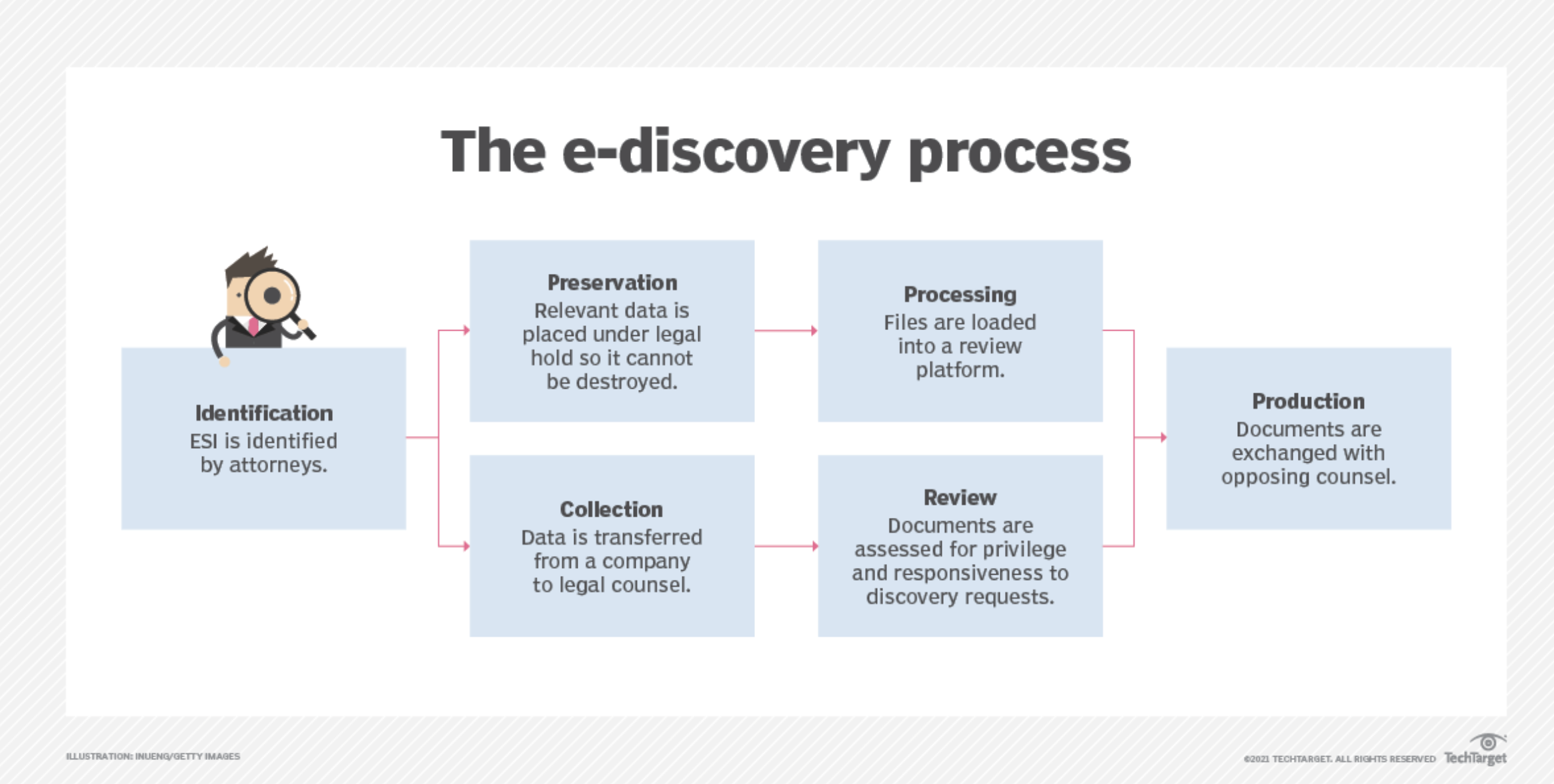 Step 2: Prepare for the Meet and Confer
As you build a legal framework and data governance around a specific case, be prepared to cooperate with the opposing party during the meet-and-confer meeting. Discuss e-discovery scope and methodology and integrate them into your existing framework.
You want to avoid "any-and-all" requests during the meet and confer, as these burden both parties. To cut costs while maximizing efficiency, specify the who, what, and where of all ESIs so each party can pinpoint their needs.
Step 3: Collect ESI Files
When cases approach, legal parties should immediately begin preparations, including the collection and storage of relevant ESIs. They should also begin requesting ESIs from other involved parties.
To avoid costly delays, lawyers must begin as soon as they suspect a potential case. Some ways lawyers identify ESIs to collect and save through e-discover include:
Examining data directly related to the case, like emails, phone recordings, and business records.
Reviewing the case for other potential interactions between involved parties and requesting those files.
Interviewing other parties to gather new information and identify relevant data.
Clarifying ESI locations during the meet-and-confer session.
Step 4: Manage ESI Files
After obtaining ESI files, lawyers must securely store them to preserve their integrity and avoid spoliation. This could be through legal holds or encrypted databases.
As you discover information and protect it, lawyers must also manage contracts and organize data for easy access when relevant to the case.
Step 5: Review and Prepare ESI Files
As the court date or other legal proceedings approach, compile and review the relevant data.
The data you organized and placed legal holds on will now move to the legal teams, where lawyers analyze the information and format it for court presentation.
You will also need to continue exchanging ESIs with the opposing team. To avoid legal breaches, use your data governance to ensure you only share the necessary information. This may involve encrypting or redacting certain parts of the file that aren't part of the legal proceeding.
Given the time-consuming nature of this step, many legal teams outsource it.
Step 6: Remain Open and Transparent
The e-discovery process will run smoothly if each party remains open and transparent throughout the proceedings. Communication is crucial during e-discovery to avoid either side becoming buried in paperwork. Each side must communicate what they need and take time to understand what the other party requests.
When there are mistakes, or you hesitate to share information, you may breed distrust, and the opposing team may challenge your disclosures, which adds more work and time to your tasks.
Effective communication also saves you time because you avoid over-collecting and oversharing information. By staying in contact with the other team, you only review the most relevant documents and can focus your attention on the most pertinent ESIs.
Save Time and Boost Productivity with Exigent
Exigent streamlines your e-discovery processes with legal workflow and contract automation, helping you manage every stage of the legal process effectively. This allows you to stay on top of what information you need and when you need it.
Benefit from our highly trained team and legal AI for speedy ESI discovery, organization, and exchange. Outsourcing through Exigent means you have fewer hoops to jump through and more time to spend closing your case rather than losing time preparing ESIs.
Contact us to learn how our outsourcing solutions can boost your productivity during e-discovery.