Legal operations is a hot topic among corporate counsel in 2023, with an ACC survey identifying it as a top strategic initiative for 70% of respondents. Companies are taking various approaches, such as hiring full-time positions or engaging third-party legal operations consulting firms, to enhance their legal operations.
No matter the size or needs of your legal department or company, focusing on how your team works is key to finding effective solutions. In this article, we cover seven strategies every GC should expect to discuss when working with a legal ops consultant.
Key Takeaways
Effective use of technology is essential in legal operations consulting in automating standard processes and collecting data for improved analytics. Artificial intelligence offers the next stage of evolution for legal analytics by imitating human skills of reasoning and observation into data collection and organization methods. 
How you use your legal team will influence the effectiveness of your operations, which is why you need a diverse pool of legal talent with a smart delegation method. 
Spend management is an important scorecard of legal operations, providing valuable insights into the efficacy of your processes and workflows.

1. Learning How to Diversify Your Legal Team's Skillsets 
Legal matters touch almost every facet of a company, which places a large administrative burden on even the most efficient GCs. Hiring experienced attorneys or outside counsel for every task and legal operation can be cost-prohibitive. Rather, GCs must find ways to build an efficient legal team with diverse skill sets to optimize their processes. Some ways to build a resiliently diverse legal team include:
Hire outside of traditional legal roles for certain tasks, such as data analysts, cybersecurity professionals, and industry-specific professionals.
Train paralegals, admin assistants, and others to support legal operations.
Have attorneys in-house with experience and education in various legal practices.
Encourage participation in continuing legal education (CLEs), conferences, and other places to develop relevant skills.
Just as diversity strengthens a portfolio, it is useful in building a legal team capable of meeting the challenges of a company. Consider adding to that diversity beyond your legal department by employing ALSPs and outside counsel for high-volume or niche operations.
2. Finding Opportunities to Automate Your Legal Processes
Improving your legal operations can also involve finding places where automation will provide significant benefits with minimal downsides. A recent Gartner report highlights the capabilities of legal technology into three categories: core, ancillary, and workflow specific. Using core and ancillary capabilities can maximize your attorney's time.
Streamline standard processes, such as intake and spend management duties, through online platforms that organize, prioritize, and identify issues before the attorney provides initial review and comment.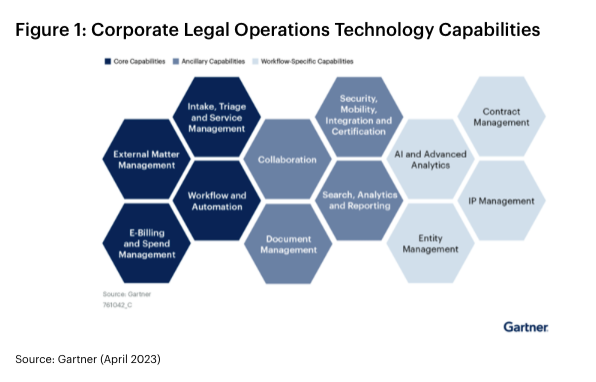 3. Exploring Data Analysis Methods Is Key to Benefitting from Legal Operations Consulting
While qualitative aspects of legal operations will always exist, GCs who focus efforts on the quantitative elements of their work can better demonstrate value to their C-suite and make more informed decisions. Your legal operation consultant should help you identify the metrics that will best tell your legal department's story and provide the most impactful data. Some examples of useful data analytic methods for general counsels include the following:
Gross legal operation figures.
Costs per matter.
Settlement and judgment averages compared with broader market data.
Year-to-year changes in cost and matter data.
Trends in your legal talent (e.g., retention rates, hiring timelines, experience).
4. Looking for Ways to Improve Relations with the Stakeholders and Business Units Within the Company
Corporate legal department operations often involve a series of exchanges with various business units and stakeholders that a particular operations service. For example, you may rely on information from sales teams, engineers, and others when fulfilling a request for a consent form and liability waiver for the company's services or products.
The quality of these internal communications is essential for building efficient legal operations that align with the company's needs. Beyond improving dialogue channels, you can build your stakeholder relationships with training seminars, facility tours, industry conferences, and more.
5. Developing Structure for Your Legal Operations Through Playbooks
Playbooks and other forms of knowledge management are vital parts of building a sustainable legal operation practice for your department. The purpose of a playbook is to:
Explain each stage in the lifecycle of a legal operation.
Identify issues that could arise within the operation and how to address them via escalation, holds, etc.
Create checklists for essential documents and signatories for a legal process.
Cite primary sources of legal information (e.g., corporate governance documents, state or federal law, or regulatory guidance).
6. Studying the Legal Department's Spend Management Practices
Legal spend is a key performance indicator for your C-suite and stakeholders when evaluating your delegation of operations to outside counsel. The question becomes whether a cheaper alternative exists that would provide the same result.
A study of your legal spend, paired with an e-billing system, is an effective way to see trends, fix problems, and gain valuable insights for future spending decisions. This data can be useful for negotiating an RFP on a special project, building a roster of panel firms for routine matters, and more.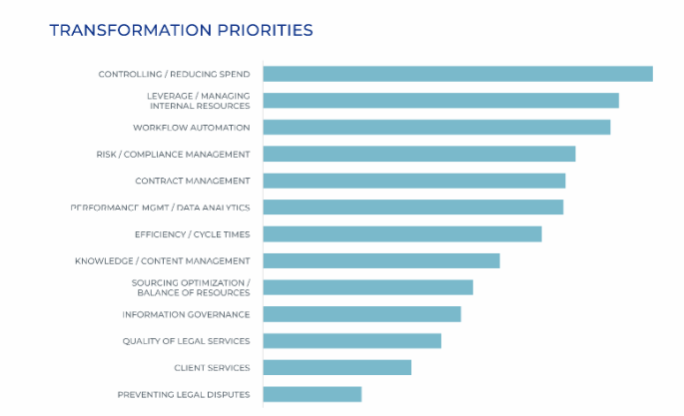 7. Evaluating the Priority and Value of Legal Operations for Effective Delegation
Managing legal operations requires effective use of everyone's time and skill while keeping an eye on the overall value of a project. You want your best people handling the company's most important legal work while delegating related tasks to junior attorneys, staff, or outsourcing to an experienced ALSP.
Consider how this applies to your own role as the GC or chief legal officer. Many legal executives find themselves in difficult positions. They are often the best in their subject matter as an attorney but now have non-legal responsibilities of being an executive, such as budgeting, data analysis, and broader strategy. You can't do it all, and the best GCs know which projects require their attention because of their potential impact on the department or company. They delegate everything else.
Have More Legal Operations Questions?
Exigent is an ALSP that prides itself on the use of data and technology to improve the operations of the corporate legal departments it services. If you have any questions about how the seven legal ops consulting listed above fit within your team, don't hesitate to reach out. Our legal design experts are always ready to guide you to a solution that leads to the business and legal solutions you want.