With the legal industry constantly shifting due to technology and changing laws, an efficient and streamlined legal operations team structure is crucial. With the right team, workflows, and hierarchy, you can optimize processes, enhance productivity, and ultimately deliver better legal services to your clients.
Below are five tips for building an efficient legal operations team structure that ensures success in today's legal industry.
Key Takeaways:
Building an efficient legal operations team structure is crucial for optimizing processes, enhancing productivity, and delivering better legal services in today's dynamic legal industry.
A well-structured legal operations team should include managers, tech experts, financial analysts, knowledge management, and more.
Clear goals, defined responsibilities, and outsourced services are the foundation of a solid legal operations team.

What Is Your Legal Operations Team Structure?
Legal operations haven't been around as long as many other areas of law, which can lead to considerable confusion about their function and necessity.
Legal ops aren't just helpful but essential, relieving the legal team hours of backend duties so lawyers can focus more on working directly with clients.
Your legal operations team structure is how you build your legal operations team so they can best support the legal team. This includes a hierarchy of managers and associates with a clear line of command.
Your structure is the blueprint for who you hire, what roles they fill, how they interact with each other, and how they support the legal team's goals.
Video Embed: https://www.youtube.com/watch?v=qFEn0uT2hno
What Should Every Legal Operations Team Structure Include?
A legal operations team should include the following:
Manager: Someone who oversees the entire legal operations, spearheading planning, strategizing, allocating resources, and keeping processes aligned with organizational goals.
Tech team: In today's tech-driven legal sphere, having a tech team is crucial today for keeping your technology running smoothly and averting potential delays.
Financial analyst: Keeps the budget on track and helps with legal spend management.
Project managers: Operating under the general manager, they are pivotal for planning, executing, and monitoring specific projects within the team.
Data analyst: With so much information moving online, you need a data analyst to keep track of information, clean data, and derive insightful patterns from data for the legal team.
Contract managers: They liaise with outside vendors, especially when you outsource some team tasks.
Risk managers: Your legal team carries a large amount of risk. The risk manager will help reduce that risk by identifying issues before they arise. They also ensure the group stays within legal compliance.
Administrative support: They perform auxiliary tasks such as scheduling, filing, answering the phone, and sending emails, allowing the legal team and legal ops to concentrate on case management.
Knowledge management: Keeps your information organized so the legal team can access what they need when they need it.
The various roles will look different for every team. Some teams may have additional roles or fewer roles depending on their needs and goals. For example, many groups also have a change management specialist who facilitates the adoption of new technologies and processes within the team.
Beyond filling roles, the team should follow a structured hierarchy of managers and specialists. It may look similar to this structure:
General Counsel

Legal Operations Director

Legal Project Manager, Legal Ops Manager, Legal Business Analyst

Titles such as Project Management Associate, Legal Ops Specialist, Business Systems Analyst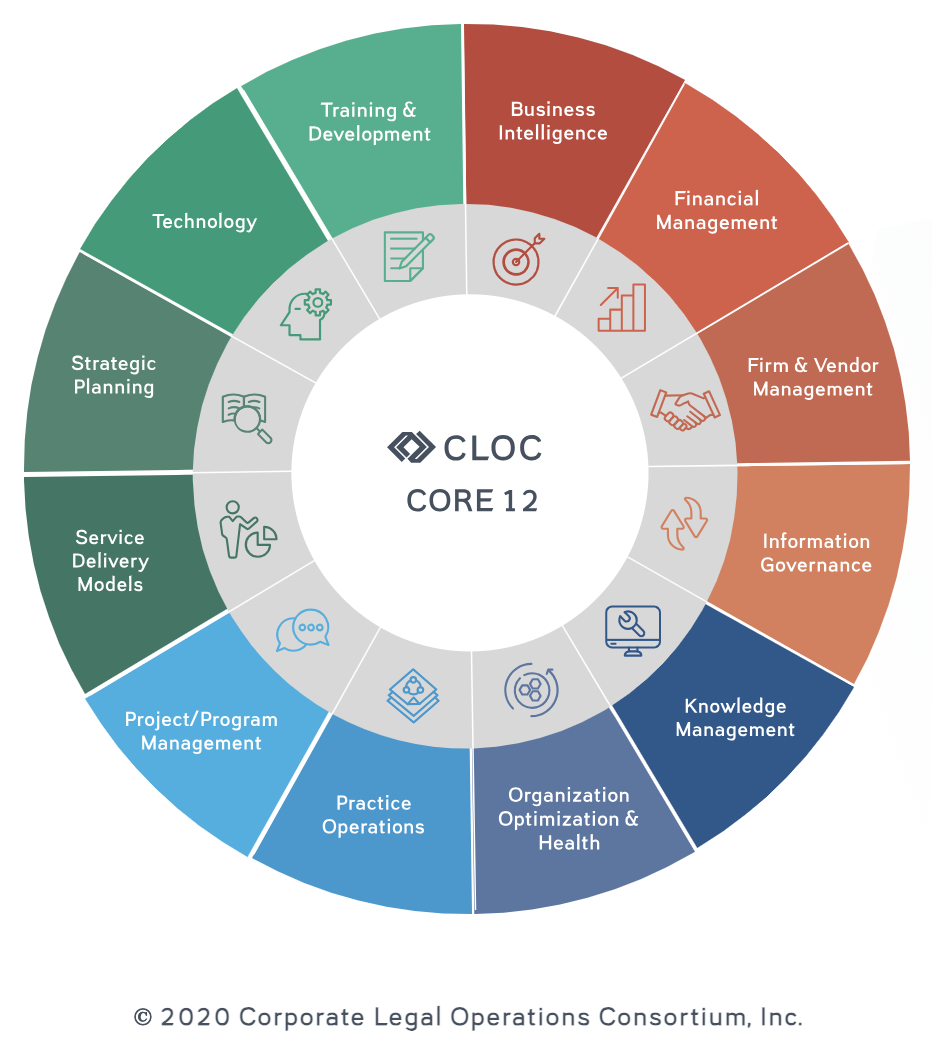 This hierarchy underscores a collaborative yet orderly framework, ensuring a seamless interplay of roles geared toward achieving the team's goals and ensuring adept navigation of the legal operations domain.
5 Tips for Building a Strong Legal Operations Team Structure
Explore five tips to get you started with building a legal operations team structure that stands the test of time, enables you to scale as needed, and can quickly adjust to changing regulations and technology.
1. Establish Your Team Goals
What do you want your legal operations team to accomplish? Setting goals gives the team a direction and an expected outcome to work toward. It also helps you understand who to include in your structure to accomplish those goals.
A 2021 Bloomberg Law survey reveals that 61% of law firms prioritize improving attorney efficiency when building their legal operations framework.
Alongside setting goals, establish benchmarks and specific metrics for tracking toward those goals. Continually analyze your performance and how it stands up to your goals so you can keep improving your structure.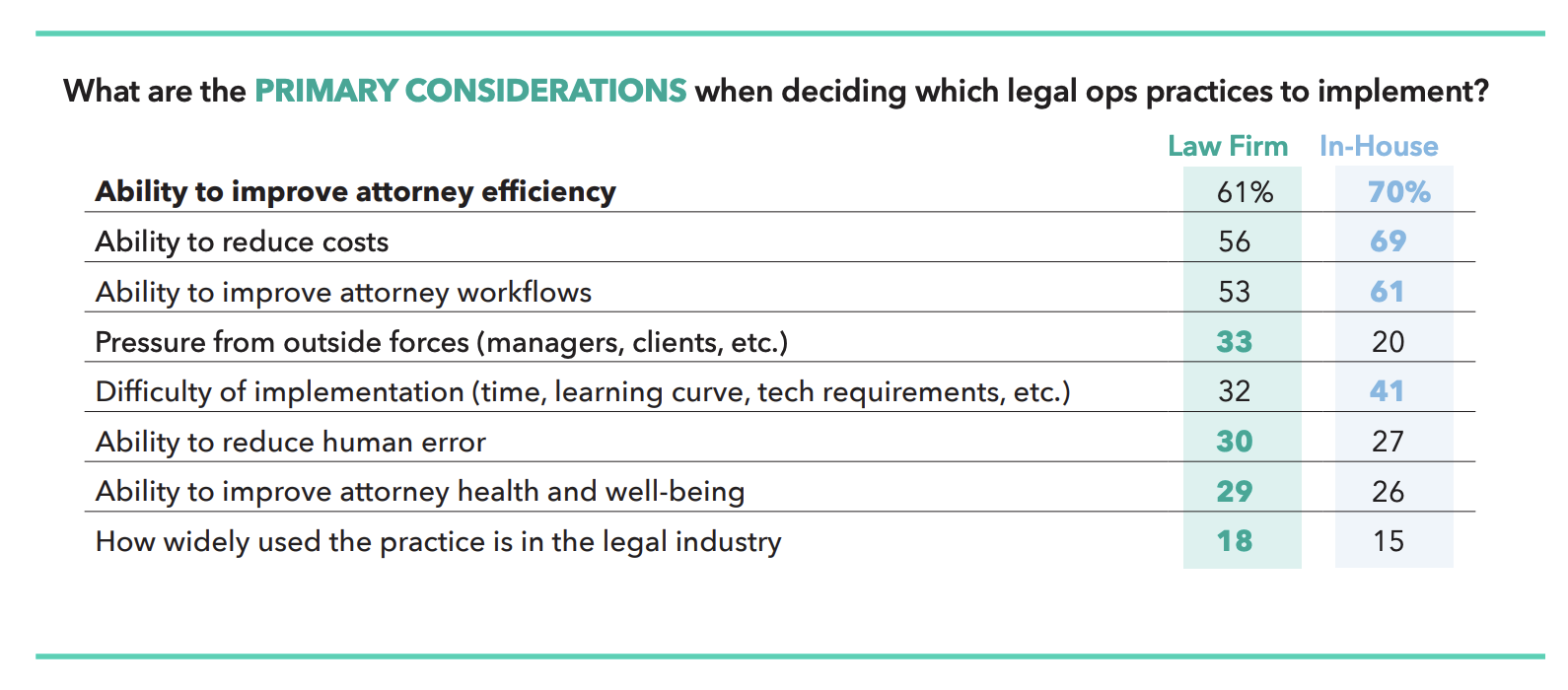 2. Define Your Roles and Responsibilities
To make the most of your team, you want to ensure every person understands their place in the structure. Create a detailed list of the members of your team, their responsibilities, and who they answer to. Defining responsibilities helps people understand their part of the structure and how they interconnect. This clarity also helps the legal team know who to address when issues arise or they need additional support.
3. Embrace New Technology
Not all of your legal operations team needs to be human. While humans are the team's heart, you can incorporate automation, AI, and other legal tech to perform mundane or repetitive tasks, streamlining your structure to focus only on the core tasks.
By removing repetitive tasks, you empower your team to focus more time on the more complex tasks, increasing their productivity.
Particularly, the realms of data and analytics and contract management can benefit from modern technology, enabling your data analyst to process more data in less time and automating contract lifecycle tasks.
4. Diversify Your Team
A legal operations team relies on a broad range of talents and skills to build a strong structure. It shouldn't just be a team of lawyers but rather a team covering several industries, including financial, technology, and communications. This diversity ensures you have someone who understands every aspect of the business outside the law industry, making your team more versatile and adept at tackling a wide range of challenges.
5. Outsource Your Legal Operations Tasks
Outsourcing opens so many doors in your legal operations team. It allows you to onboard precisely the expertise you need at any time without prolonged and expensive hiring processes.
With legal technology budgets predicted to triple by 2025, managing this type of growth can be tremendously difficult for an in-house team alone.
For example, during a long, challenging case, outsourcing certain legal operations roles can keep the team moving and avoid costly delays.
Outsourcing team members as part of your structure supports your legal workflows and builds a scalable strategy that grows with your business and keeps you ahead.
Free Up Your Legal Operations Team's Workload
Exigent offers outsourced legal operations services so you can reach more of your legal ops goals, experience tremendous growth, and reduce costs.
Are you ready to transform your structure and how you perform legal operations?
Contact us to learn more about our legal operations team services.