A benchmark study from Legal Dive highlights the primary concern for GCs regarding scaling their legal department—the drastic variances in team size. For example, companies with up to $1 billion in revenue typically have an average of three legal team members. However, that number jumps to 15 for companies with revenues up to $5 billion.
You may be scratching your head on questions about the optimal team size and the right time to expand. Our 1-2-3 guide to scaling provides a practical framework for solving these problems, giving you a sustainable path to success.
Key Takeaways
Scaling a legal department is not a grow-at-all-costs mission. Rather, your objective is to maximize the reach of your department and its operations with the available resources. 
You need a firm sense of the current state of your legal department, the needs of your organization, and a vision for how your team will function.
Employ a variety of tactics in your scaling initiatives, including adopting technology to automate workflows and outsourcing to ALSPs to bridge scaling phases.
What Does It Mean to Scale a Legal Department?
Scaling a corporate legal department differs from the broad commercial meaning that encourages a grow-at-all-costs mentality. Rather, GCs focused on scaling need a refined approach that maximizes the footprint of your legal team without sacrificing spend management and productivity. This requires attention to three key issues:
A realistic understanding of your team's current capabilities and deficiencies.
A prioritization of the organization's current and future legal needs.
A vision for how your legal team will grow, change, or adapt to meet those needs.
Every legal department faces unique challenges due to factors like budget, personnel, industry, and geographic location. As a result, scaling efforts will vary across departments. For example, scaling could mean onboarding a new CLM system to automate contract review process. Alternatively, it could mean hiring an in-house attorney if the salary cost is less than the spend on outside counsel.
5 Steps to Scaling Your Legal Department
Below are our five keys to guide you in scaling your legal department into a robust and efficient machine.
Step #1: Take Stock of Your Current Legal Team and Its Operations
The first step in scaling your legal department is knowing where things currently stand. You need to have a grasp on each member of your team, their costs, their skill sets, and their career timeline.
Each is important for evaluating their place in the future scaling of the legal department and their potential for growth that could further benefit the team. You need to include the use of ALSPs and outside counsel when tallying the inventory of your legal team, identifying the unique attributes they bring to your organization.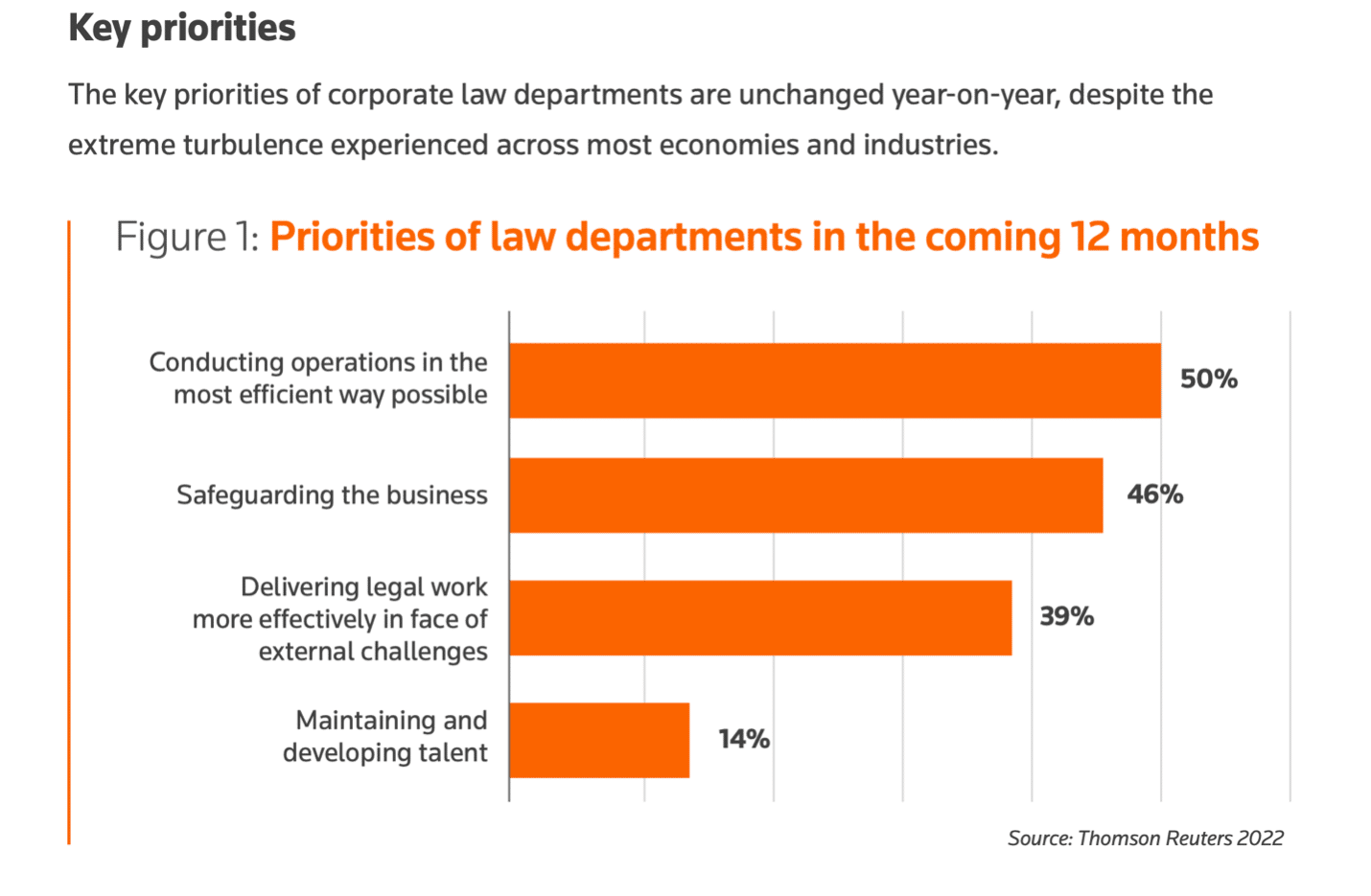 Step #2: Make a List of Every Legal Need Your Organization Has
Now that you have a comprehensive understanding of your legal team, your next step is to compare it with a list of your organization's legal needs. These are the deliverables your department provides day in and day out. While the specific operations will vary from company to company, most corporate legal department actions fall into the following categories:
Corporate governance and internal controls (e.g., employment agreements, company policies, training, minute books, documenting authority)
Contract management with third parties
Risk management and conflict resolution
Business strategy
When writing your list, be as detailed and granular as possible. Next to each action, operation, or workflow, note who is responsible for its execution, whether it is an employee or outside counsel. Don't confuse this list with everything your department currently does—this list should encompass everything your legal department should be doing. Consider this a wish list where, in an ideal world, your legal department would cover all areas instead of picking and choosing based on time and resource limitations.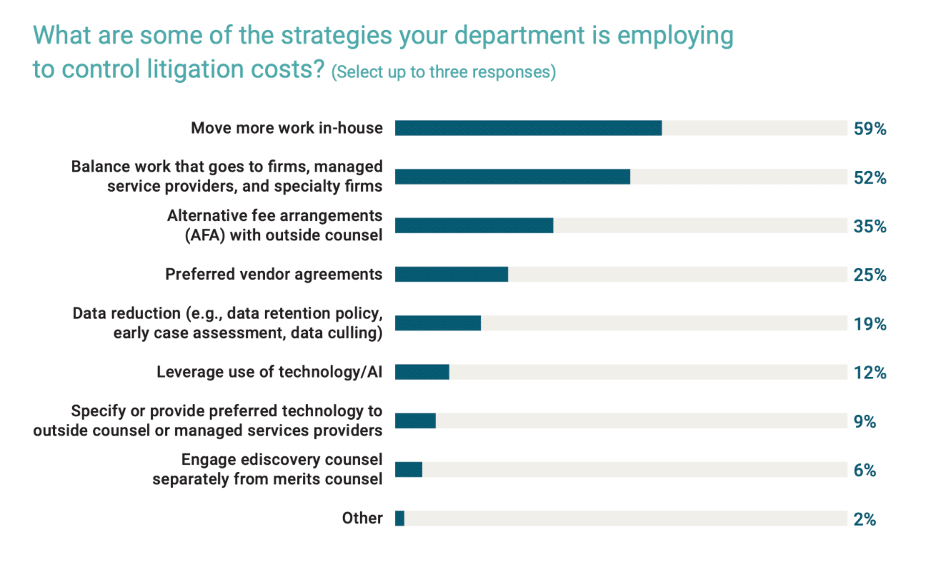 Step #3: Anticipate Future Legal Needs Using Data Forecasts and Business Alignment
The first two steps focused on understanding your legal department's current state. The third step looks toward the future. The legal needs of a company generally change in two ways over time. Your operations could grow in number as the company itself scales and does more business. For example, the number of contracts you manage could rapidly grow from hundreds to thousands or even millions.
Second, new legal operations could arise from decisions of your C-suite or external factors. For example, the company might acquire new intellectual property to license. For this, the legal department may need to manage those IP licensing agreements and provide pseudo-litigation support to deter infringement. Alternatively, government regulation outside your control could impose new filing or audit requirements on the legal department.
Identifying these needs in advance can be difficult without data and proper insight into the company's intentions. Start tracking key data on the matters your team manages annually to determine growth rates and future demand. Meet regularly with other business units to understand their operational outlook and what that will mean for your legal department.
Step #4: Develop Your Vision for How the Legal Team Will Scale Over Time
With all the information collected in steps 1-3, you can properly see the bigger picture and begin to build your vision for scaling the legal department. As we mentioned earlier, your scaling initiatives could involve a variety of tactics, including the following:
Implementing technology updates to automate operations.
Hiring diverse skill sets to meet new or growing needs.
Training current legal talent to develop skills in demand.
Outsourcing to an ALSP or outside counsel.
No precise order exists for how you should scale, but prioritizing initiatives that yield the greatest ROI will lead to satisfaction from your C-suite. It could also unlock greater scaling opportunities with additional funding in the budget.
Step #5: Eliminate Redundant, Obsolete, or Inefficient Processes
Scaling a legal department is a cyclical process, and the final step involves reviewing current operations and removing items that no longer serve the best interests of the company or your legal team. This step aims to refine your process to maximize efficiency and create room for your team to accomplish other projects.
Meet with Exigent's Legal Design Experts for More Scaling Tips
Exigent is an ALSP that prides itself on the use of data and technology to improve the operation and growth of corporate legal departments. Our legal design experts help you make the most of your resources and find innovative ways to meet the demands of your organization. Additionally, our litigation and research support services are fast and reliable, providing a natural extension of your legal team as a temporary or permanent solution during your legal department's scaling phases.