Legal teams and law firms that find themselves buried in low-value tedious work find that a contract playbook is an essential tool to streamline the contract creation process.
When developed effectively, a straightforward and concise contract playbook enables team members to self-serve on contracts, allowing commercial teams to consult with the playbook instead of speaking to the legal department or consulting an attorney.
Key Takeaways:
A contract playbook is a collection of information that standardizes, streamlines, and codifies contract management processes. 
Contract playbooks include fallback positions, negotiation strategies, rationale statements, approval processes, explanations of legal concepts, and much more.
Benefits include risk mitigation, preventing negotiation delays, retaining legal controls, and creating a united front during the negotiation process.
To create a contract playbook, choose a format that makes digesting the information easy, group relevant data, provide details, and determine the best ways to measure compliance.
Leverage contract automation software to improve contract compliance by setting up conditional logic, creating approval workflows, and using pre-defined templates.
What Is a Contract Playbook?
A contract playbook is a collection of data targeted at standardizing, streamlining, and codifying the contract management process. These playbooks contain a wealth of information and knowledge regarding the collaboration, negotiation, review, and approval stages of contracts.
Firms use this data to empower individuals to manage critical parts of the contract process without requiring a lawyer.
They can come in many forms. However, most will be within Excel sheets or as notes on other channels, such as Google Docs, Airtable, and Notion.
The Gaps An Effective Playbook Can Remedy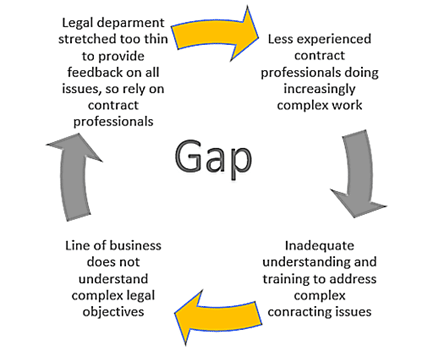 What Does a Contract Playbook Include?
Contract playbooks are also called contract negotiation playbooks since they generally contain enormous amounts of data that guide business and legal teams to self-serve contract negotiations and reviews. For instance, contract playbooks will typically contain the following information:
Fallback positions
Negotiation strategies
Recommended contract wording
Escalation points
Rationale statements
Approval processes
Explanation of legal concepts
Instructions for amendments
Valuable contract data
Benefits of Using a Contract Playbook
Contract management brings together legal and procurement teams. That is just one benefit is using a contract playbook at your firm. Here are a few more:
Minimized risk
Prevent delays in negotiations
Legal can return to high-value work
Legal retains control
Creates a united front in negotiations
How to Create a Contract Playbook
If you are wondering how to implement a contract playbook, here are a few tips on creating a contract playbook that works:
1. Choose a Playbook Format
Determine how you want to create your playbook and who and how can they access it. Usually, firms keep this data on paper stored in office filing cabinets.
A digitized playbook is how firms manage this data. It provides an easy, fast, and dynamic way for users to access critical business data. A contract automation tool helps legal teams do more with improved efficiencies through automated workflows.
Use this tool to lock down clause variations, formats, and rules applied. Keep design in mind to make the data more digestible and easier to read.
2. Group Relevant Data
When deciding how to compile your contract playbook, include all the information you intend to use for each contract. That way, you can fill in the data as needed per individual contract.
Source this data from:
Interviewing the most experienced lawyers within the firm
Separate guides previously used
Contract templates
Updated and relevant training materials
Previous contracts from various use cases
3. Address All Parties Appropriately
Once you've organized the playbook how you need, consider which of your staff will require user access. Providing the information to assist them with their specific requests is essential. For your contract playbook to empower users to self-serve on contracts, design it so they can understand and find it accessible.
4. Provide Sufficient Details
When creating your contract playbook, provide as much detail as possible about different rules,  instances, and workflows. It will enable you to limit risk as much as possible by eliminating ambiguity and or costly mistakes. Successful methods include templates, examples, and detailed playbook explanations to ensure that the teams self-serving on contracts know what to do and why they're doing it for the future.
5. Set Up an Effective Training Program
Next, you'll need to equip your teams with the knowledge needed to make the most of your contract playbook. Provide effective training sessions to ensure users understand its content and how to apply that information within with contract playbook.
Update your training regularly as the playbook evolves and adapts. The chart below discusses the benefits of an effective contract playbook training program.
Table of the benefits of an effective training program for contract playbooks.
6. Determine How to Measure Compliance
Now that you've built and implemented your firm's contract playbook, it's time to measure its effectiveness and how consistently the knowledge gets applied. It will require routine contract audits enabling you to measure compliance and assess whether the contract playbook is efficient.
7. Leverage Technology When Possible
One effective way to implement a contract playbook at your firm is by automating the processes delineated within it. Leverage technology and boost your IT infrastructure to manage digital transformation.
Using Contract Automation Software for Your Contract Playbook
There are several ways to leverage contract automation software to improve contract playbook compliance by:
Setting up conditional logic: This enables legal teams to set up hidden logic allowing users to soften deal clauses higher than pre-set values and legal agreement fallbacks based on the counterparty's responses.
Using pre-defined templates: Software that supports various templates can streamline contract creation. It is because most language, phrasing, and listed clauses in the playbook get laid out within a template, ready for teams to use.
Creating approval workflows: Instead of listing approver sequences that require review and approvals, contract automation software enables users to set up workflows for approvals in the software directly.
Automate Your Contract Playbook with Exigent
Is it time to automate your contract playbook so you and your team can close contracts faster? Automating your contract playbook with Exigent is easier than ever. Our advanced negotiation and approval features empower commercial and legal teams to create self-serve contracts with minimal risk.
To learn more about Exigent's contract playbook automation solutions, contact us today to speak to one of our friendly professionals.
Exigent is an Alternative Legal Services Provider (ALSP) breaking industry boundaries and raising the bar for data-driven decision-making. With a powerful combination of technology, legal expertise, and business acumen, Exigent creates expert solutions that drive better legal and business outcomes for law firms and corporations.
Exigent delivers scale, expertise, and insights that generate bigger returns for CLM – Contract Lifecycle Management, Legal Spend Management, e-Billing, Due Diligence, Document Review, eDiscovery and Litigation Support, Commercial Services, Regulatory & Compliance, Outsourced Legal Administration, and  Legal Tech Design. 
Follow us on LinkedIn and Twitter to transform the way you do legal.
Latest Insights
The Exigent 2022 Annual GC Survey: Breaking Free
General Counsels Reveal 'Secret Sauce'
We interviewed 50 GCs around the world to explore how they are breaking free of the barriers to delivering more value.
Download to learn:
Several common challenges GCs faced in their transformation process and what they did about them
Which priorities successful GCs handled first to achieve desired outcomes
5 Best-Practice Tip Sheets for how to "Break Free" of barriers to transformation for each strategic priority
The 6 Key Traits of High-Performing GCs