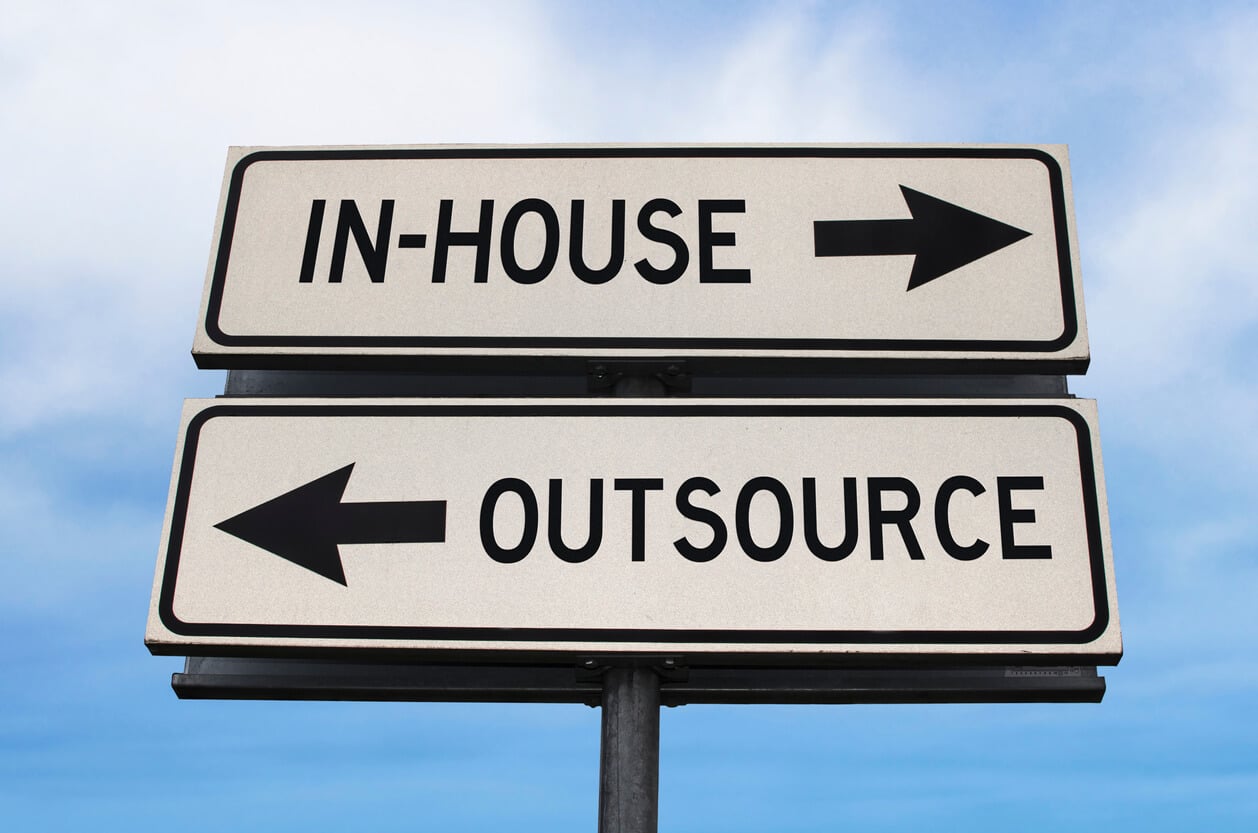 Some analysts predict the global legal process outsourcing market will be around $30 billion by 2026,  growing at a compound annual growth rate of approximately 26%. This points to one thing: outsourcing continues to make more and more sense to corporate legal departments given today's economy and its impact on the legal industry. 
Below, we look at some key reasons to consider outsourcing your legal operations. 
Key Takeaways
Legal process outsourcing can give your department access to legal tech without the expensive investment in new systems.
Outsourcing can help your spend management through more predictable costs and less reliance on expensive outside counsel.
Improved navigation of gaps in your department's skill sets and shortages in labor by outsourcing at a moment's notice.
1. Legal Tech Without Major Infrastructure Investment
With conversations around AI and other automation tools dominating the current legal discourse, you may have doubts about whether your legal department is maximizing the available technology. However, GCs also know that incorporating legal tech into their operations attracts implementation costs like:
Training 

IT support

Purchasing or licensing the software

Time to retire old systems and transfer data to the new programs
Enter legal process outsourcing. This is a cost-effective bridge between you and the most advanced legal technologies today. Instead of risking large investments in technology, you can outsource applicable legal operations to ALSPs that already use these legal techs, having made that cost investment. 
The benefit from a legal tech perspective is twofold. First, you can improve your legal operations faster and at a lesser cost. Two, you can use the experience with the ALSP to see if the legal tech would benefit your internal operations.
2. Navigate Gaps in Your Workforce 
Although the Great Resignation may be behind us, attorneys in legal departments are still noting the effects that the turnover of legal talent has had on their operations. A 2022 survey showed that approximately 70% of corporate lawyers are somewhat likely to leave their current position in the coming year, with 26% confirming they were very likely to leave. 
GCs can hedge against the risk of future gaps in their workforce by outsourcing certain legal processes to ALSPs. This ensures that work gets done amid employee transitions and departures. Outsourcing legal operations could also empower your knowledge management practices. You don't have to worry about key aspects of a process becoming lost when a senior attorney leaves your department. 
Of course, legal departments will want to take extra care in choosing an ALSP that could set up their operations for long-term success.
3. Easier Legal Spend Management from Flat-Fee Billing
Another advantage of legal process outsourcing is controlled spending. ALSPs and other legal process companies value the power that technology and its accompanying data analytics have for forecasting costs. This allows for more flat-fee billing opportunities on projects like reviewing eDiscovery or navigating records as part of due diligence on a transaction. 
Flat-fee billing is a win for legal departments on their legal spend management because you have fixed costs for your operations. Contrasted with the speculative pricing arrangements of outside counsel, flat-fee billing makes it easier to budget legal needs on a short and long-term basis. 
A case study of how corporate legal departments have benefited in the past by legal process outsourcing with Exigent.
4. Reduce Spend on Outside Counsel 
Exploring your legal process outsourcing options in 2023 could also pay dividends in reducing dependency on outside counsel. 
Corporate legal departments are primarily responsible for the many compliance processes and operations that have a legal flair but are largely administrative in nature. In other words, they are time-consuming and repetitive. We would never say they are less valuable than other legal work. But they may be less meaningful compared to other general counsel projects (e.g., risk analysis, corporate strategy, and planning).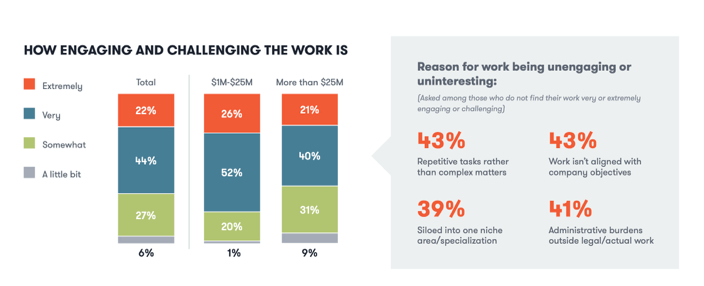 Before the rise of legal process companies, GCs had two choices: either incorporate the operation into their department or push the matter to outside counsel. The former risked overburdening your staff and later guaranteed overpayment for services (despite your contact attorney promising to offload the work to a junior associate or paralegal with a lower rate). 
Now, GCs have a third option: outsource to an ALSP with experience and a track record of success for your needed legal process. As a bonus, outsourcing these tasks may improve your department's retention rates as your attorneys can focus on engaging and meaningful work. 
5. Types of Legal Process Outsourcing That Could Benefit Your Department
Operations within your legal department that could be ripe for legal process outsourcing this year could include: 
Corporate governance (e.g., consent resolutions, meeting minutes, annual reports, and other state filings)

Contract review and due diligence 

Intellectual property registrations and infringement protection

Corporate and business taxes

Regulatory compliance

(e.g., immigration filings for international employees)
Get Started with Legal Process Outsourcing Today
Legal process outsourcing via ALSPs, like Exigent, will continue to be a growing area of interest for corporate legal departments because of their key benefits. Cost reduction, predictable pricing, and serving as a backstop to gaps in your department's skill set or size are chief among the advantages of outsourcing. Changes in the legal industry make having a reliable ALSP on your team a priority. Explore how Exigent can improve your legal operations today and cement your position among corporate leadership as a strategic business partner.
Schedule a consultation with us today to start outsourcing your legal processes. 
Exigent is an Alternative Legal Services Provider (ALSP) breaking industry boundaries and raising the bar for data-driven decision-making. With a powerful combination of technology, legal expertise, and business acumen, Exigent creates expert solutions that drive better legal and business outcomes for law firms and corporations.
Exigent delivers scale, expertise, and insights that generate bigger returns for CLM – Contract Lifecycle Management, Legal Spend Management, e-Billing, Due Diligence, Document Review, eDiscovery and Litigation Support, Commercial Services, Regulatory & Compliance, Outsourced Legal Administration, and  Legal Tech Design. 
Follow us on LinkedIn and Twitter to transform the way you do legal.