Legal job seekers take the lead in the legal tech revolution with Exigent Group Academy program!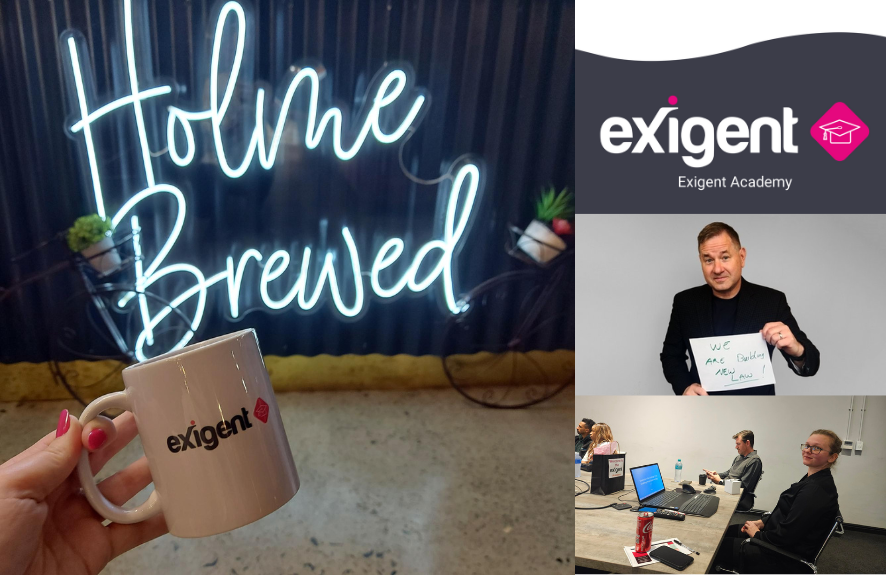 [Cape Town, October 10th, 2023] – In a rapidly evolving legal landscape, Exigent Group Limited is seizing the opportunity to lead the way in harnessing the power of Artificial Intelligence (AI) and digital technologies for law firms and corporate legal departments. Exigent Group Academy, a new initiative of Cape Town darling Exigent Group, is thrilled to announce an innovative initiative aimed at providing legal professionals and students with the knowledge, skills, and tools they need to stay ahead of the digital AI curve in liaison with
University of the Western Cape
,
University of Cape Town
and
Stellenbosch Business School
The legal industry is undergoing a profound transformation with AI and technology playing an increasingly central role in the delivery of legal services. Recognizing the importance of embracing this transformation, Exigent Group Academy is committed to empowering lawyers to navigate the digital age effectively.
Comprehensive Curriculum for the Digital Lawyer
The Exigent Group Academy's comprehensive curriculum encompasses a wide range of courses that cater to various aspects of legal practice. These courses include:
How to Adopt the Business and Digital Mindset: How to become a business enabler and become a sleuth at finding ways to harness technology for speed and accuracy.
AI in Legal Research: Discover how AI-driven research tools can revolutionize legal information retrieval, allowing lawyers to access critical information quickly and accurately.
Contract Analysis and Automation: Learn how AI can streamline contract review processes, identify risks, and improve contract management, enabling lawyers to provide more efficient services to clients.
Document Review and E-Discovery: Gain expertise in AI-powered document review and e-discovery tools, saving valuable time and reducing costs associated with litigation and regulatory compliance.
Ethical Considerations in Legal Tech: Explore the ethical implications of AI and digital technologies in the legal profession and learn best practices for ensuring compliance and integrity.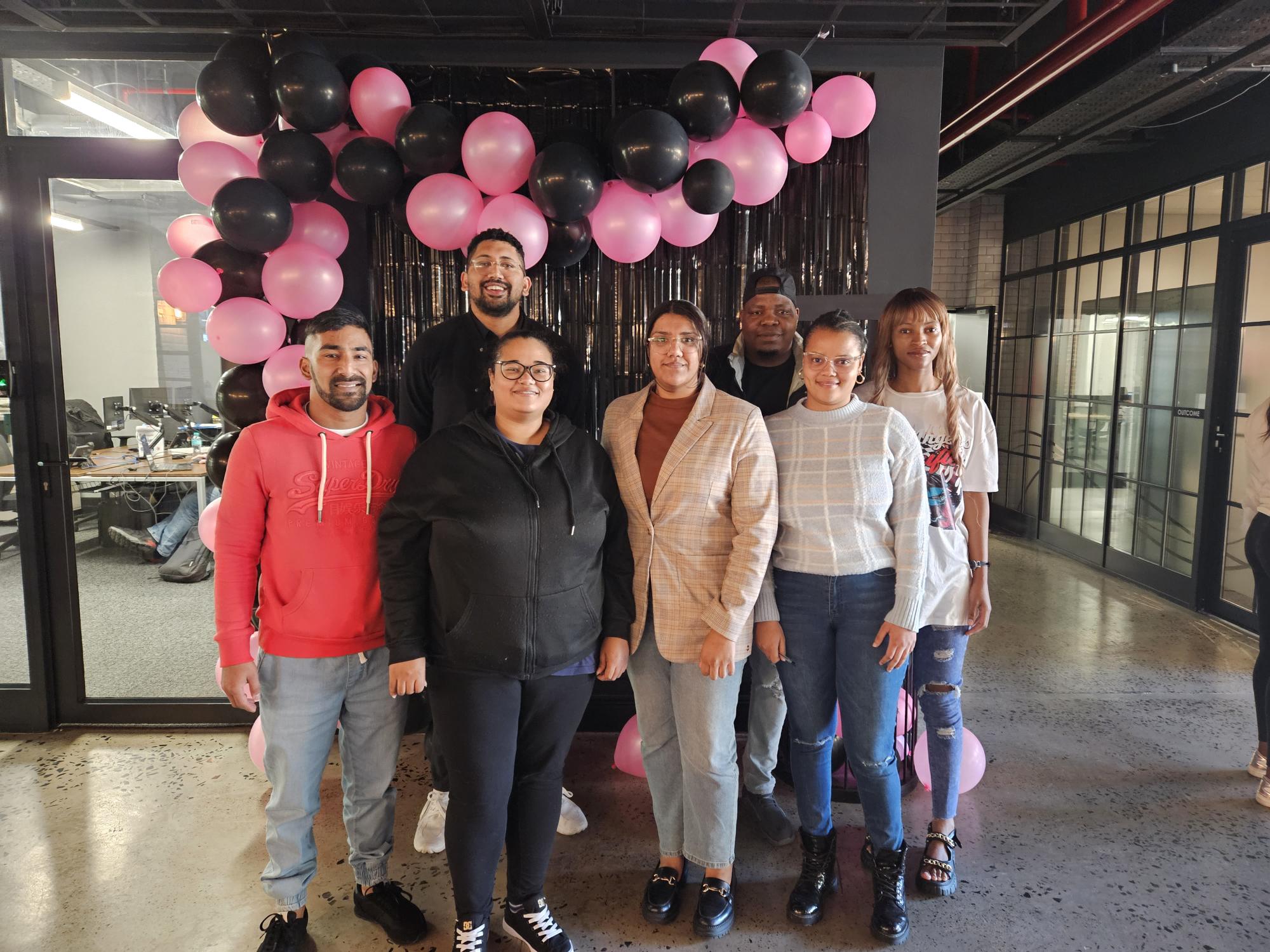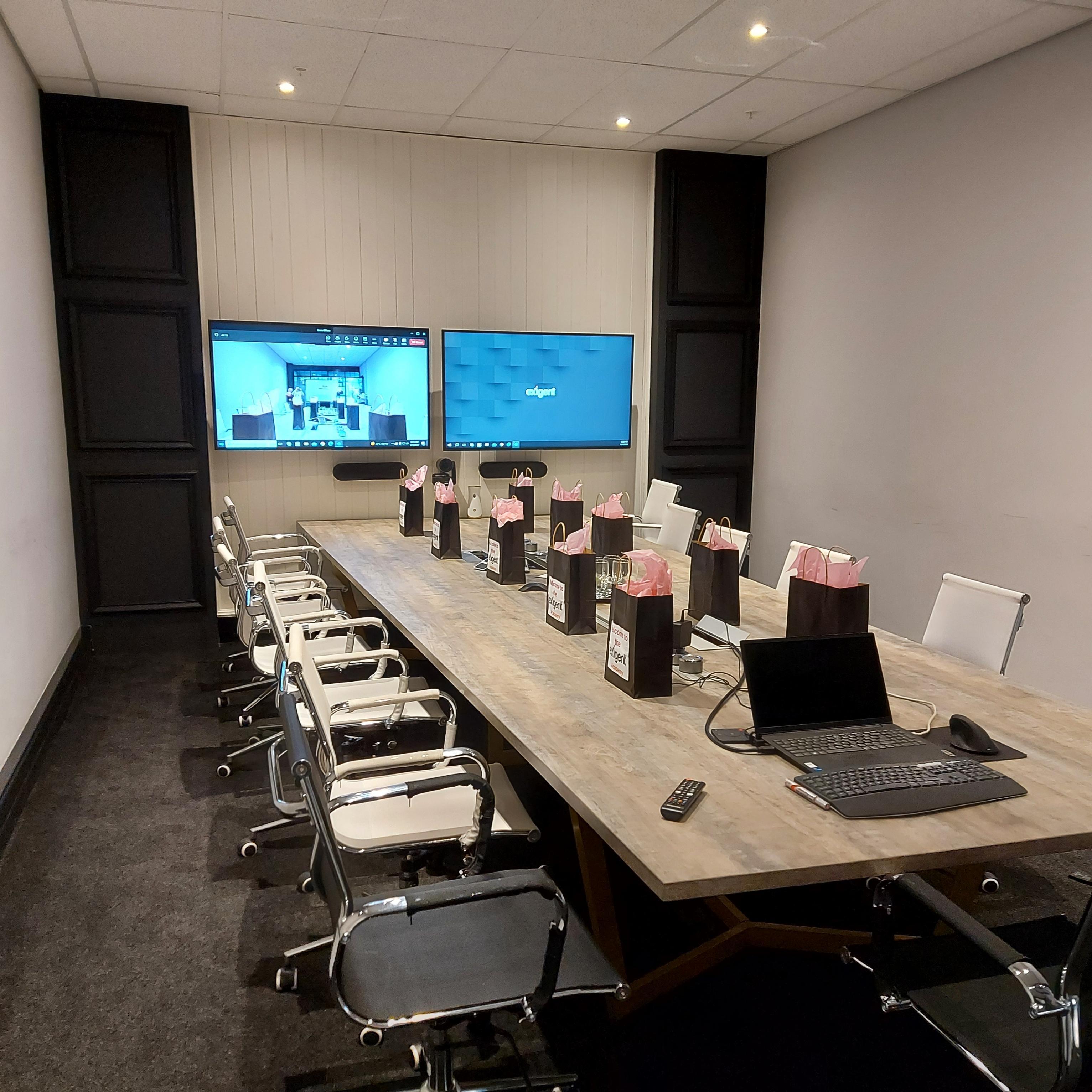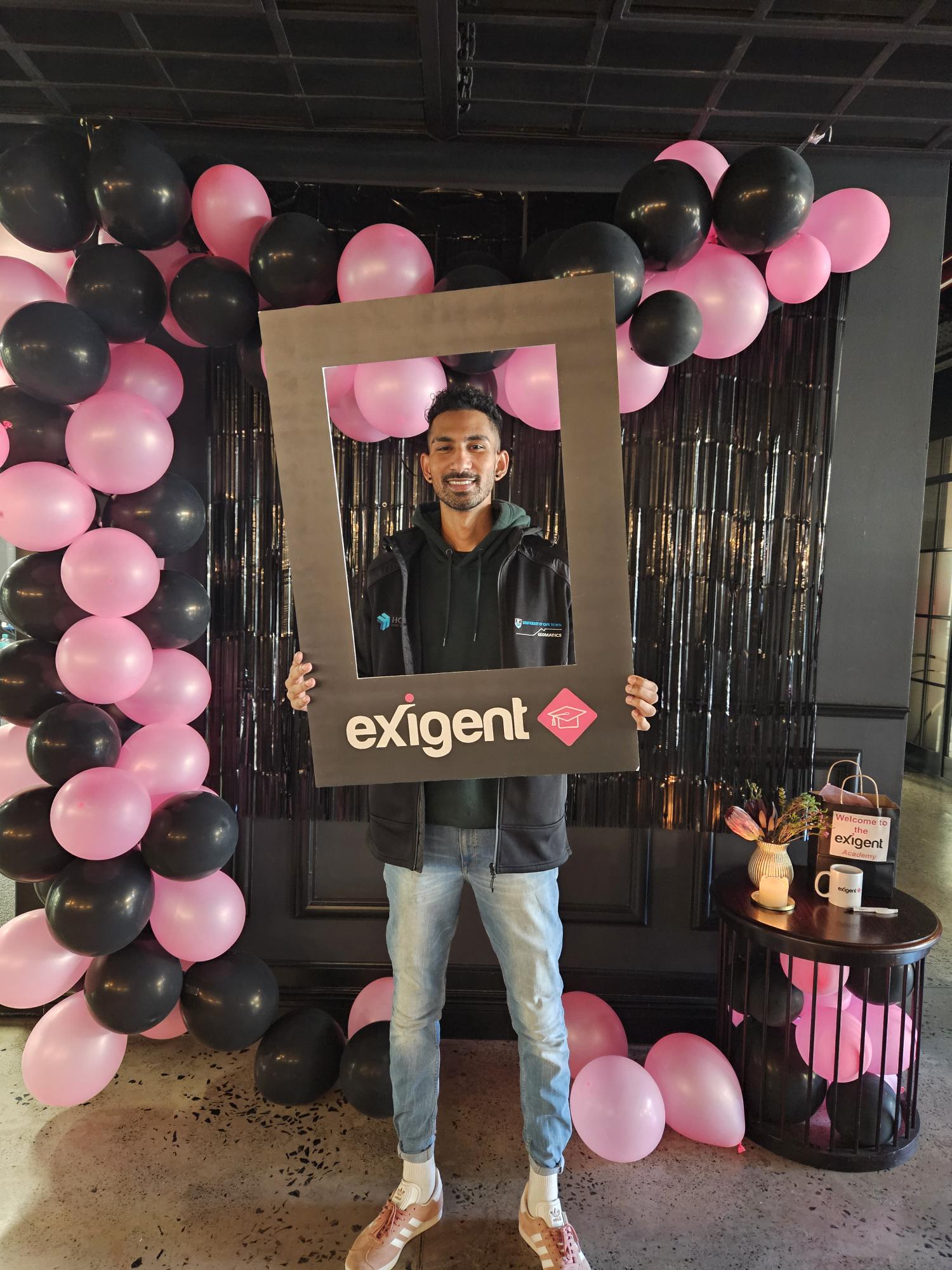 Empowering Lawyers for Success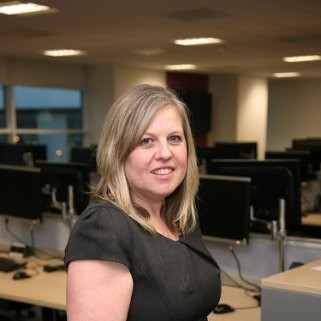 "At Exigent Group Academy, we firmly believe that lawyers should be at the forefront of the legal tech revolution," said Leslie Jerry, People Director at Exigent Group Limited. "Our academy is dedicated to bridging the gap between traditional legal practices and the digital future. We aim to help lawyers leverage AI to provide better services, streamline their work processes, and ultimately enhance their competitiveness."
Does The Marketplace Need this Bridge?  General Counsels chime in on what they are looking for in their hiring process…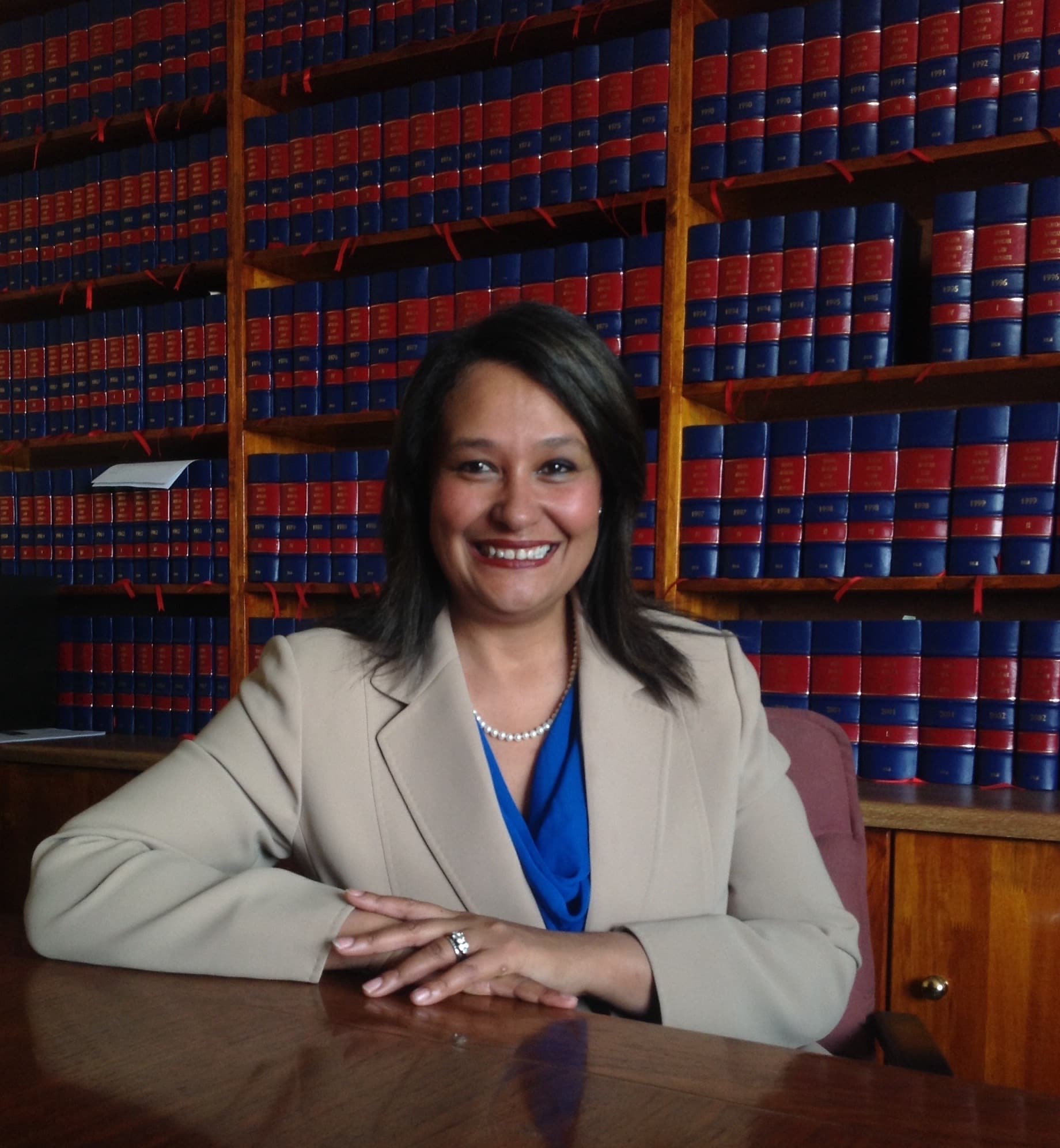 Melanie Vogts, a recent interview of the Exigent GC Forum Africa, has over 20 years' experience as a Group Chief Legal Officer in corporate legal, offers valuable advice for students looking for career advice in her episode "Take Your Legal Team Out of the Dark Ages" hosted by Leander Naidoo Naicken.
Melanie's thoughts on Creating and running a Modern Legal Team
"Selecting team members should entail a process which moves away from being based on evaluating candidates who are applying for jobs in legal departments purely on academic results. Academic results are a result of performing well in a structured environment where assessments are mostly designed to test knowledge memorized.

Information is freely available, one does not need memorizing and regurgitation skills to be a good practitioner, so why would one select staff based on their academic results. The skills required to make a good legal team member are much wider and more difficult to obtain. Different skills are needed to make a good team. Skills such as leadership, emotional intelligence, being agile and having the hunger for learning and information."
---
Participants in the Exigent Group Academy will benefit from:
Industry-Leading Instructors: Learn from experts with extensive experience in legal technology and AI.
Cutting-Edge Resources: Access to state-of-the-art AI tools and resources for hands-on learning.
Certification: Graduates will receive certification, demonstrating their proficiency in utilizing AI to drive legal excellence and the agile approach to legal.
Acknowledging Our University Partners and Industry-Leading Instructors: Mitch Kowalski
The Exigent Academy extends its heartfelt gratitude to the partner universities that collaborated in this transformative journey:
University of the Western Cape
University of Cape Town
Stellenbosch Business School
Bradley Greenhalgh, Legal Education and Student Coordinator of Stellenbosch University states: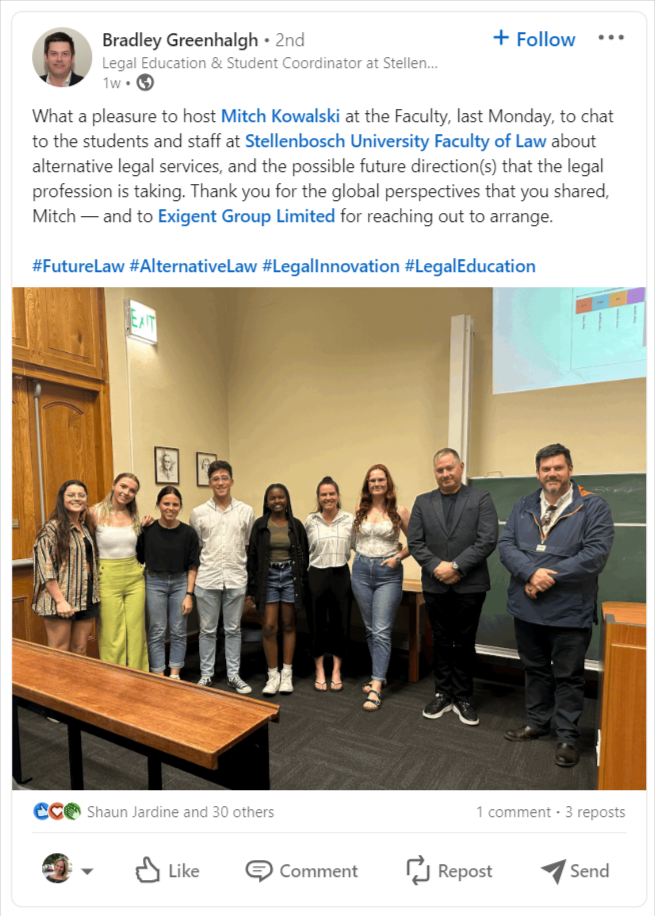 Special Lecturer: Mitch Kowalski a Real Law Breaker!
Mitch Kowalski is a globally recognized thought leader on the changing legal services ecosystem and the author of two critically acclaimed books, "The Great Legal Reformation" and "Avoiding Extinction: Reimagining Legal Services for the 21st Century." With extensive experience as a practicing lawyer, including 10 years at Baker & McKenzie and 8 years in-house at Aoyuan International (Canada), City of Toronto, and Toronto Community Housing Corporation, Mitch brings a wealth of knowledge to the academy.
In 2012, he was selected as a Fastcase 50 Global Legal Innovator, and in 2019, he was elected as a Fellow to the College of Law Practice Management. His books, "The Great Legal Reformation" and "Avoiding Extinction: Reimagining Legal Services for the 21st Century," have received critical acclaim. Mitch serves as a Visiting Professor in Legal Service Innovation at University of Calgary Law School and is a sought-after speaker on legal service innovation at conferences worldwide.
Mitch Kowalski is a valuable contributor to discussions on challenges in legal operations and is frequently sought after by international and national news media for comment on legal operations in the global legal services industry.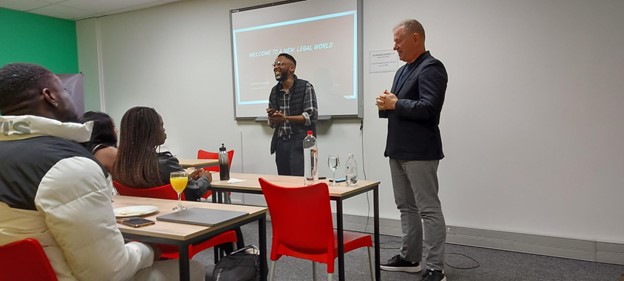 Are you a legal student or recent graduate? Learn more about Exigent Group Academy

Exigent Group Academy is a leading provider of educational programs for legal professionals in South Africa. With a strong focus on AI and technology in the legal industry, the academy offers a comprehensive range of courses, training, and resources designed to empower lawyers with the skills and knowledge needed to thrive in a rapidly changing legal landscape. To partake in the 2024 program, contact lehlers@exigent-group.com
For media inquiries, interviews, or additional information, please contact:
Corinne Meier,
Global Director of the Exigent General Counsel Forum & Head of Digital Marketing
Exigent Group Limited