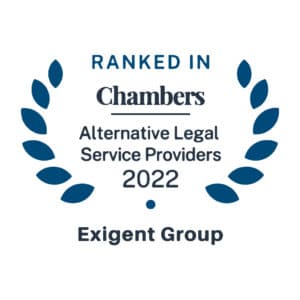 Market-leading legal services provider hits new heights with second Contract Lifecycle Management award from independent research company.
Chicago, London, June 28th Legal technology services company, Exigent Group has once again proved its powerful Contract Lifecycle Management (CLM) technology and services are leading the pack after being awarded Band 1 in the Chambers ALSP Guide – for the second year running.   ( 2021 Guide,   2022 Guide )
Chambers and Partners is an independent research company, and its guides are considered industry bibles for their detailed rankings and insights into lawyers and legal service providers. Chambers interviews thousands of clients to assess the reputations and expertise of the organizations included in its rankings. Only those demonstrating consistent excellence, innovative thinking and first-class client service are considered for entry.   
Accomplishing a prestigious Band 1 ranking – the highest possible band in the Chambers Guide – puts Exigent into elite status for CLM, something the company has now achieved in both 2021 and 2022. 
Nicola Stott, co-founder and CEO at Exigent says:
"Our unique combination of powerful technology, brilliant minds and deep client understanding has helped us to achieve this award from Chambers. I'm so proud of our team which is transforming the way legal services are delivered. By unleashing the data that's locked within our client's contracts through CLM, we are helping them to not only achieve their business goals today but also help them anticipate what they need to do to continue to be successful well into the future."          
Why our CLM deserves Chambers recognition  
At Exigent, our CLM process is based on a bespoke end-to-end lifecycle management process including both pre and post-signature. We start by working in partnership with our clients to understand what they want to achieve with their CLM. Once we know the goals, we start with the basics – creating templates for contracts, designing workflows for approval, everything from drafting to signing to review, and then ingesting the contract data into our systems.  
Our Artificial Intelligence (AI) – Scarlett – then conducts powerful and rapid data analytics, and our expert team of data analysts, lawyers and business managers work together with our clients to achieve their desired outcomes. With the legal and commercial foresight that contract data provides it means our clients can make more efficient, more informed decisions that drive real business outcomes, such as reducing risk, preventing revenue leakage and boosting opportunities to add to the bottom line.  
According to Dominique Mulder, Global Head of Optimization for CLM and Invoice Management at Exigent Group, our CLM is market leading because of the knowledge and expertise of the team and the services we offer.    
"We enable our clients to focus on the results derived from their data, as opposed to the laborious process of extracting and collating that data. Then my team and I use our experience as lawyers to generate reports and insights from this data for our clients to make better business decisions going forward. I really enjoy that we become their partners in commercial management rather than just another service provider," she says.  
For more information or to set up an interview please contact:
Leslie Gall
Chief Marketing Officer
Exigent
lgall@exigent-group.com 
About Exigent
Exigent is a legal technology services company helping law firms and corporate legal departments improve business and legal outcomes. With a powerful combination of technology, business acumen and legal expertise, we leverage data to surface insights that improve decision-making. From contract lifecycle management to outsourcing to litigation support to medical legal solutions to expert witnesses, organizations turn to us for solutions that drive better outcomes.  
 For information, visit www.exigent-group.com