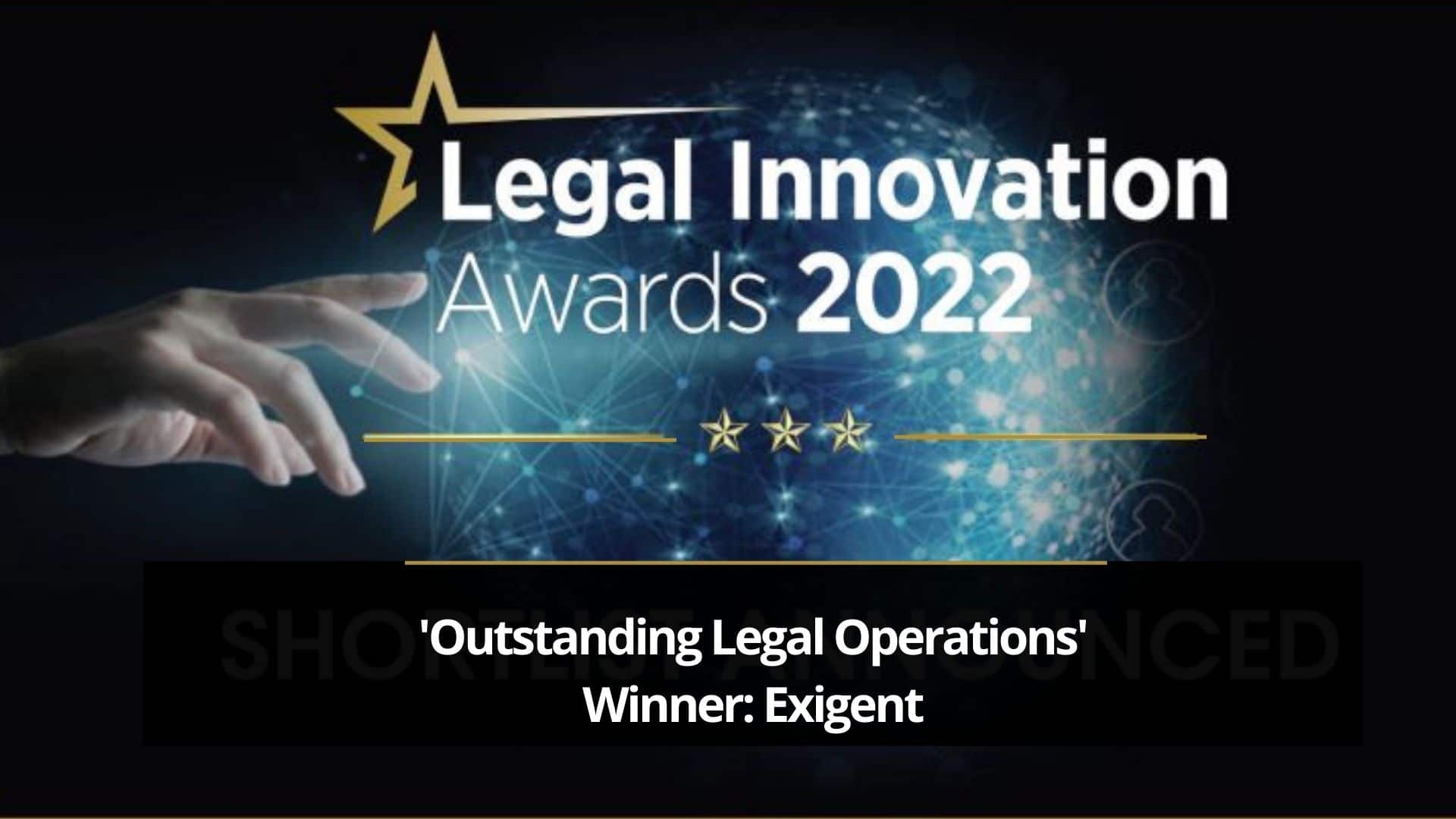 LONDON, April 29, 2022:
To review and manage 35,000 contracts would be a task that any single person, let alone a team would balk at. At Exigent, it is exactly these kinds of projects that ignite us and bring out our best colors in services. Contract management overwhelm is real and we are one of the few companies equiped to solve high-volume contract management with accuracy and speed.
 On that note the 2022 Legal Innovation Awards took place in-person to celebrate the best and brightest legal innovators driving pioneering change in the legal market. The 'Outstanding Legal Operations' at the Legal Innovations Awards Ceremony 2022 recognizes innovation and work on precedent-setting, game-changing projects and initiatives.
So, what's game-changing at Exigent?
First off – our amazing clients, second our cutting-edge tech, followed by our leading talent!
Exigent's CMS solution, contract search application and the ability to leverage the power of data locked within a companies contract portfolio secured Exigent the top spot.
The Client:
Our client, a global real estate leader, came to us with a desire to better understand its own client relationships, sales productivity, revenue forecasts and contract term anomalies. No mean feat with a portfolio of more than 35,000 contracts representing billions of dollars of revenue.
The Award Winning Solution:
With Exigent's experienced team of lawyers, process optimisation experts and data scientists, our client tasked us to find the insights it required within its 35,000 contracts.
We always operate in partnership with our clients, so we worked together to prioritize areas of opportunity within all the contracts. Which contracts had:
⁃ Upcoming renewals?
⁃ Price increase opportunities?
⁃ Payment term variations?
⁃ Which contracts had fixed term contracts nearing expiration? Or instances of revenue leakage?
We identified the critical data within our client's contracts and used this to develop a range of sophisticated data models to extract the relevant information hidden in clauses and terms in the contracts. Using our proprietary technology, Exigent CMS and Exigent AI, we organized and extracted the data for analysis.
Then came the seriously smart team of legal, commercial and technical professionals who converted the data into business insights that created competitive advantage and materialized financial impact. But, most importantly what did our client have to say about how we worked together on this award-winning project?
"The Exigent team has proved themselves invaluable in providing all our contract management needs. We have utilized the features for optimizing contract management, revenue and governance, as well as using contract analytics to make better decisions."

– A global leader in commercial real estate services and investments.
Thank you Legal Innovation Awards 2022!
We're always proud of the work we do here at Exigent. So, when we get external recognition it's a fantastic acknowledgement of how hard our teams work, the expertise we have and the market-leading technology we're cultivating. Thank you Legal Awards 2022 for recognizing us!
---
For more information or to set up an interview please contact:
Leslie Gall
Chief Marketing Officer
Exigent
lgall@exigent-group.com
About Exigent
Exigent is a legal technology services company helping law firms and corporate legal departments improve business and legal outcomes. With a powerful combination of technology, business acumen and legal expertise, we leverage data to surface insights that improve decision making. From contract lifecycle management to outsourcing to litigation support to medical legal solutions to expert witnesses, organizations turn to us for solutions that drive better outcomes. For information, visit www.exigent-group.com