Your Contracts. Our AI and Expertise. Invaluable Insights.
Do more than just maintain your contract portfolio. Exigent's legal and technical experts are ready to implement a contract management solution that goes way beyond just "management."
Schedule Your Demo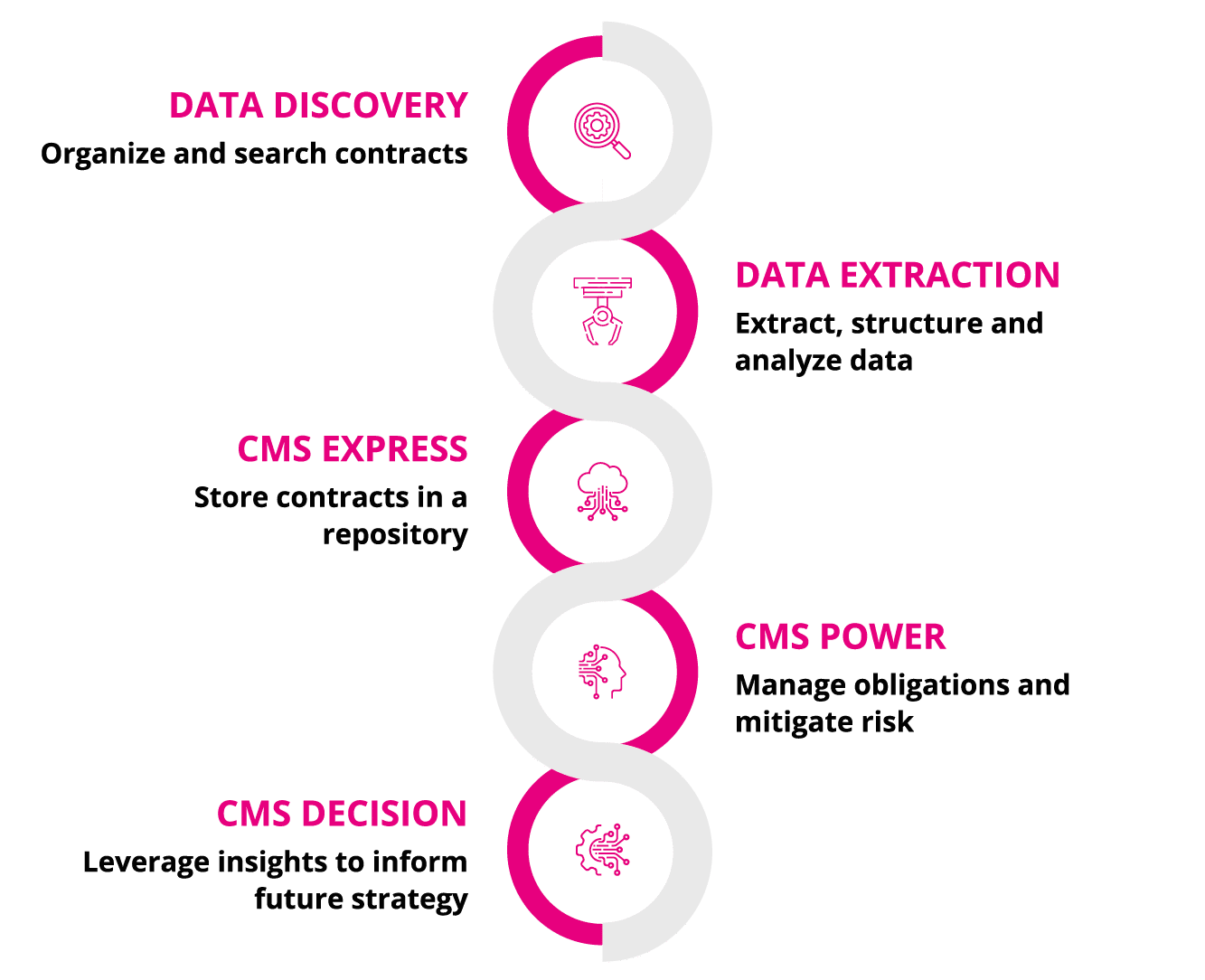 The Next Step on Your Contract Management Journey

Simplify Contract Management. Streamline Operations.
Exigent's CMS extracts contract data from across your business, aggregates it and visualizes it to give you unparalleled levels of actionable analytics.

Data Discovery
Find what you need: No more, no less
Search across an entire contract portfolio for clauses, paragraphs, sentences, terms and phrases in seconds or less with Exigent's Data Discovery tool. Using cognitive and contextual search capabilities, the Data Discovery tool delivers all relevant information to your search; not more than can be reasonably reviewed or less than is required. This tool can be quickly implemented in a few hours, provides robust access controls and isn't limited to legal applications.

Data Extraction
Extract, Structure and Analyze Your Data
Planning for the future, quantifying risk, analyzing vendor performance — all of this depends on accessing the right data first. But manually extracting and structuring the relevant contract data can take a significant amount of time. With Exigent's Data Extraction tool, you can rapidly and accurately process thousands of documents in minutes or less, giving you access to the raw material you need for more sophisticated analysis.

CMS Express
Centralize Your Contracts and Gain Visibility
With CMS Express, you'll gain a turnkey solution that enables you to stay on top of key deadlines, renewal dates, obligations and reporting. Centralize your contracts into a secure repository with user access control and automatically extract key terms to easily search, sort and filter contracts. Reduce risk and stay informed of your contractual responsibilities at any given moment.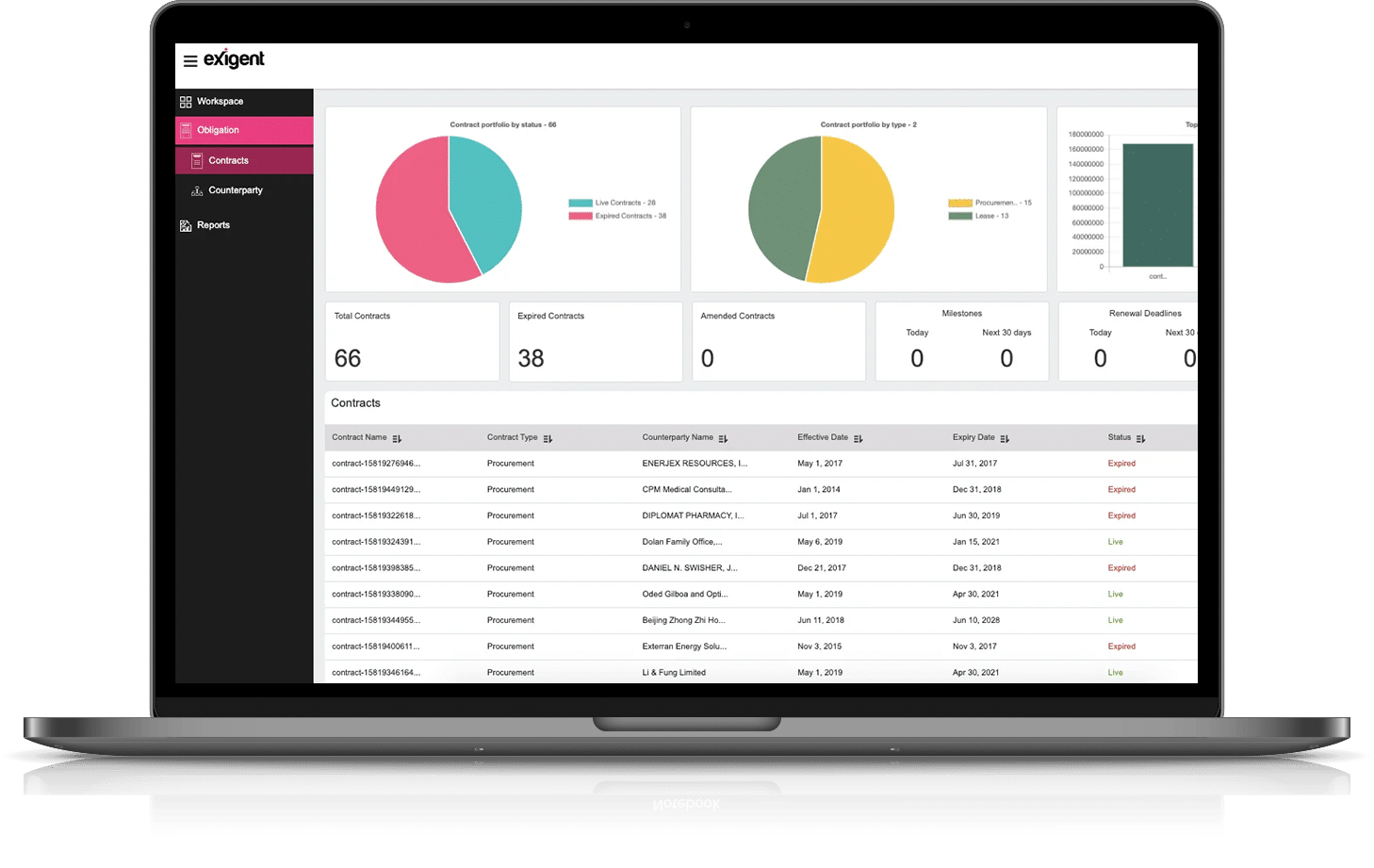 CMS Power
More Than a Contract Repository
With CMS Power, you'll gain all the capabilities of CMS Express as well as sophisticated machine learning capabilities tailored to your unique industry and business. Automatically extract key obligations and data, generate meaningful reports, visualize your data through configurable dashboards and ultimately identify risk and opportunity. As your business and needs change, we'll continue to update your solution to ensure it keeps up with you.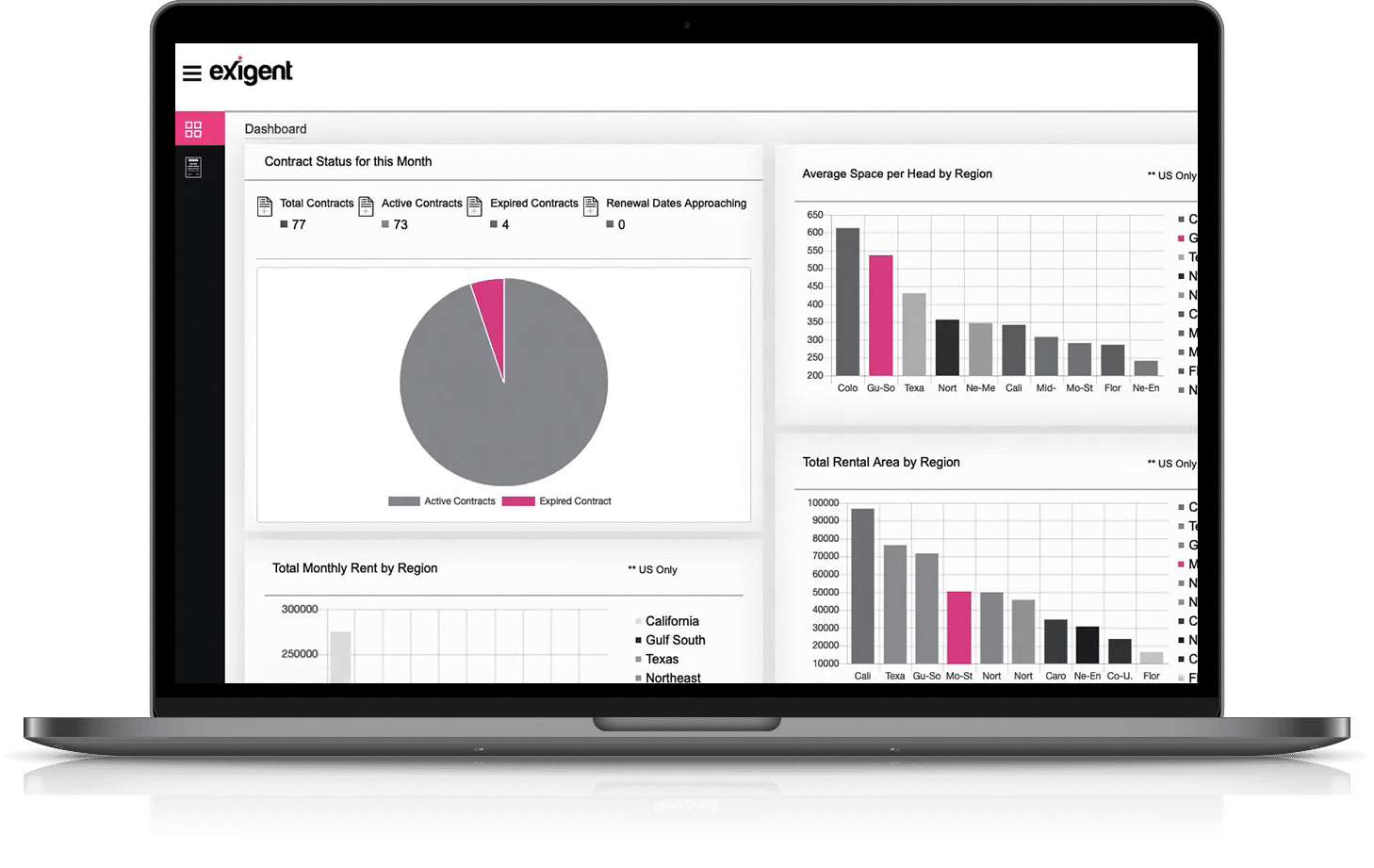 CMS Decision
Transform Your Portfolio Into a Value Driver
Gain all the functionality of our other CMS varieties and so much more. CMS Decision features highly advanced machine learning and analytical capabilities, enabling you to use contract data for predictive analytics, risk analysis or business performance forecasts. CMS Decision can be easily integrated with ERP and business intelligence systems, such as Tableau and Power BI. Go beyond a basic contract repository and turn your contract portfolio into a source of insights for strategic decision-making.

Learn More About the Impact of a Cutting-Edge Contract Solution
How do contract management solutions enable businesses to generate revenue from their contract portfolios?
As your contract portfolio builds up over time, it can be all too easy to lose track of potential revenue-generating opportunities or revenue-sapping risks. A contract solution can help you identify rebates, avoid missing deadlines, track which vendors you're overpaying, identify high-risk clauses that could cost you down the line and more.
Why are advanced capabilities like artificial intelligence necessary for contract management and analysis?
In a typical contract portfolio, there is too much data and too many relationships between data points for a human to quickly, consistently and intelligently process. Without AI, reviewing a contract portfolio for high-risk clauses, for example, can be laborious and prone to error.

That doesn't mean there's no role for humans in contract management and analysis. Rather, humans perform the work they're best suited for: strategizing and decision-making. In turn, our contract solutions use machine learning for the fast processing, prediction and analytical work that an AI is best suited for.

While all of our solutions involve AI to some extent, your unique needs may not require a highly tailored solution. Data discovery and extraction, for instance, can often be accomplished using machine learning models pre-trained to identify standard terms. In the instances when you could benefit from AI, the Exigent team will do the heavy lifting. We'll ensure that any advanced solution is tailored to your needs and that your team has adequate training and on-going support.
Does my organization need a full CMS?
Not necessarily. Our Data Discovery and Data Extraction tools are sufficient to support our clients' needs for one-off projects. However, it's worth considering whether a more robust CMS solution could benefit you for future projects. If your organization is interested in digital transformation, tech enablement and data-driven decision-making, our advanced CMS solutions are a better fit.
Can a CMS help the legal department become a more active contributor to my organization's success?
Yes! Our more advanced CMS solutions have powerful predictive analytics capabilities that can help you plug revenue leakage, identify the most cost-effective vendors, evaluate business trends and contribute to other business outcomes. These solutions also can be integrated into your other business systems. What's more, the Exigent team will provide support and managed services as needed.

Discover What's Possible
Too often, contract portfolios are viewed as a liability that requires maintenance and storage. In reality, they can be so much more.
Greater Visibility, Faster
It can take weeks or months to review contracts for the information you need. Our platform enables you to view contracts organized by family, amendments and related documents, instantly highlighting areas of concern. Our machine learning models can be pre-trained to identify common contract features — such as expiry or renewal dates, high-risk clauses, non-standard language and more — or they can be tailored to fit your business's unique needs.
Flexibility and Customization
Some organizations need more than a basic contract repository; some need to identify contract data highly specific to their industry; others need their contract management solution to work with ERPs or BI systems. Whether it's a simple point solution or an end-to-end contract analytics solution, the Exigent team will work to ensure our platform meets your requirements and makes the impact you're hoping for.
Transform Legal From Cost Center to Value Driver
The legal department doesn't have to be limited to protecting the business from risk; it can be a source of value and strategic guidance. Contract portfolios contain all the data that's central to a business's success — vendor relationships, deals, acquisitions, supply chain agreements, financial arrangements and more. With the right tools at your side, you can identify, extract, process and analyze this data, helping to plug revenue leakage, generate insights that can inform your organization's strategy and quickly realize ROI.
Expert Support and Managed Services
Our data scientists and senior attorneys will work hand-in-hand with your subject matter experts to ensure that any solution we implement delivers accurate, legally relevant data to inform your business. After implementation, our quality assurance team reviews your results to ensure accuracy and relevancy. From there, we'll continue to monitor, manage, resolve problems and support your contract solution.
Impactful, Cost-Effective AI
To extract the right data, speed time-to-insight and turn your contract portfolio into a source of value, you need sophisticated machine learning technology. We're not talking about technology for technology's sake. Our legal and technical experts collaborate to ensure our solutions make real impacts in the legal industry, speeding the data extraction process, minimizing risk and maximizing ROI.