Locating information, you need across a multitude of documents is time-consuming and laborious, often resulting in missing information or too much information for review. Let Exigent simplify data discovery for you.
With Exigent's data discovery tool, Scarlett Search, you can instantly search across any document to find relevant snippets, sentences, and paragraphs in just milliseconds. Scarlett relies on cognitive and contextual search and is unparalleled in speed and accuracy compared to manual review and other alternative search tools.
The easy-to-use tool, which can be set up in just hours, also allows you to set access control for the documents, ensuring only the right people have access to the right information, and there's no limit to the user access matrix you can decide upon.
And Scarlett goes beyond just legal, with unlimited applications across organizations, departments, and industries. Whatever data or documents you need – she will find it.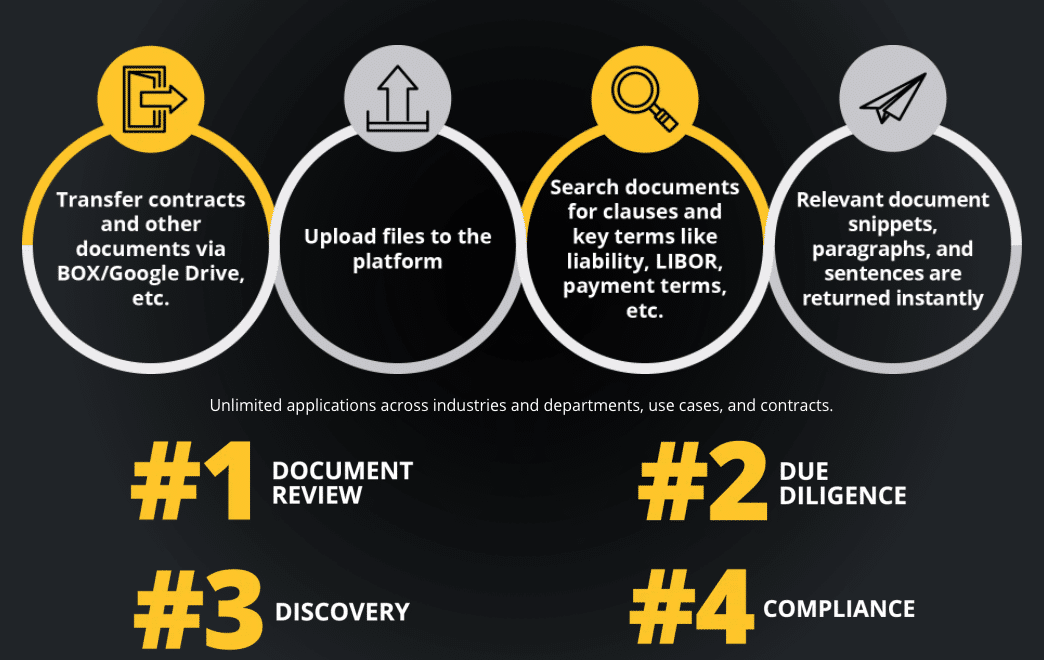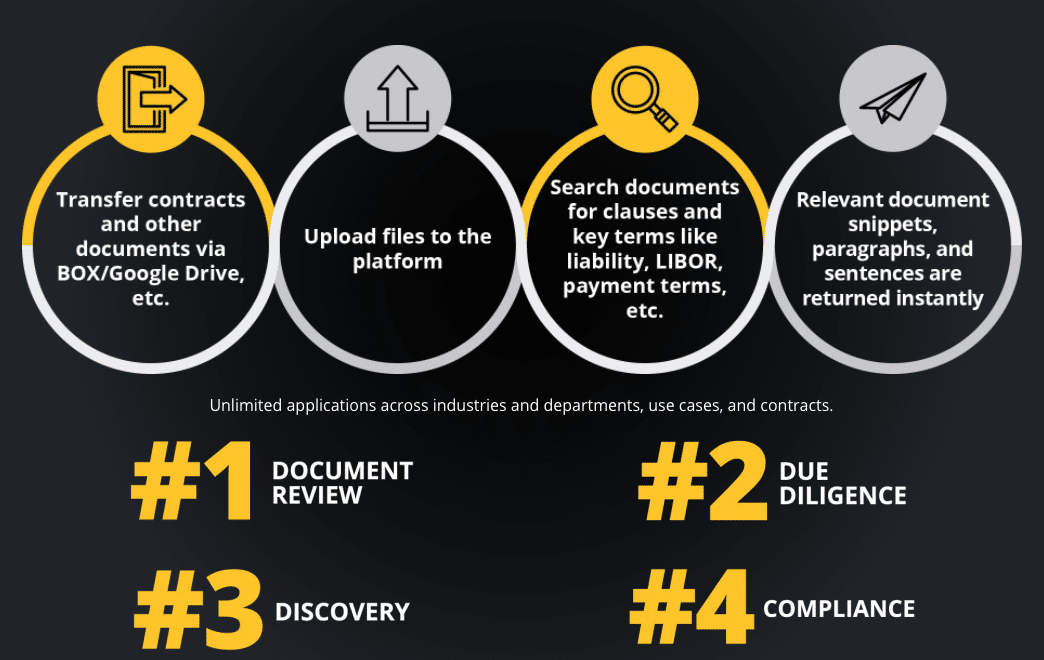 Use cases for our Data Discovery Tool
Employment agreements: An individual has left your company and you are now required to find and change all the employment agreements looked after and signed for by that individual. You have over 500 employment contracts in your organization, so searching manually would take weeks. Also, you need to restrict who sees these contracts – your CFO and CEO's contracts contain sensitive information.
Using our discovery tool you can quickly upload your contracts to the tool and add your search query and access control terms so only certain members of the HR team have access to the specific sets of results. Then you can search for the departed individual's name to locate the contracts that require changing. This saves you valuable time, while simultaneously maintaining the confidentiality of your contracts.
LIBOR: The LIBOR interest rates have changed and you need to find and update those contracts that are affected. However, you have thousands of client contracts, and only some of which will be impacted by the LIBOR rate change.
To assist with the review, you can transfer your client contracts via a document sharing platform from which they are uploaded into Scarlett, within hours. Your search terms have already been incorporated and our technology has indexed the content ready for search.  We have sent a secure link that has been sent back to you and your team can now search for those contacts where a LIBOR change is relevant, saving you thousands of hours of manpower. Our tool means you can quickly change your contracts saving you time and money and ensuring your contracts are always up to date with the latest change to the LIBOR rate affecting your business.
Marketing: You have a busy marketing department that produces large quantities of information and collateral for both internal and external consumption. Your company is conducting a webinar and would like to send some specific content to certain members of the audience. You need to find collateral pieces that are relevant quickly before the webinar occurs. However, within your files, you have thousands of pieces of content that are not saved in a topic-specific manner.
Your marketing collateral in PDF format is shared with us via a document sharing platform. The content is then uploaded into Scarlett and your search terms are applied – all within hours of you sharing your collateral. Via a secure link, you can now search for the collateral you need and get instant results, ensuring your webinar viewers have the content they need before the demonstration begins. This quick access to your collateral means you can be more agile with your marketing, further helping to create a competitive advantage.
If you're ready to start getting more out of your data quicker, contact us to start your complimentary trial.