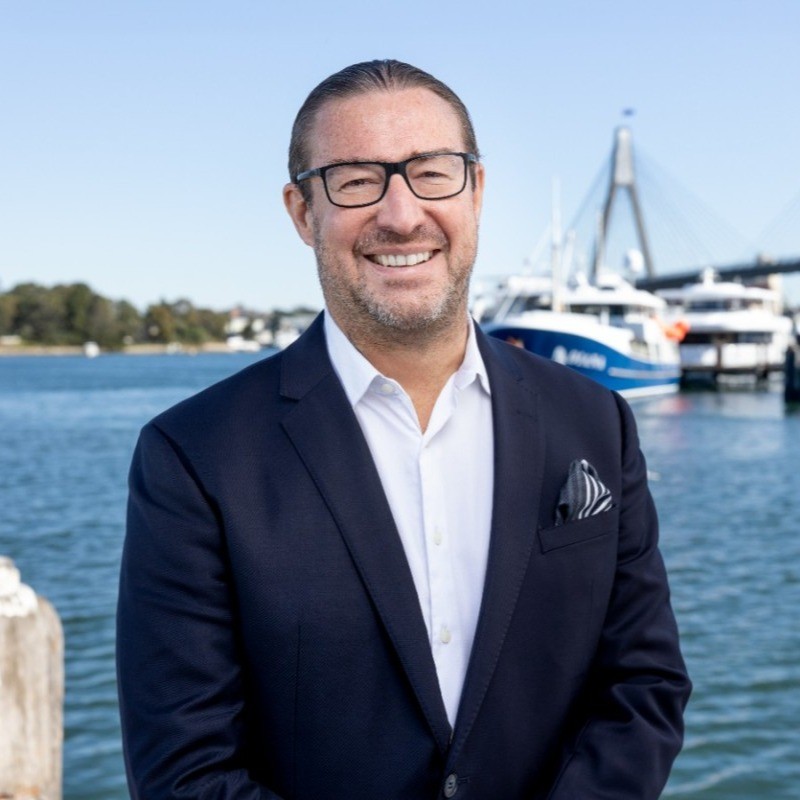 Michael Guilday started his professional life as a corporate lawyer in a law firm. Having worked with large cross-functional teams of up to 100 lawyers, he now works as the sole in-house lawyer for the Sydney Fish Market in a multi-disciplinary team that is responsible for legal services as well as commercial property operations.
Michael discusses some of the key challenges of his role including restructuring of the legal function when he joined the SFM, current industry trends and innovations, and what success looks like for him.
Transformation at the Sydney Fish Market on Almost All Fronts: Rebranding and Values, Digitally, Sustainably, Architecturally, and B2B
Currently, the Sydney Fish Market is aiming for the B2B transformation of the seafood industry through new digital capabilities that allow people to trade their products whilst they are not currently on site. The platform has been developed by a venture-backed startup and will allow the trading of this highly perishable product to be conducted even earlier than previously. SFM believes this project is critical to the seafood industry and it's ongoing sustainability. See the site: SFMblue | Buy & Sell Wholesale Seafood Online
Michael describes the huge challenge – beyond getting lawyers and business onboard – of incentivising fishermen and fishmongers to engage with new tech and software solutions. It's an enormous project and at 12 months old they are still working on transitioning the entire supply base onto the new platform.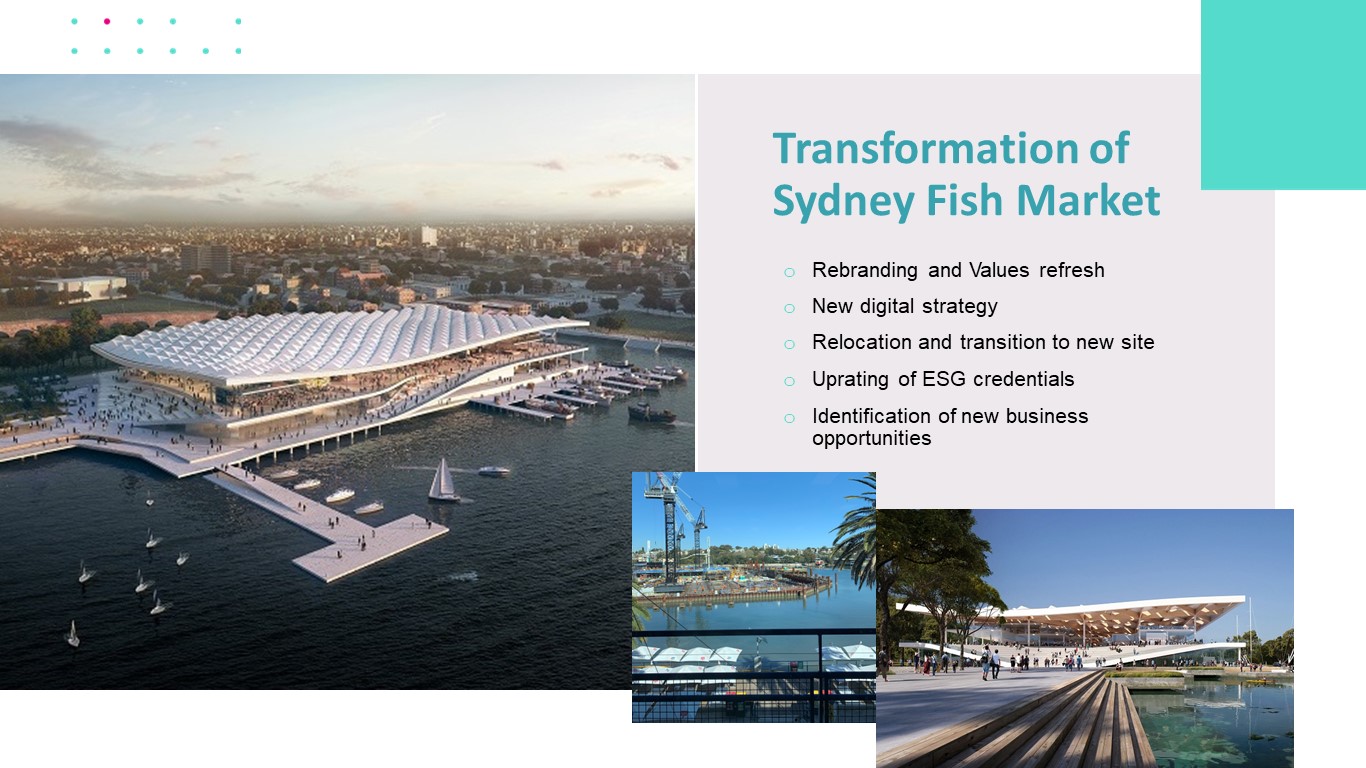 The importance of pursuing ESG credentials to the SFM
As the SFM relies on it's social licence to trade, it is important to educate people that the product they sell is sourced in a responsible and sustainable way. The new SFM site will have the sustainability credentials of being a five-star Green Star building.

A new digital visitor experience on-site is expected to explain the seafood supply chain to site visitors.  There should also be a description of how fishing quotas are geared towards ensuring ongoing sustainability and how climate change and climate warming impact more heavily on fish stocks and sustainability than fishing.
First Nations engagement is a key part of SFM and Michael points out that they are very fortunate to have a strong relationship with an indigenous organisation based in Redfern known as Tribal Warrior Aboriginal Corporation. Michael encourages other businesses to consider engaging in a Reconciliation Action Plan journey with Australia's First Nations People as this has been an informative and positive experience for the SFM.
The new site development should unlock a previously tired and rundown industrial part of Sydney, turning it into a beautiful destination. To ensure that this opportunity can be celebrated by everyone, SFM will look to partner with New South Wales government agencies that have delivered some of the well-known large-scale events around Sydney and Sydney Harbor.
Having a Dual Role
Many in-house counsels have dual roles. Michael faces challenges in his role because he is both General Counsel and Head of Property.
That said, he maintains the same level of discipline, ethics and rigor with non-legal functions as if they were legal tasks. By engaging in commercial discussions in an ethical way, Michael is always mindful of the fact that he is a lawyer, as he doesn't believe it's possible to just switch off being a lawyer.
Working with stakeholders is like a family – we don't always get on.
Michael is fortunate to have the opportunity to represent a variety of stakeholders, particularly those onsite stakeholders, such as fishmongers who operate small businesses and the fisherman who skipperlocal fishing fleet. He describes them as an incredible bunch of people and, as such, are like a big family. Whilst we do not always agree, we do have to live under the same roof and we have to treat each other with respect.
Even in the face of increasing stakeholder demands and people who like to get their own way, Michael enjoys representing the interests of the Sydney Fish Market in everything that he does.
How Michael Does More With Less
For Michael, it is impossible to do 'more with less' without embracing technology, innovation and process improvement.
He believes that a key challenge with tech is working out where responsibility for its procurement, implementation and adoption rests. In other words, it is important to identify at the outset who will take the lead and ensure its adoption and that people are going to use it properly. For example, when it comes to managing records and documents, this means identifying up front who is responsible for where they're stored and how they will be maintained.
Michael believes that the IT department and other business stakeholders must share responsibility for the legal tech as well as the lawyers. A key goal is therefore getting buy-in across the business. If senior staff are not on board with digitizing the legal function that can be a real roadblock to unlocking the potential upsides of legal service delivery in the in-house environment.
Michael is a strong believer in using existing tools that are currently in place. At SFM, the IT team was already using Jira, an Atlassian tool for project tracking. He saw how that worked well and was easy to use so it was quite simple to set up for other purposes.
Due to his experience working in Australia, the UK and Hong Kong, Michael has observed that a lot of tech is quite US-centric and developed for the US legal market. As in-house lawyers seem to work differently in the US and often have different responsibilities, this type of technology doesn't always exactly meet the requirements of what is needed in Australia.
His bottom-line conclusion on tech is to procure specialist solutions in-house in the right circumstances, but also he's looking to SFM's law firm partners to bring the latest technology solutions to the table to optimise service delivering and drive more productive and efficient ways of working.
Keeping records and showing workings
Going forward, Michael believes there will be a stronger focus on people in the workplace having more of a robust system about how they do their work. This applies to lawyers as much as anyone else.
As a general rule, lawyers do not like to tell people how they do their work. This is sometimes due to confidentiality constraints and the need to preserve legal professional privilege, and is known as a "black box" way of working. However, numerous high-profile investigations and royal commissions into corporate behaviours and scandals suggest that it will become increasingly necessary for lawyers to demonstrate how they've arrived at a particular conclusion, especially when dealing with controversial situations including those in which improper or unethical conduct has been alleged.
Law firms create files but until recently in-house lawyers have tended not to create their own matters. Michael believes that increasingly it will becomes an essential competency issue for in-house lawyers to be able to identify precisely the matters they are working on, including what the client's instructions are in relation to each of those matters. Ultimately, this may end up being driven by regulatory considerations as much as efficiency goals. Clearly, tech has a significant role to play here in helping in-house lawyers to satisfy their professional responsibilities.
Lawyers don't Make Mistakes
How Emotional Intelligence Development is a Critical Step to Succeeding On All Fronts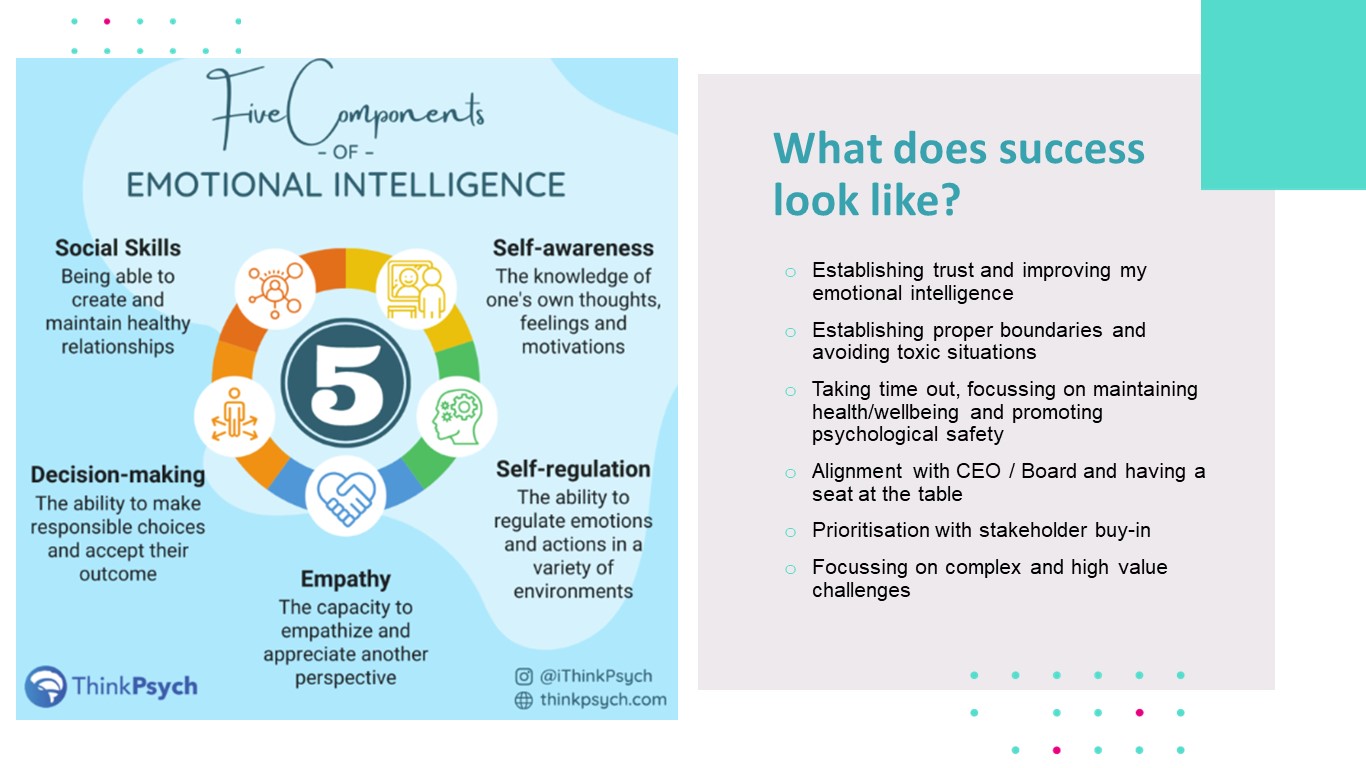 Lawyers often don't have an opportunity to embrace making mistakes for fear of retribution or experiencing some kind of negative attitude towards it.
Michael recalls recently hearing a High Court Justice provide an amazing dissection of problematic work practises of lawyers she had encountered during her career, including a range of micro passive-aggressive behaviours that commonly occur in the workplace.
An example of this is a lawyer asking for urgent work to be done by a junior lawyer and then, when the work is delivered, saying they are busy and will look at it tomorrow.  Or a junior lawyer being made to sit and wait while a colleague finishes their phone conversation.
Michael concedes that he too has been guilty of doing some of these things as much as he has been on the receiving end, and asks what kind of message is being given to junior members of our profession? Are we better or worse off in not calling out bad behaviours and mistakes in an open manner?  Moreover, what kind of culture can we be expecting to model if we don't have the skills to lead a department properly and if we don't spend enough time developing our emotional intelligence? Michael suggests attending leadership seminars and courses to fine tune these skills not taught through academia. These skills, he says, will inherently contribute to the cultural boost that legal needs to achieve successful transformations and technology innovations, and to keep pace in a disruptive world.
Not only does Emotional Intelligence play a role in effectively leading people, but it is incredibly important to take care of YOUR health/wellbeing to achieve your highest potential and not get dragged down in toxicity or overwhelming work pressures.
In addition to balancing many priorities, from a governance standpoint, Michael believes that the most senior lawyer in an organization needs to report to the CEO. This also helps in ensuring correct alignment or expectations and legal strategies with the overarching corporate strategy.
Alignment comes through constantly talking about what the CEO's priorities are, the broader business priorities as well as the board's priorities. Different people on the board will have different perspectives and their own agendas. In addition, making sense of shareholders' and other stakeholders' opinions is a key part of what Michael must do in his day-to-day role.
Having a seat at the table is critical. Michael realls that he was told it's easy to have to get a seat at the table, but it's hard to keep it. Therefore, he constantly needs to work on it and can never assume that it's a given. Complacency leads to loss of influence.
The Big Manoeuvre: Taking A Legacy System of 30 Years to the New Age Moving from One Sole External Law Firm to a Panel
When Michael joined Sydney Fish Market, the legal work had been performed by a single external law firm for over 30 years. He had been in similar situations where a firm had a 'lock' on the work, holding so much corporate knowledge about what's happened in the past and people. Michael saw that new expertise and ideas needed to come into the business.
Also, Michael notes, there is a natural asymmetry between external lawyers and their clients. The prominent legal futurist Richard Susskind has written about this concept and he suggests that this asymmetry is the key reason that there are constant tensions and difficulties experienced in relationships between law firms and their clients. Law firms, of course, tend to seek to generate more work and more business, while in-house lawyers tend to be focussed much more on delivering outcomes.
For Michael, he sees it incumbent on all in-house lawyers to understand the nature of that asymmetry and then try to work on creating better alignment between external lawyers and the client.
On joining SFM, it was known that Michael would bring in new views. And, fortunately, the CEO was very supportive of this new initiative. However, some other stakeholders had established a great deal of trust and historically strong relationships with the incumbent external law firm.
It was obvious to Michael that he needed to put a panel in place to create some competitive tension and to transition the company from using one law firm to a panel of firms. And this has to be done in a very careful and sensitive way.
While he always took time to understand the external firm's perspective, Michael began to bring in other law firms to offer alternative inputs for his stakeholders. Michael acted as the sole point of contract for his panel firms, rather than inviting external firms to form relationships with others. He then attended every internal meeting solo to gather the legal issues to take to his panel of firms to review.
Eventually, Michael was able to gain the support and trust of his business stakeholders whilst also establishing a more diverse panel offering advice from a variety of viewpoints and sources. He established multiple, long-term partners including law firms and Alternative Legal Services Providers (ALSPs). The result was a variety of viewpoints Michael could deliver back to the CEO and the Board.
You no longer need to go to the big firms to get the best advice.
Small or boutique law firms are increasingly using tech and ASLPs to compete the service offered by big, large law firms.
Michael believes that there are now a huge number of boutique firms providing an equivalent service at a much cheaper rate. This is being made possible by smaller boutiques leveraging the same legal technology as the big firms whilst also, being more agile and more client focused. Many of these lawyers are former partners of larger law firms.
In terms of legal operations, lawyers all have their own way of working. However, in-house lawyers need to focus on the legal process and the ways they go about their job, including in relation to litigation, audits and investigations. Increasingly, Michael has found the need to be systematic in the way that he works. For example, keeping the right records in order to ensure the work that he performs can stand up to external scrutiny.
Where Michael sees a strong opportunity in AI in legal
Enterprise data capture is a topic that Michael enjoys, and he feels it is the future of work.
When Michael is doing research, working on documents or talking to someone, it's simply a collection of different interactions with systems and people. Michael sees the future as transformational with technology embracing everything that he does during each workday and bringing it all together.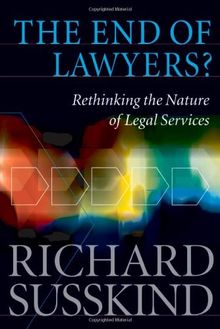 Legal work being performed by non-lawyers is increasing through the constant evolution and liberalisation of legal services. He cites Richard Susskind's The End of Lawyers, written more than 20 years ago about the rise of alternative legal service providers.
Michael suggests that responsibilities of legal ethics and independence can be relied on to distinguish in-house lawyers from everyone else they deal with, especially when much of the lawyer's job is becoming increasingly performed by non-lawyers. In doing so, in-house lawyers should be mindful that the set of rules that they are subject to need to be sufficiently robust to weed out any bad actors.
Role of the GC: 95% Non-Legal Work
There is a principle that says only lawyers should do legal work. But there's no antithetical principle which says lawyers can't do non-legal work. It must therefore be true that lawyers can perform non-legal work.
Increasingly, Michael is performing non-legal tasks. Even though he is still a practising lawyer overseeing a substantial legal practice, non-legal work such as leadership, strategy and operations represents a significant portion of what he does and the way that he goes about his work is still heavily influenced by his legal background and training.
When performing non-legal work, Michael doesn't necessarily switch off being a lawyer. He feels subject to the same legal ethics and independence obligations. It's just that the task being performed is not a regulated function as such, it's a business function and the advice that he might give is not characterized as legal advice in a traditional sense.
Join the GC Forum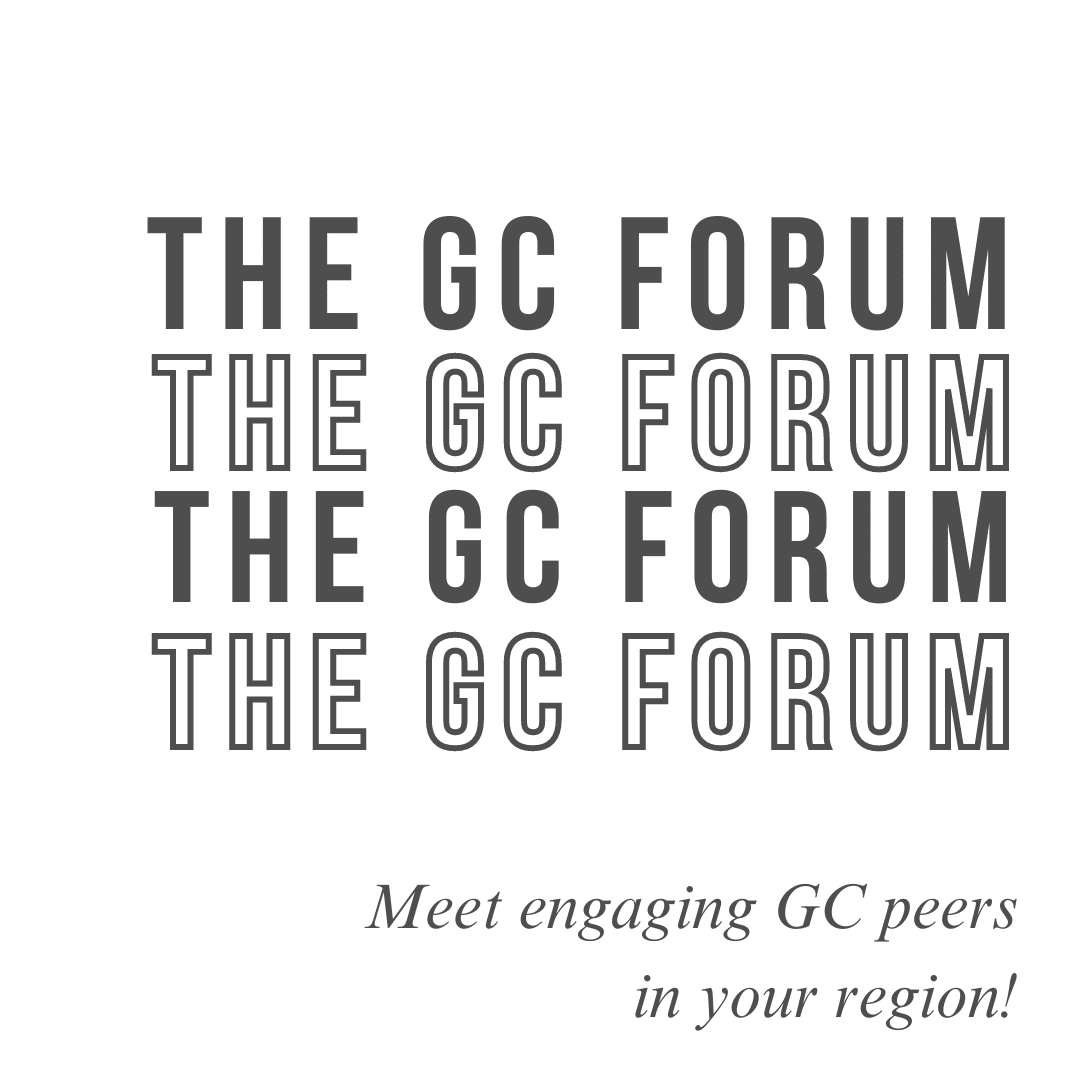 What is the GC Forum?
The GC Forum is a peer-to-peer community exclusive to corporate legal on legal transformation best-practices. 
Hear war stories, successes, and tales of radical leadership to achieving legal transformation from GCs around the globe.
Join your region to get insights and contribute yours during closed-door GC Forum virtual roundtable sessions, workshops, and quarterly in-person conferences and social events. 
To become a member register below….
Upcoming Events
GC Forum UK: 19 Oct, 8:30am-9:30am BST

How to Draft an AI Policy for Your Company (With examples that have worked) and ChatGPT vs. Claude Use Cases PART 1 of 2
Guest Speaker: Laura Jeffords Greenberg, Fr. General Counsel, Worksome
RSVP Here
GC Forum APAC: 25 October, 9am AEST

Top 5 You Have To Learn When Moving In-House
Guest Speaker: Nick Galloway, Regional Counsel PPG.com (ANZ and SEA)
RSVP Here
GC Forum USA: 9 Nov, 11am EST

Navigating the ESG Horizon: What's Next for GCs
Guest Speaker: Christine Uri, Advisor to In-House Legal Team on ESG, Fr. Chief Legal Officer, Top 100 Leader in Sustainability
RSVP Here
GC Forum APAC:  30 Nov, 9am AEST

Setting the Stage for AI in Your Legal Department: How to Prepare, Launch and Integrate the Use of AI into Your Workflows
Guest Speaker: Nina Stamell, GC of MyHealth.net.au
RSVP Here
GC Forum AUS / APAC: 15th Feb, 8am-9am AEST

The T-Shaped Team Framework: Why the T-Shaped Lawyer vision offers a game-changing new direction for your department
Featured Speaker: Peter Connor,
20 Years General Counsel Experience, Author, Speaker, Coach, Founder and CEO of Alternatively Legal
RSVP Here