Helping GCs bring profit and commercial value to the Board table…
As the Managing Director of a global company, I go to many conferences around the world but The Lawyer event "In-House Counsel as Business Partner" in London was one I won't forget. It is not often that I have the chance to meet so many General Counsels in one go, listen to their views and immerse myself in their world. The conference offered a variety of opportunities to hear what's at the top of the in-house community's agenda: demonstrating value to the organisation and the ever-changing role of the GC.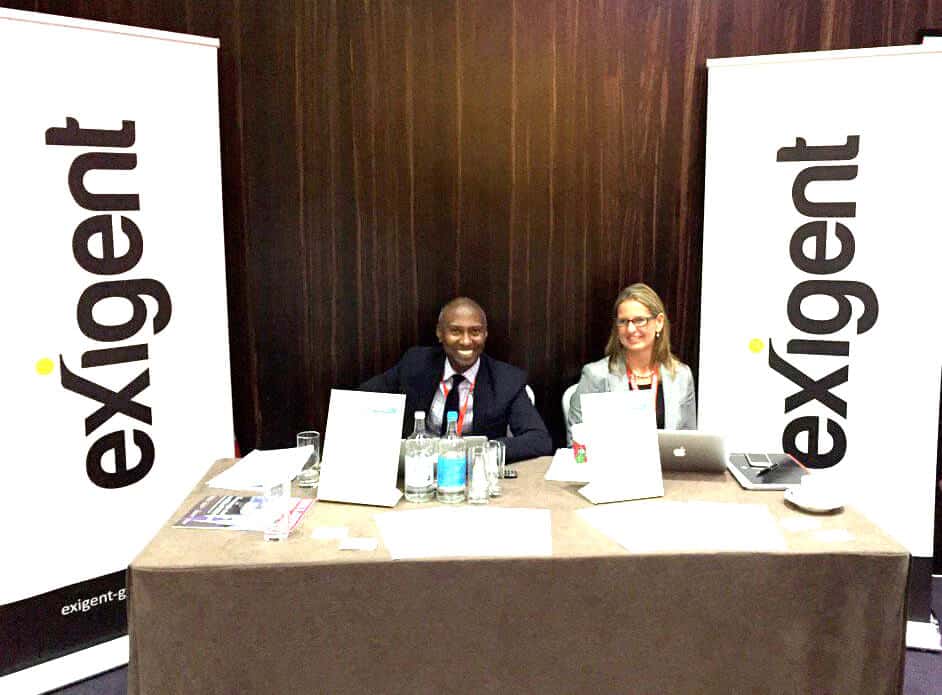 The Lawyer event tackled this shift in expectations from different angles and each session offered slightly different perspectives on the issue. But it was apparent that GCs were all facing the same challenges and felt equally motivated to have real impact in the way their role is is perceived and add meaningful commercial value to the organisation. I was lucky enough to run a roundtable session on each day of the conference and chose to build on the theme of 'getting your voice heard at Board level'. We investigated how the legal team can demonstrate value to the organisation, with a particular focus on generating and delivering commercial gain from the organisation's portfolio of contracts.  I am a big believer that this is an enormously (and often untapped) valuable asset. Contracts contain very meaningful hidden value––not to mention possible ticking bombs!
We kicked off our conversation with a PowerPoint slide that Exigent created for GCs. Our slide shows how a legal team can tell their Board they are making a valuable contribution to the company's revenues and profit, reducing costs and managing risk efficiently.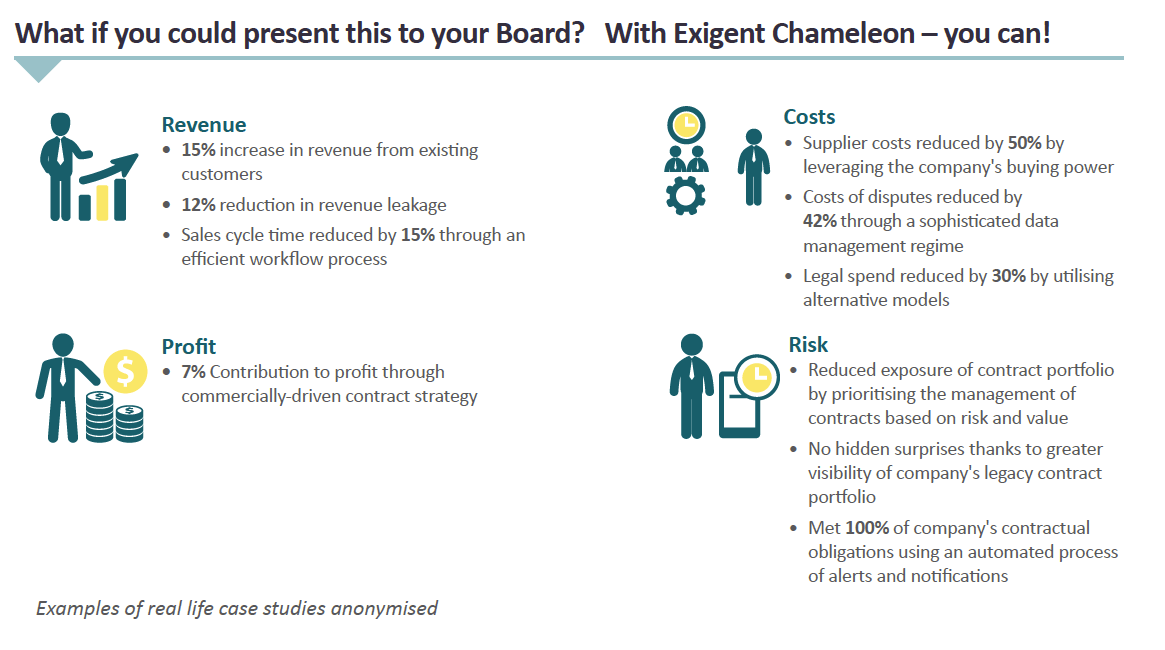 When I asked the group of GCs around the table whether they are already talking to their Boards in these terms and producing similar stats, the answer was a unanimous 'No'. When I asked whether they would be able to produce such metrics, I was met with a resounding "Not a chance!". And yet, every in-house professional at the session said they would love to be able to extract data to support similar claims and help their relationship with the Board.
The struggles
The discussion that followed the introduction of that slide showed that the in-house community, irrespective of company size, industry or number of lawyers in the team, shares the same concerns, pains and sticking points:
Contracts are drafted and forgotten about
Post-execution contract management is often ad hoc and sometimes non-existent. This creates the obvious angst around lack of visibility of what's in your contract portfolio: is it value that I'm missing out on or am I endangering the company by not knowing what risks lie hidden in my contracts? Most GCs just simply don't know and that is an uncomfortable place to be.
I want to change but don't know where to start
Most (if not all) GCs appear to have an appetite to get unstuck with their contract portfolio, but they find it really difficult to know where to start or how to produce a business case to empower the team to improve the situation.
It'll be too expensive
GCs worry that any innovation to the way the team works will carry a big price tag and have massive cost implications in terms of the internal resources needed to get it off the ground.
These were the three main obstacles GCs told us they face when trying to tackle the issues of innovation and commercial gain through their contract portfolio.
Empowering change
The issues GCs face are complex, we know. We understand that the problem can just look too big to tackle.  But with a clear and well-thought strategy and a risk-based approach, extracting value from your contracts becomes much, much easier. It is important that the GC community looks at their contract portfolio as an opportunity and not as a problem. While the struggle is real, we feel that there are also a couple of misconceptions about which problems are real obstacles and which ones are red herrings.
Technology is too expensive
Technology is bringing disruption in every industry and this is true in the legal sector too. GCs don't have to engage with big consultancy firms that promise to revolutionise the way they work if they sign a big cheque. Contract management solutions can be cost-effective and affordable at the same time.
The internal resources needed are prohibitive
GCs worry that any innovation to the way the team works will have massive cost implications in terms of the internal resources needed to get it off the ground. With the right partner, though, this is not an issue: GCs can work with organisations that have the operational capability to support in-house teams so that they can focus on what they do best, practising law.
Get the support you need
It was clear that many in-house professionals feel a bit isolated and don't know who to turn to for help. As a marketer by background, I am ashamed to say this, but… I think that what we do at Exigent is the best kept secret! With over a decade of experience helping legal teams see, extract and utilise the value hidden in their contracts, we know how much difference a good contract strategy can make.
We've proved on many occasions that it's possible to combine smart people with smart technology to deliver tangible results. And we've demonstrated that we are not just another alternative legal provider: we have a vision. It's not just about cheap doc review, it's about changing the way we look at contracts to empower the legal function to shine. We have been supporting the in-house community to do that in many ways, including creating a safe environment for legal professionals to share ideas and ask questions through our regular Webinars.
With Chameleon we have dramatically lowered the barriers to technology for legal departments. We are proud to be real disruptors in this area, as the entry point for an intelligent contract management solution has never been so accessible. The cost of extraction of data is not prohibitive.
We have been showing GCs that the business case for better contract management is quite easy to make. For example, one of Exigent's clients, the world's top 10 insurance brokerage Hub International, came to us for help with their contracts. We identified a first item to tackle: inconsistent payment terms. With the use of our technology, we exposed all payment terms (30, 40, 60, 90 days) and switched them to a standard 60-day clause. This simple project has saved the company over $3m. By contrast, sending all your contracts to your panel law firm for review will just be a cost and have very little impact on changing your infrastructure in a meaningful way. At the Lawyer event, one of the GCs taking part in our roundtable confessed they did just that. Possessed by the fear of what their contracts might contain and the inability to tackle the problem, they handed all of them over to their panel firm to review. This must have cost their company tens of thousands of pounds.
As the Global Managing Director and one of the founders of Exigent I might be biased. But I came away from last week's event feeling that I really wanted to help and indeed that I could. Seeing so many GCs sharing the same issue and realising it was the same one I, with a team of tech and legal experts from across the world, have been working on for the past 13 years, made me want to write this. I wanted the in-house community to know that we know exactly what you are going through and that the answer to your problems is there.  You don't have to figure it out on your own: we have invested years in developing an approach that we know will work. It might not be something that you sort out overnight, but it's not as hard or expensive as you think.

---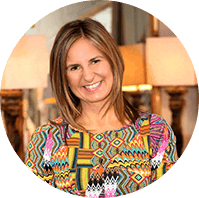 Author – Nicola Stott, Global Managing Director at Exigent Group Limited